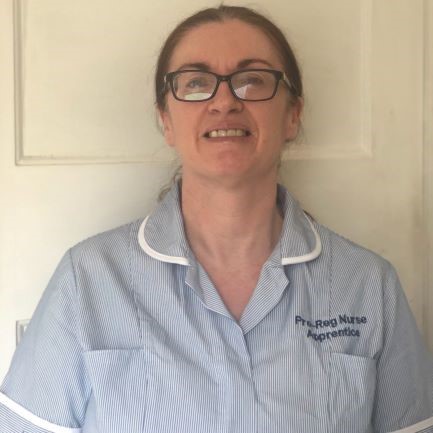 Michelle McAteer
BSc Learning Disability Nursing (Registered Nurse Degree Apprenticeship)
After 20 years of working in the Department of Work and Pensions, Michelle got a taste of working in the NHS whilst completing bank work. Find out how she's finding her Learning Disability Nursing Apprenticeship.
What brought you to start a Nursing Apprenticeship?
I had 20 years' experience working for the Department of Work and Pensions before taking voluntary redundancy to retrain as a Personal Trainer. Part-time bank work gave me a taste of working for the NHS, and kick-started my NHS career within the Children and Families Service (School Nursing and Health Visiting). This led to being part of the pilot cohort for the new Nursing Apprentice course.
What is it you want to accomplish?
I want to prove to myself that at 52 I can do this! I enjoy the academic side of the course so hopefully, I will be able to progress to a Masters level. That is my goal before I retire, to gain a masters and obtain a Band 6 post.
Why did you choose Cumbria?
I love being part of a small, supportive cohort, the majority of whom I know from my previous studies. The lecturers are extremely knowledgeable and you get a real feeling that they want to get the best out of you, pushing you so you get the best experiences possible. They are as excited to see what our future holds as we are.
Why did you choose this course?
As a Nursing Associate, I was exposed to all fields of nursing. I enjoyed my Learning Disability placement as this field of nursing drew on the variety of skills I had gained from my time with Acute Mental Health, District Nursing and my Children and Families experience. When the top-up degree was offered via the apprentice route it was an easy decision for me to apply, as this was definitely bringing all my skills together. The apprentice route appealed to me as I am being paid to train. The covid situation has resulted in lectures being delivered online, however, this fits in with my family commitments and means that I have less travelling time, which I can spend on my studies.
The university staff have been brilliant. They all have a real passion for Nursing and want to help you to have fantastic experiences and develop to your true potential.
Did you always want to attend university?
I have always wanted to attend university, but having family commitments made it hard for me to do this. The apprentice route fits my needs perfectly, I get paid to do a course I love which will lead to my dream job.
What was the breakthrough moment for you when things began to fall into place?
Starting my first placement made the theoretical knowledge that I had gained during my theory block come alive! Building on my previous experience within Mental Health and District Nursing has given me confidence that this is the Nursing career for me.
What results have you had so far?
I have passed my first placement and really enjoyed the experiences that I was able to gain. I have passed all my assignments with excellent grades, so I am definitely on track! Studying at the university has given me more confidence in my own abilities. My favourite part of the course so far has been- all of it! I love the theory sessions, but applying them to practical placements when you have that 'oh we have done this in university' moment is pure gold.

Find out more about studying an apprenticeship here.

<![endif]-->