Class of 2015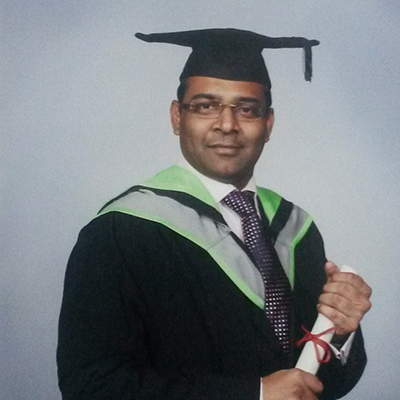 Djamil Remodkhan
Leadership and Sustainability (Robert Kennedy College)
Originally from Mauritius, Djamil came to our university for the residential portion of the MBA ran in partnership with Leadership and Sustainability.
What made you choose to study at UoC?
This was the only decent MBA course I could find online. Since I was doing it from a distance, I had to choose something that would allow me to get on with my hectic life.
Why did you choose your particular course?
I'm already a private banker and deal with all types of top CEOs and entrepreneurs. That MBA allowed me to think outside the box and also it gave me more confidence, knowing that I would have a Master's Degree in my bag.
Best things about the course?
The online class was superb. The tutors were top and very interactive.
I got to know many students online before I met them for real for the Leadership and Sustainability course in Lake District.
What was your favourite university experience?
The full week in the Lake District and the graduation. It was fantastic.
Any poignant stories?
I lost both my parents within two years. Dad in 2003 (53 years) and Mum in 2005 (55 yrs). My MBA was for them in a certain way. When I was feeling down, I heard them saying, 'Come on Djamil ... make us proud'.
After my graduation, I went back to the hotel and I cried all that pressure out. I felt that I finally achieved this for them as I was only 25 when Dad passed away.
How did coming to university change your life?
University gave me more confidence. I met many people and I got an MBA from UK. That is quite something!
Did you make any lifelong friendships?
Yes I'm still in touch with some classmates, via email or WhatsApp.
"University gave me more confidence. I met many people and I got an MBA from UK. That is quite something!"
What were your career ambitions when you started studying and do you think that you have achieved them?
Well, my MBA was supposed to give me more scope concerning my job. It is happening little by little.
Would you be where you are today, without your degree?
I was a private banker before my degree.
What are your current career ambitions now and in the long-term?
To head a department and why not a CEO in the future.
What is the most satisfying aspect of your job?
Providing solutions when there seems to be none.
What are you most proud of?
My job and my achievements in life. I'm also a keen snooker and golf player.
Your advice to current students wanting to pursue a similar career to yours?
Never give up when the going gets tough. Perseverance is the key to success.
Leadership and Sustainability (Robert Kennedy College)
Designed for tomorrow's leader, the MBA in Leadership and Sustainability creates distinctive managers with a unique leadership-oriented career opportunity.

Find Out More Book An Open Day

<![endif]-->