Class of 2015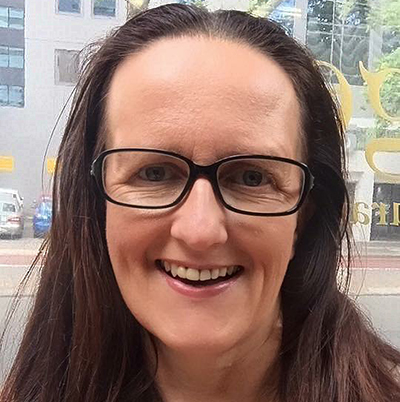 Gaye Cameron
Leadership and Sustainability (Robert Kennedy College)
Gaye Cameron studies at our university as part of the MBA ran in partnership with Robert Kennedy College.
What made you choose to study at UoC?
I chose UoC through enrolment with Robert Kennedy College. Obtaining an International and Recognised Degree, via the UK was the first attraction, but the history of the University and the depth of experience and knowledge of the Academia was another attraction.
Why did you choose your particular course?
I chose this course for a number of reasons. Firstly, obtaining an MBA was a bucket list moment for me, but with the ever changing world, in particular our resources, I wanted to learn the skills and attributes to become a great leader, but also to take the business I work for to the next level, and think/work outside the square. The combination of this course was a great mix. Baseline business administration including finance, leadership understanding, organisational management, but more importantly understanding and taking the 'sustainability' model into tomorrow's business.
What did you like most about your course?
The flexibility to do it at my own pace, the interaction with many talented peers undertaking the program from all over the world, various backgrounds, and the materials provided as well as the mandatory program at Ambleside.
What was your favourite experience at university?
Ambleside week stay program – it was great to not only travel to the otherside of the world, but also meet with fellow class mates from all over the world, sharing our ideals, practices, and experiences, but to also meet and greet some of the Academia running the course, and taking some time out to tour around one of the most beautiful natural wonders of the world – The Lake District.
Do you have any particular memorable/funny stories to share?
Just to note, with many of group from the Northern Hemisphere, and the course was in Winter in Ambleside, myself and one other class peer was from the Southern Hemisphere. I am use to winter and snow, but one of our peers was from Papua New Guinea. The poor thing, he's never experienced temperatures below 24 degrees Celsius. It was entertaining to hear and see him trying to keep warm, wearing many many layers of jumpers. I still keep in touch with him – great guy.
How did coming to university change your life?
Completing this course at UoC has changed my attitude and respect that "we can change – so can business". For far too long, businesses practices have been same old same old. This program and the Academia have inspired me not only look down the road, but to look over the mountain and start planning for a better prospective future in business, and change some of the old retrics that business get themselves in.
Did you make any lifelong friendships at university?
I certainly have! Over 10 students from the US, Switzerland, USSR, Iran, Sudan, Nigeria, New Zealand, Papua New Guinea, Singapore, China, just to name a few, and also keep in touch with a few Academia as well.
What were your career ambitions when you started studying and do you think that you have achieved them?
My Career ambitions were and still are to be Chief Executive Office (CEO) or Director Governance – still have this ambition and not that far away. "Always looking forward – never go back"
Would you be where you are today, without your degree?
Who knows – but I would have a guess not where I am today. The course has given me recognition at recruiters, and in particular an International MBA has shown to them initiative, determination and prowess.
What are your current career ambitions now and in the long-term?
Much as above – sooner than later, I will be a CEO or Senior Executive looking after People / Planet and Govenance.
What is the most satisfying aspect of your job?
The people and working for an organisation that is part of a global leader in the development of and building of sustainable renewable energy. I love serving and working for people. Keeping them safe so they can go home to their loved ones each night is real, and I am proud to be part of that planning and execution.
What are you most proud of?
Myself – Self Actualisation is something I believe I have achieved, but always looking to go further.
What advice would you like to pass on to our current students if they wish to pursue a similar career to you?
Don't give up! Set your goals, follow your dreams. Everyone has opinions, but the most important person in the world is YOU – and don't let anyone tell you otherwise. Working hard pays off.
Leadership and Sustainability (Robert Kennedy College)
Designed for tomorrow's leader, the MBA in Leadership and Sustainability creates distinctive managers with a unique leadership-oriented career opportunity.

Find Out More Book An Open Day

<![endif]-->