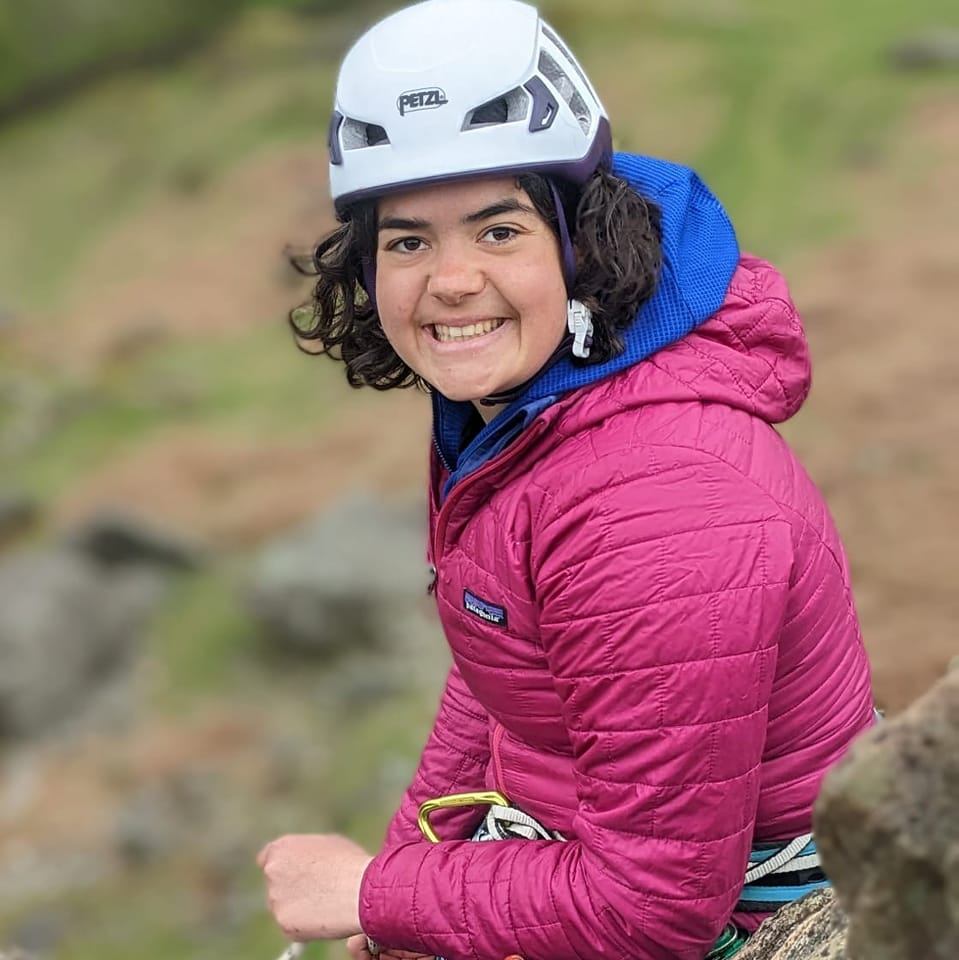 Amy Jay
BSc (Hons) Geography
Amy tells us how her love of the outdoors brought her to our Ambleside campus to study BSc (Hons) Geography.
Why did I choose geography University of Cumbria?
I chose to study geography as it is a very diverse subject, allowing me to study a bit of everything. Since I already had a huge passion for the outdoors Ambleside campus struck me as an amazing place to study, due to the opportunities to go on epic adventures as well as many field work opportunities.
What is the most challenging thing about being at University?
Studying during covid 19 lockdown was challenging. It was hard to engage in lectures since everything was online at the time. However having a great outdoor space on our doorstep made this way easier. Despite missing some of the full experience due to the pandemic I feel very lucky to have had as many local field opportunities that we have had. This has included trips up Helvellyn to observe the glacier landscape, River surveys, peat bog sampling and canoeing on Derwent water.
What skills have I learnt on my educational journey?
Since starting university, I have gained a big interest in conservation and ecology as well as outdoor leadership. I have taken advantage of the many volunteering opportunities that have been available to us for example I spent 3 months of summer 2022 volunteering at RSPB Haweswater during a number of activities including bracken bashing, livestock management, tree nursery work and flora/fauna surveying. I have also done voluntary work for the Yorkshire Dales National Park, Lake District National Park and Yorkshire peat partnership during my studies. As well as this I have been inspired by the outdoor leadership students to complete my Mountain leader award whilst studying, which has enabled me to inspire others into getting outdoors both for physical and mental wellbeing.
What has my favourite experience(s) of university been
?
There have been many cool opportunities but the ones that have stood out to me the most are a trip to the Beinn Eige nature reserve in Torridon to work on the reserve. We even had the opportunity to go deer stalking which must be the most adventurous day I have ever had! We also had a winter mountaineering trip to the cairngorms.
How are the lectures?

In terms of lecturers, they are great!! The benefits of it being a small campus is that you never have them in a large lecture hall and the small class sizes helps me focus and gives me the confidence to ask questions if I don't understand something.

If Amy's story has inspired you, learn more about our Geography courses and apply now!

<![endif]-->