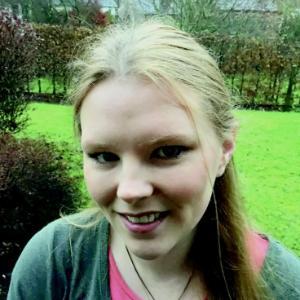 Lucy Gunson
BSc (Hons) Animal Conservation Science
What made you decide to study for a degree?
I volunteered at a local zoo and fell in love with animal conservation, so I took a level 3 course in Animal Management and continued onto uni from there.
Why did you choose to study at the University of Cumbria?
There is nowhere else I would rather be and no better place to study conservation than the heart of the Lake District. The tutors have a huge range of knowledge and experience that they are happy to share.
What made you choose your particular course?
It covers everything I wanted to learn and offered optional modules that would allow me to specialise in the areas that interest me. I also liked that we had the opportunity to travel to the Gambia as part of the course.
What do you like most about the course?
I learn new things every week and I am surrounded by like-minded people who are all passionate about conservation.
What has been your favourite experience at university so far?
The Applied Field Studies trip to the Gambia was fantastic. Having the chance to do real research in such an amazing place was exciting and humbling. Lots of fun too!
Can you give an example of where a member of staff has gone the extra mile to assist you?
All the staff have been great, but my course leader, Volker Deecke, really makes the effort to get to know the students and provide advice and opportunities specific to our interests and goals. Sara Iversen, a PhD student has also helped me a lot with my dissertation work – spending ages in the lab with me and calming me down when I start to panic!
My dissertation gave me the chance to visit the Scottish Hebrides and Highlands and collect my own research data.
What exciting opportunities have you been offered whilst studying with us? i.e. placements, exhibitions, visits, etc
I've been to some great talks and conferences and met loads of lovely people who work in conservation. I have been supported in founding and running the Conservation Society along with Freya Brodie-Stedman and I've been part of the uni's team in the first annual University Moth Challenge, which has been fun! My dissertation gave me the chance to visit the Scottish Hebrides and Highlands and collect my own research data.
How has coming to university changed your life?
I have discovered passions I didn't know I had and I feel like I know what I want to do for the rest of my life.
Have you made any lifelong friends at university?
Absolutely! I have met some great people here and I'm sure we will stay friends after uni finishes.
Who would be your ideal guest lecturer?
David Attenborough. He could make anything interesting and I'd love to hear about some of his experiences.
Where do you think is the best place to study?
Somewhere you can develop as an individual and feel connected to your chosen subject. For me, that has been Cumbria.
What advice would you have given yourself at the start of the programme if you could go back in time?
Enjoy every day because it goes by so quickly, say yes to every opportunity and always carry a butterfly net!
What will you miss most about university life?
The people. We have gone through a lot together and I'll miss seeing them every week.
What are you most proud of?
My dissertation. Completing a research project from start to finish (almost!) has been a wonderful, terrifying experience and I'm proud of everyone who has done it.
What do you see yourself doing in five years time?
I'd like to be involved in research. I definitely want to work with insects, the creepier the better!

<![endif]-->