Class of 2019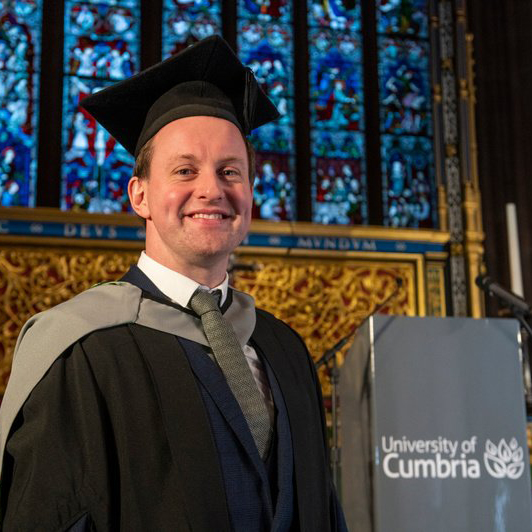 Steafan Deery
- Why I Retrained as a Teacher
PGCE Primary with Physical Education Specialism
Steafan Deery was a PE specialist with the Irish Football Association who retrained to become a teacher. In this quick interview, he tells us why.
1. Why did you choose to go into teaching?
I've always wanted to be a PE or primary teacher and spend the rest of my career contributing to the local community back home. My wife was already a teacher and I don't think there's any other career that matches teaching. Being surrounded by youth keeps you young and energised and no two days are ever the same. I wanted to become a teacher because I think it's the best profession in the world.
2. Why did you decide to retrain?
I have an MA in Sports and Exercise Psychology and, at the time, I was a PE specialist with the Irish Football Association, a role created by the Northern Ireland Department of Education to tackle child obesity and support teachers in delivering effective games lessons, but my role was under threat and twice I'd faced redundancy. That made up my mind, it was time to move on.
3. You not only had a family when you were training but were also commuting in between Cumbria and Northern Ireland. How did you manage study and family?
With a wife and three sons back home in Strabane, the youngest of which was just six months old when I was training, becoming a full-time student again took some thinking about. There's no denying it, the logistics took some sorting. Weekdays studying in Cumbria followed by weekends at home supporting my family, wasn't easy but it was absolutely the right decision. I loved every minute of my course and, in the long-term, this is going to be very beneficial for myself and my family, as hard as it was back then. I also had an incredibly supportive wife and family, which made all the difference. My wife was brilliant and I know it was very hard for her. It was the first time we were apart since we were teenagers and this was a big shock to the system. We make the most of our weekends and we knew it was a short time until I was finished. It was hard, but we made it and it was worth it.
4. Why did you choose the University of Cumbria?
UoC was absolutely the right choice. My tutors were brilliant. From the first day, they tried to make things as easy as possible for me, going above and beyond their roles. It's that connection with the tutors that will make you an effective teacher.
5. Why did you choose to study on campus above the other routes into teacher training?
I felt I would feel more prepared and competent to teach because of the modules provided alongside School Embedded Learning topics. There was also a gradual increase in teaching time and expectations as the year progressed and the wide variety of content and creative delivery by lecturers influenced my teaching style. Life at the Lancaster campus was also good. The campus is small so I was always bumping into people from my course, including my tutors, and this allowed me to build good friendships, which made it easier for a mature student away from home like me.
Teaching is the best profession in the world.
Want to change career and become a teacher?
We've got you. Contact us today by calling 0808 178 7373 or emailing enquirycentre@cumbria.ac.uk.

You can also visit our Teacher Training page and explore our courses here:

<![endif]-->