Degree Show Design Winner: Emma Wrigley
The annual Art and Design Degree show is always a highlight of the year at the University of Cumbria. Degree-level exhibits from students across 13 art and design courses will be put on display, including Illustration, Photography, Digital Arts and Film and Television.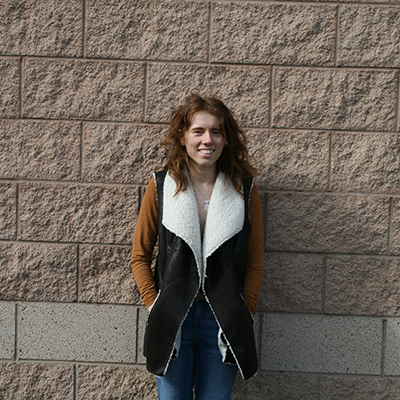 We offered our Graphic Design and Illustration students the chance to create artwork that would be used throughout our advertising to help promote the show. The winning entry was created by Emma Wrigley, who has been studying a BA (Hons) in Illustration since 2014. This isn't the first time Emma's work has been used for promotion – her art was also chosen for the official University of Cumbria Christmas card for 2016. We sat down with Emma to discuss her entry, and to find out more about the upcoming show.
What first got you interested in Art and Design?
I've always been drawing since I was in school – I used to get told off in class for carrying my sketchbook around! I went to college and did Art and Design, and a level 3 in 3D. I don't think 3D was for me, I was always more interested in drawing than modelling. The idea of illustration is more to do with creating things for people, whereas I think with art it's more full on about yourself and your feelings. I like to create stories with my work, putting across the idea of something happening, with lighting and other techniques. I think I've just always wanted to tell stories, and I think illustration is the best way to do that.
What made you choose the University of Cumbria?
It was when I met the tutors. I went to the open day and met Tony Peart (Head of Illustration), and he reminded me of my college tutor who I absolutely loved, so instantly I felt much better. It's just the way he presented the course, it felt like it was definitely one where I would be able to see the tutors. When I went to other places, it seemed to me they lacked that. Also the campus had a great space and a workshop, and it had its own personality – I liked the idea of working the way the course ran.
Plus Cumbria's just such a great place! There was just something about it when I first walked through the door. I came out after my interview and when I got accepted I felt so happy about it. When I got back I looked through my final choices and thought 'I'm going to go to Cumbria'.
What made you want to take part in the chance to promote the Summer Show?
We get to choose what briefs we do, but it was only told to us at the beginning of last week that this opportunity had come up. The way it sounded was really good, and since I'd already done the Christmas card, I thought it would be another great thing to put in my portfolio.
It sounded very interesting as I wanted to do more stuff with graphics work as well, more promotional work. I've done a lot of story-based work, so I wanted to try something a bit more with graphics, as I do enjoy this as well. I wanted to do something for me a little bit as well, so it was definitely a good project all round and I really enjoyed it.
What was the inspiration behind your entry?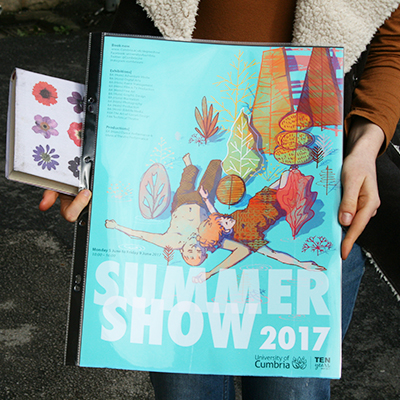 At the time when I was doing the people for my poster, they were actually for a different project. My tutor was saying to make it more corporate and make it more 'summer-y'. I sketched them one day and they just looked so relaxed and simple. I was doing something like three designs, and thought 'What if I put them all together', and add trees? I thought that would represent Cumbria very well, as it's a very nature-based place and it looks very relaxed. I wanted to do something bright and colourful – it wasn't intentional but it ended up working quite well.
One of those 'happy accidents', as they say.
Yeah, exactly.
What do you hope to do with your Illustration degree after university?
I signed up for a few freelancing places, but when I heard about the Masters course, it seemed like such a good opportunity. I don't think many people go on to do Masters after they finish their degree. I thought that especially considering we can go straight into the course from our undergraduate degree, it seemed like such a good opportunity that if I was to miss it, it would be a waste. I feel like it has a lot to offer – we can work with other people in other departments, so I can focus on illustration but still communicate with other subjects as well. So it just seemed such a good opportunity.
Hopefully I'll be able to get some work freelancing during my Masters. I haven't decided whether I'll do it part time or not – I think full time would be easier, but I want to try to get some freelance work out there as well, to get my name out there.
Will you be attending the art show in July?
Yes. We have our own exhibition that we're currently working on at the moment. I'm on the poster team as well, so you'll probably see some of those soon as well. We've all got our own thing on at the moment – we've got a nice theme running through everything so it should all come together at our exhibition. We'll have our own stand with all our own work.
What advice would you give to next year's contestants?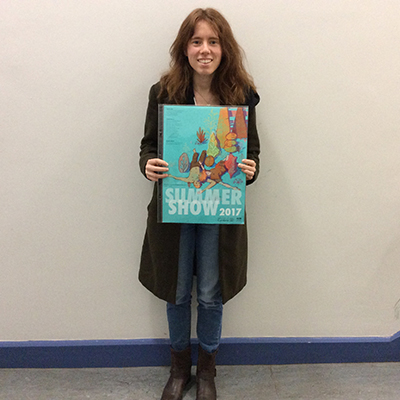 I'd say to do what you think would be best for it. When I first started thinking of it, I was constantly trying to think of something summer-y, but then I just decided to do something that I knew I would want to do, and that would fit my portfolio and my work best. So just keep in mind what it is you want to show, because it's yours and it will be your work, so keep that in mind.
Is there anyone you'd like to mention?
I'd like to thank Jim Millington for mentioning it, and my course leaders for bringing it up. I think they got it late on and said they they're letting Graphic Design and Illustration students do it. So thanks for telling me and encouraging me to take part!
You can find more examples of Emma's artwork via her website.