Film and TV: Ben
Ben Wangenye has been studying Film and TV Production at Cumbria since 2014, and during his time here has achieved some phenomenal work, including being nominated for Student of the Year. We sat down with Ben to ask him about his time at Cumbria and his thoughts about the course.
What first got you interested in film and television production?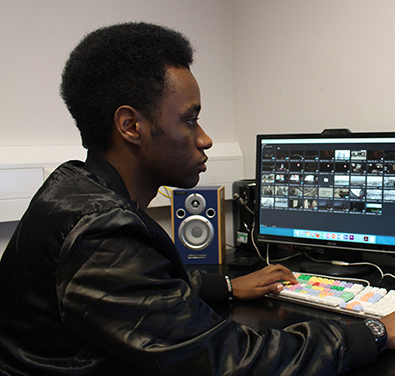 I have a different view on it than most, because I see the business behind it as well as the creative side. It being a film business, it would be nice to tell people stories and make a living at the same time! That's the challenge that everyone goes through.
Why did you decide to go with the University of Cumbria?
On the interview day, the lecturer was really friendly and warm. When comparing it to other universities that I'd applied for, this was the one where I felt that they genuinely wanted to help. I liked the small class sizes as well, because that would mean getting quicker feedback compared to other universities where it's quite big, so it may take a few more days than usual.
What is it that inspires your work?
I guess my inspiration is just other people's stories. At the end of the day I like to give people a voice who normally don't get one. It's also about giving them an authentic voice, because obviously with media and how it was before, it maybe was twisted based on people's biases. With me I really like to hear people's stories, give them an avenue and a way of bringing them to an audience that normally would never be able to see this world.
What do you want to do after graduation?
I'm currently in that debate of career vs postgrad. If I was to go into a career, I would like to possibly mix between working in Kenya, where I'm originally from, and working here. When I jump into industry I would like to go into the producing side of filmmaking, the side where it's all pushing numbers and organising everyone. I'd like to be a creative producer as well, so a producer that does do all the stuff beforehand, and then on set be able to chip-in in any way and be throughout the creative process of it.
You've been shortlisted for an award recently. Can you tell us about that?
I've been nominated for 'Student of the Year', which is…pretty interesting! I'm that person where normally it's not me, it's one of my friends who gets these achievements, so it's a bit of a shock to the system that I've been shortlisted.
Can you tell us a bit more about why you were shortlisted?
I organised an event last year called the University of Cumbria Student Film Awards. It was an interesting time because it was an event where there was over 100 guests at Vue Cinema. There was a red carpet, there was press coverage, everything. It was really nice to organise it because it's nice to have something at the end of the year where, as creative students, we get the chance to be recognised. Recognition makes you feel good, and it's nice to have the press see what we do. That added recognition from an external institution is really nice.
What do you enjoy most about the Cumbrian way of life?
I just like the people in general, and the fact that it's so small. It kind of is a positive and a negative, the fact that you know you have access to know someone. For an example, say you're looking for a filming location. I would know that I have a friend that knows someone that owns that place. So the fact that it's so community-based and everyone's willing to help is a very big thing for me. I really like the community feeling of Cumbria.
What would you recommend about the course to students interested in studying at Cumbria?
It just depends what you want. If you'd like a small uni where you can be free to do what you want to do, I'd recommend this place for that. The fact that here your class will be a maximum of 15, roughly, so you can get that personal attention and get to know everyone really well.