Fine Arts: Calum, Emily and Fiona
We sat down with Fiona Keegan, Emily Hartness and Calum Eccleston, three of our Fine Arts students taking part in this year's Degree Show, to ask them a few questions about their time at university and the work they will enter for the exhibition.
Thank you all for taking part in this interview. To start with, what first got you interested in art and design?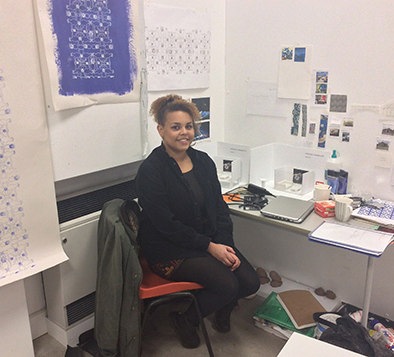 Fiona: I've always enjoyed drawing, and doing crafts and art with my friends when I was younger. It was a good way of bonding with people – I used to do a lot of crafty stuff with my friend and my grandma. So I've always just enjoyed art, it's always been my favourite subject.
Emily: I think it came from storytelling and writing and illustrating my own stories, and it just kind of grew into painting and working in theatre as well. Those two studies run alongside each other in my practices.
Calum: I was rubbish at everything else! Seriously though, I've always found it interesting integrating art into real life, so it's constantly fuelling one another rather than just being a hobby or pastime. Blurring the lines between everyday life, so to speak.
What was it about the University of Cumbria that made you choose us for your degree?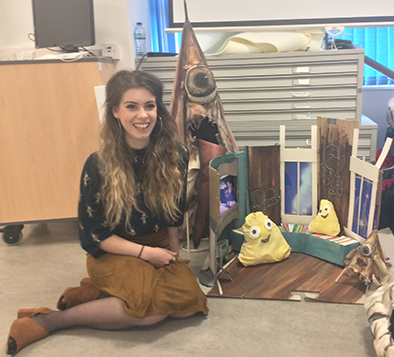 Emily: It was partly convenience because I'm from Carlisle, but it was also the tutors. I knew them before I started the course, and I knew what the building and facilities were like. I also knew that in a smaller university, you have more opportunity to meet with your tutors and have those 1 on 1 discussions, whereas in a larger university you have to live up to their expectations of what you're like. I knew that at the University of Cumbria, it's more relaxed and there's not as much pressure, so I stuck with the building that I already knew.
Calum: It was the city and the original building, Caldewgate, that was a huge selling point for me. When I came for the interview, I was just sold instantly – seeing everyone buzzing about because term had started, meeting the tutors and getting to know the way of life.
Fiona: For me it was when I came up to look around. I was always set on Chester, nearer to home, and when I came up here it reminded me of Chester. The tutors were just really friendly – I came up with my Dad and they'd set up hot drinks and donuts, and they got the students to show us around. I could tell there was a real community here, so I really liked that. I liked the facilities as well, and the fact that the technicians seem to really love what they do, you can tell, and that helps.
Can you describe the project you've entered for the art show?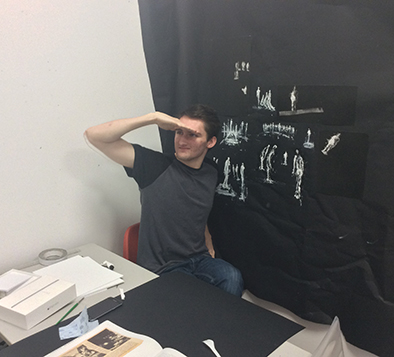 Calum: Well as I said, I'm fascinated with the everyday life and taking the self or humanness of every individual and placing it in various scenarios to see how it works. The piece I'm entering is called 'Void', and that was to do with the existential void or the black cube, and seeing how my grandfather would look sitting in that void, talking about his everyday life, and the viewer would slowly be engulfed by the void within, due to the decline in quality of life. Deep stuff!
Emily: I think it's more-so the challenge. My piece is going to be a performance piece, so it's not even made yet. It's in the process of being made for the degree show, so once I finish my degree I have to think about transporting it, so it's to make the work actually moveable as well. So it's the challenge of making something that's an installation a performance piece, and trying to work out how to redisplay it, whether it'll be a video piece.
So it's more just the experience of taking on the challenge of something like that and working out the problems. It's also problem-solving, trying to move things about which can benefit my future. Being able to say I know how to do things, like if I go into theatre, how to work in in-house theatre as well as touring companies, how to set up things.
Fiona: My piece is about utopia. It's a model of this world with all of my perfect ideals in it, so for starters, it's emerging two cultures and I'm trying to pushing ethnographic boundaries. It's inspired by science fiction, for example one of my main inspirations is the artist Keith Piper who creates contemporary digital art, but the designs within are also inspired by traditional artists such as William Morris.
Another reason I'm doing the show is because I like the organisation element as well – I have the role of team liaison for the show. We hold regular meetings, negotiate ideas, plan fundraisers and vote. We've created a professional email address also and are in the process of making a website, so it's really good experience for the future.
After you finish your degree, what would you like to do next? Are you looking to do postgraduate study, or go straight into the industry?
Emily: I'm taking a year out to choose which Masters course I want to do. I absolutely love Fine Art, but I know that I really want to go into the theatre side of things, and I know it's going to take a year to build up the experience to work within that industry. So maybe I'll try to apply for a residency somewhere and build a bit of experience before deciding.
Fiona: I eventually want to go into teaching, so I'll be taking a year out in which I hope to volunteer with a school, apply for a residency with schools, or apply to be a teacher assistant. I'll continue to volunteer with kids, doing workshops and things, and hopefully build up my confidence and be in the right environment to teach a year after, when I have a bit more confidence. And hopefully get a bit of money to travel with at the end.
Calum: I'm doing a Masters in Fine Art here – in fact I just had my interview in this very room yesterday! After that, we'll see.
We also have the Freerange show in London this summer. Are you taking part in that?
Fiona: I didn't apply because I had an opportunity to work with youths who'd just left school, and I thought that was more beneficial to my career path. But if it had been a different time I'd have taken part, because it's a very good opportunity.
Calum: It's just such a great opportunity to display my work in a new place. I've always displayed my work in Carlisle, so this is a good chance to get it out there in London, in a new place.
Emily: I think it's the networking opportunity. It's getting to meet new people from other universities so it's just getting advice from others, seeing where they're going and if they can help with my own work. Also seeing if there's anything out there that can combine my love of theatre with my work in Fine Art – if there was an option to do something like that here, I'd definitely do it. A lot of people on our course end up doing performance pieces, and it'd be good to merge even contemporary theatre with fine art just to combine the two disciplines.
What advice would you give to people taking part in next year's show?
Fiona: Be really organised, and really get to know your subject area. I'd suggest to continue what you're doing in second year and just develop it – it's less stress than changing subject area as people have done at the last minute. Find out what you really enjoy and become an expert in it. Do your reading, and get to know the resource area that you're going to be using a lot.
Emily: Definitely you need to be organised, because you need to make plans. You need to know your subject area, and it's a good idea to spend the first half of your second year experimenting with what your specialist area is. Go to the resource areas, get to know the people there and the materials. Also, definitely do your dissertation on your practice, because it just makes it so much easier. It means you don't have to go through books and do lots of reading, you can just use the knowledge in your head of your specialism, and use the extra time to just make things.
Calum: Think through making- you have to make and develop through creation rather than just planning everything by writing what could and should have happened. Make it and see, and that can lead you down routes you never thought you'd go on.
Is there anything else you'd like to add?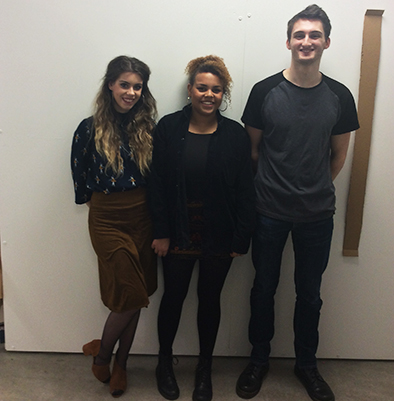 Emily: Thanks to Roddy for setting everything up. So much has changed this year thanks to him, and he's just so enthusiastic. You even see him around, which you never usually get from a head of the institute. He does tutorials with people, and he did our assessments. When you talk to him, he's just so enthusiastic about things which is so nice to see.
Fiona: Thanks to the tutors as well, because I feel at this course we've learnt a lot more than just art. For example, we did practice in year 2 which is about creating a show. We had to start a show from scratch, so we learnt how to make a show, how to make plinths, how to create canvases. It's good to learn about things like that as well, and not just the theory of art and just creating art. I think they show more than just an understanding of fine art, because they're artists themselves. I feel that we're leaving our art degree with a lot more knowledge than some people would.