Vice Chancellor's Inauguration
A new era has begun at the University of Cumbria with the formal inauguration of Professor Julie Mennell as the institution's vice chancellor.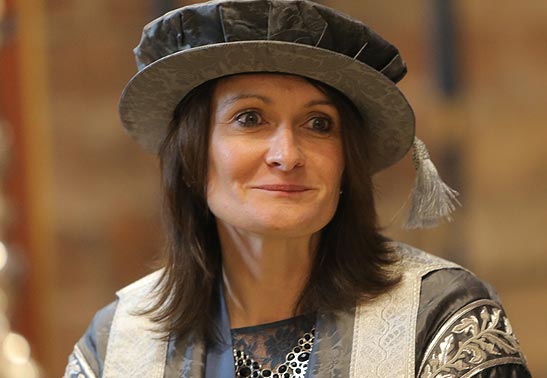 The ceremony, led by the Most Reverend and Right Honourable Dr John Sentamu, Chancellor of University of Cumbria and Archbishop of York, took place at Carlisle Cathedral on Thursday 24 November.
In her inaugural speech, Professor Mennell spoke of her determination to make the university "a strong anchor institution" developing a strong STEM, rural and visitor economy, arts and culture, health and well-being and education portfolio for Cumbria, Lancashire and beyond."
And with the university set to mark its tenth anniversary next August she told staff and students of her desire to build on the institution's success so far:
"I make a firm commitment to all of you here today to ensure that as the university's new vice chancellor I provide, the leadership, directly and by supporting and empowering others, needed for us to enable and inspire success."
Welcoming Professor Mennell to the university, The Most Reverend and Right Honourable Dr John Sentamu said:
"Partnerships are part of our DNA and are essential in developing and delivering challenging and innovative learning. Our future success will not just be down to us but also to the many people with whom we collaborate, sharing a common purpose to make tomorrow better."
Prior to becoming vice chancellor, Professor Mennell was at the University of Sunderland spending time as deputy vice chancellor where her recent role involved leading the university's development activities including international and transnational activities, student recruitment and product development.
She has also held senior positions at Northumbria and Teesside universities and is a former president and honorary member of the North East Association of Science Education and a fellow of the Higher Education Academy, The Chartered Society for Forensic Sciences, Institute of Measurement & Control and the RSA.
Julie has an international reputation in the field of forensic and crime scene science, having made significant contributions to forensic science strategy, education and workforce development in the UK and overseas, including serving on the Home Office Forensic Science Advisory Council and the Skills for Justice Forensic Science Occupational Skills Committee.
A mathematics and physics graduate from the University of Leeds, Julie holds a PhD in Applied Physics from Teesside University, focused on the radiometric characterisation of pneumatic suspensions of particulate solids, and a PGC Learning & Teaching in HE.
Event speakers included:
Euan Cartwright, University of Cumbria Board Chairman
Honorary Fellow, Sarah Dunning OBE
Academic Officer for the Students' Union Theresa Pellegrino