Paul Johnson says 'your stories matter'
Paul Johnson graduated from his PGCE at our Lancaster campus in 2009. After four years in the classroom as a primary school teacher Paul left to follow a new ambition.
Now he publishes children's books with a difference and has founded Your Stories Matter. His passion is to raise awareness, increase understanding and celebrate the differences of neurodiversity and he does this through the point of view of children themselves.
Here Paul reflects back on his time at UoC and his career to date.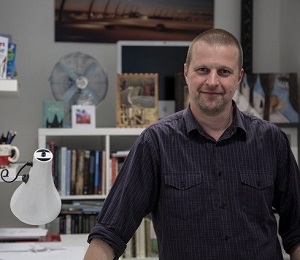 Name of course:
PGCE Primary
Year of Graduation:
2009
Where are you from originally?
Kendal, Cumbria
What made you choose to study at UoC?
So I could commute to do my study – I had children to get back to at the end of each day.
Why did you choose your particular course?
I was approaching 40 and decided I needed a change of career. So I chose teaching as something that was both useful and would push my boundaries. However I had a family and needed to get back to work as soon as possible after study: a PGCE – while a baptism of fire – was a quick entry route into the profession given I already had a relevant degree. Within a year of deciding to be a teacher I was in my first post in a primary school in Lancashire. Scary!
What did you like most about your course?
Being with like-minded people on the course, as we were able to support and motivate each other. I found the PGCE workload, on top of the teaching and required preparation time, pretty tough to be honest. And I'd held senior positions in my previous professional career, with a lot of pressure and responsibility.
What was your favourite experience at university?
Probably the placements. Oh, and the fun tutorials about how to teach maths creatively.
Do you have any particular memorable/funny stories to share?
Ah, you mean the 'Cupboard Incident'. No.
How did coming to university change your life?
It equipped me for a whole new career. You can reinvent yourself, even in your 40s!
Did you make any lifelong friendships at university?
I still bump into people I trained with, from time to time, and it's nice to swap stories.
Current Employer: Explainer HQ
Job Title: Chief Explanation Officer
What were your career ambitions when you started studying and do you think that you have achieved them?
I trained to be a classroom teacher with a view to becoming a head teacher by the time I retired. However after just four years I left the classroom and used the experience to found an educational film-making and book publishing company to reach hard to engage students.
My particular passion is working to raise awareness, increase understanding and celebrate the differences of neurodiversity (eg dyslexia, dyspraxia, ADHD, autism) through storybooks written from the point of view of children. I spend a lot of my time commissioning, editing and designing books, then promoting them once they have been published. I'm also developing free teaching resources in conjunction with local schools that can be used alongside the books.
So have I achieved my ambition? Not exactly, but I've followed a very interesting journey that has led to a new set of ambitions. Does that count?
Would you be where you are today, without your degree?
I wouldn't be doing what I am doing now. And I love what I am doing now!
What are your current career ambitions now and in the long-term?
I aim to continue publishing through the Your Stories Matter imprint, broadening the range of titles. For instance, I have just signed up an author to publish a series of books for young children that subtlety and sensitively deal with gender diversity. I am also working on adult books covering stories relating to mental health and autism. While I started with children's books, I intend Your Stories Matter to cover stories for all ages.
I'd also like to grow Explainer HQ's educational film-making side of the business (the parent company of Your Stories Matter). Short films are a fantastic means to quickly get a point across to audiences of any age. We also do animation, which if done right can make a film even more engaging.
I'd love to do more work on video-based teaching resources that make learning maths and science, for instance, more understandable and lasting.
If I can do this kind of work until I die, I'll be happy. I've finally discovered what I am meant to be doing – even if I'm getting on a bit.
Oh, and did I mention the screenplay I'm planning to write to further increase understanding of autism in the form of a film or TV drama ...
What is the most satisfying aspect of your job?
Seeing the look on people's faces when I tell them I'd like to hear their story and help them share it.
What are you most proud of?
There aren't many (or any?) publishers out there doing quite what I am doing. I wish there was. I've even had people from the United States reach out to me to see if I will publish their stories (which makes me an international publisher, right?). The nearest we have out there are books by professionals for other professionals about how to best handle people with learning differences. I feel I am complementing these texts by publishing authentic books written from the ground up by people who live daily with a difference.
If there is one thing more important in my work than increasing understanding of differences, it is letting people know they are not alone. This is an important first step for most people who don't feel good about themselves because they are different, whatever their age. By successfully setting up a publishing company and getting books out there, I have already made a positive difference to a few lives. If that is all I do, then it will have been worth it.
What advice would you like to pass on to our current students if they wish to pursue a similar career to you?
If you want to go into teaching, help out at a range of schools beforehand, for weeks or months not days. Talk to teachers about what their full day looks like in reality. Reflect upon whether you need a job that allows you to finish a project through to the end, or whether a job that sees you constantly juggling with no obvious end suits your personality.
Many teachers I trained with and taught alongside are no longer classroom teachers. It is a demanding job and it takes a special kind of person to be a good teacher. You're either a natural, or it'll be a constant uphill struggle.
Also consider alternative jobs in the education sector, like I found myself doing.
Any other thoughts you wish to add …
Even though I am no longer a classroom teacher, I still consider myself a teacher and am proud to use that title. Applying to do a PGCE at the University of Cumbria, qualifying to be a teacher and my first years of teaching were the toughest years I've ever experienced. I am extremely proud to have achieved what I did, even if I subsequently felt I could make more difference from the outside-in. If I hadn't been on that journey, I wouldn't be doing what I am doing now. So, given the chance, I wouldn't change a thing.
Paul is keen to work with schools to offer teaching materials free of charge. He invites teachers to get in touch. More information and contact details can be found on his website https://www.yourstoriesmatter.org/