What are you up to now?
Have you got an exciting new job, working on a new project, want everyone to know about your own business, had something published or exhibited? Perhaps you are getting married or had a baby? Whatever your news, we would love to hear about it and share it with your fellow alumni. Drop us an email alumni@cumbria.ac.uk to share your story.
Mark Carver, class of 2007, English and Secondary Education. Class of 2016, PhD Educational Research
Mark studied at the Lancaster campus when it was St Martin's College, training as a secondary school teacher. He studied a part-time masters in education at Lancaster University immediately after, followed by teaching at schools and universities in Asia.
He returned to the UK in 2012, teaching English at the Hastings Academy, before returning to the University of Cumbria on a PhD scholarship. Mark's first research position was at Edinburgh Napier University, and he soon found extra teaching and supervision work at the University of Stirling and the University of Edinburgh.
Mark's latest role is as an EAP Teaching Fellow in English Language Teaching at the University of St Andrews. While he has yet to teach any royalty, he is excited to be teaching at such a world-renowned university and is extremely grateful to Sue Bloxham and Pete Boyd for their support throughout the PhD, and to Cumbria's Krista Court for giving him his first job in EAP.
June Terry, class of 2017, Fine Art
June was a mature student at UoC, having previously studied 5 years art and design at Epsom School of Art, University of the Creative Arts in Surrey.
During the 36 years gap between her studies she was homeless, became a mother, a carer, and then was unable to work due to ill health, but during all of this she was always an artist.
June joined University of Cumbria Institute of the Arts to realize her dream to complete her degree and joined the fine art course in the 3rd year after recovering from a life changing injury. June says "I made a conscious decision to fight my disability at the same time as focusing on working hard to achieve my goal. It was a steep learning curve and I struggled with mental and physical problems but I went to all the tutorials and used a diary to meet all my deadlines. "
During the course she had the opportunity to travel to New York and Berlin, and secured a Hadfield Trust sponsorship to attend a bronze foundry course at Yorkshire Sculpture Park "which was fantastic" she adds.
June has recently secured full time art based employment as activities co-ordinator in a large Carlisle nursing home. June explains, "I love it as it enables me to continue to train and continue as an artist face to face with real life and real people. If I can do it anyone can."
Follow June's artistic career on her Facebook page here. https://www.facebook.com/cumbria.co.uk/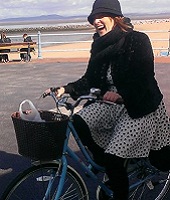 Charmaine Rothwell (was Nuttall), class of 2000, Community and Youth Studies
Charmaine describes her time studying at the Lancaster campus as "life changing". The first in her family to go to university, she left behind a housing association estate in Preston with her 5 year old son to move to Lancaster to study for her degree in community and youth studies.
Describing why she picked the campus, Charmaine states, "it felt cosy. As a mature student I wasn't looking for the full university experience, although I could have got more involved if I wanted to." It was important to her to pick a place where both she and her son could thrive "I loved Lancaster, it was friendly and pretty and campus was easy to get to and close to town" she adds. With her son enrolled in the school directly opposite campus they could both walk to school school together in the mornings.
Charmaine now works for two organisations Young Addaction Lancashire and CancerCare, working with young people and their communities. "Everything about my job is satisfying, I have the privilege of working with some incredibly inspiring people" Charmaine explains. "I am very excited that my role will shape the future development of the childrens' and young peoples' service of CancerCare."
"Without question my degree has changed my life and shaped my career. I have remained in the Lancaster area since university, which meant that I was able to build my professional reputation locally. It also meant my son grew up here and it became our home."
Djamil Remodkhan, class of 2015, MBA Leadership and Sustainability
Originally from Mauritius, Djamil chose to do his MBA in order to advance his career. "As a private banker with the Mauritius Commercial Bank Ltd, the MBA will give me more scope concerning my job" explains Djamil. "It also taught me to think outsider the box and gave me more confidence."
Djamil explains that his favourite part of the course was the residency element, based at our Ambleside campus and graduation, which he describes as "fantastic". He picked the course as it was available online, at a distance and would fit around his busy life.
Djamil explains "I lost both my parents within 2 years, Dad in 2003 and Mum in 2005, when I was 25 years old. The MBA was for them in a way. Throughout I could hear them saying "come on Djamil, make us proud". After my graduation ceremony, I went back to my hotel room and cried all that pressure out, I felt that I finally achieved that for them."
In the future Djamil has ambitions to be the head of his department, "and why not a CEO too" he adds. His top advice for any of today's students "never give up when the going gets tough. Perseverance is the key to success."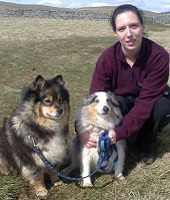 Sarah Radcliffe, class of 2014, MSc Forest Ecosystems Management
Sarah is a woodland officer for the Forestry Commission. Starting her career as an admin officer for the same organisation, she always had a dream of becoming a woodland officer so she looked for a way to gain the relevant qualifications. She chose UoC due to the proximity of the campus to where she was living plus the fact UoC is one of the main providers of forestry courses in the county.
Sarah explains that her role involves "helping landowners understand how they can manage their woodlands to realise their objectives, these could be for timber production, wood fuel, biodiversity or game management. I am proud to be one of the government forestry experts and one of the only woodland officers who have an MSc who can give advice to landowners."
"At the moment I am happy in the job I am doing" states Sarah, but her next challenge is to gain her chartered status allowing her to become a member of the Institute of Chartered Foresters, which would further enhance her career prospects.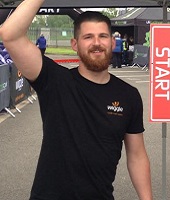 Matthew Ireland, class of 2015, Physical Education
When Matthew enrolled at university, he had ambitions to be a PE teacher. "Whilst I still think it is an admirable profession, I knew after my placement module that it wasn't for me" he explains. Matthew's ambitions changed somewhat and after a module on sports event management he began to realise what he would be more suited to.
Now the event specialist for UK Cycling Events Ltd he plans cycling sporting events. "Our customers are cyclists. Cyclists include everyone from ex pros, amateur racers and club riders to weekend hobbyists and first timers! Seeing someone ride say 30, 50, 100 miles for the first time and experiencing their joy with them is amazing and the most satisfying part of my job" he explains.
Originally from Gloucester, Matthew has lived in Carlisle since the age of 12. He picked UoC as it "had the exact course I was looking for, whilst being on my doorstep, it was an extremely easy choice!" he states. He has fond memories of his time as a student, not least a trip to the Lake District on an outdoor education module. "The trip was really good for our group as a whole and also our individual learning, plus is was such a laugh".
"I've learnt a great deal from studying at university, and not just academic studies. University teaches you to think, that really does change you. My degree gave me knowledge, life skills and confidence, with it I also secured my current role." States Matthew.
Currently Matthew is working hard planning another successful season of cycling events throughout the UK and in the distant future he has ambitions to start up his own events company. He just purchased his first house with his girlfriend "I know it's not a massive achievement to some, but I feel like I'm doing something right" he explains.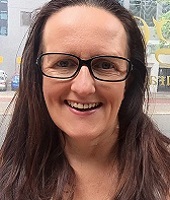 Gaye Cameron, class of 2015, MBA Leadership and Sustainability
"Gaining my MBA was a bucket list moment for me" explains Gaye. " With the ever changing world, in particular our resources, I wanted to learn the skills and attributes to become a great leader, but also to take the business I work for to the next level, and think/work outside the square". She adds.
Originally from Sydney Australia, Gaye is the national senior health, safety, environment and quality advisor for Goldwind Australia Pty Ltd, a global leader in the development of sustainable renewable energy. Her career ambitions are to be CEO and she feels her ambition is not that far away, adding " always looking forward, never go back". Gaye firmly believes that life is an adventure to enjoy "just don't stop at one dream, keep dreaming".
Holding an international and recognised degree from a UK university was her first attraction to the course, completed through our partnership with Robert Kennedy College. "The history of the university and the depth of experience and knowledge of academia was another attraction" explains Gaye. She was able to complete the course at her own pace, and also have the opportunity to meet with like minded classmates from all over the world on the week long residential in Ambleside, many of whom have now become good friends.