What are you up to now?
Have you got an exciting new job, working on a new project, want everyone to know about your own business, had something published or exhibited? Perhaps you are getting married or had a baby? Whatever your news, we would love to hear about it and share it with your fellow alumni. Drop us an email alumni@cumbria.ac.uk to share your story.
Martyn Halsall, class of 2009, PhD Creative Literary Studies
Martyn Halsall, who wrote his PhD in creative literary studies at the University of Cumbria, has won the Borderlines poetry competition in the Carlisle literary festival. His poem, Schedule of Dues, looks at the various historic charges made for goods and animals taken on the ferry between the Scottish islands of Mull and Ulva, as a parable of remembering. The poem, and the judge's comments, are available on the Borderlines website.
Martyn's PhD combined a poetry collection with critical analysis examining 'poetic truth in times of exile.' After completing his doctorate, and a career in journalism, he became poet in residence at Carlisle Cathedral; a year that produced his poetry collection Sanctuary (Canterbury Press). He has since published two poetry pamphlets, Coronach (Wayleave Press), and Borrowed Ground (Cylch Cerrig Press), and is completing a further collection exploring experiencing cancer. A former poetry editor of Third Way magazine, he writes about poets and poetry for the Church Times.
Martyn said: "I thoroughly enjoyed my time as a post-graduate student at the university, where I was fortunate to be supervised by two outstanding and encouraging tutors, Dr Penny Bradshaw and Dr Lucy Collins. Their academic expertise, friendship, and critical engagement was invaluable; shaping not only my thesis at that time but writing that has followed."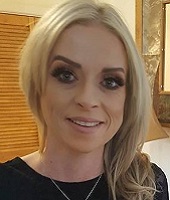 Charlotte Lowe, class of 2016, Cognitive Behavioural Therapy
Originally from Wigan, Charlotte studied at undergraduate and postgraduate level in psychology at UCLan before joining us at our Lancaster campus to complete her studies with a Pgc in cognitive behavioural therapy in 2016. "I was interested in working therapeutically with individuals and helping them through difficult times. I already knew a lot about CBT so I wanted to consolidate this knowledge," Charlotte explains.
Charlotte is now a CBT therapist with Action for Children. Her aim is to raise awareness of mental health issues and develop resources to assist as many people as possible. The most satisfying aspect of her role is seeing the difference in people as they start to feel better after receiving therapy. Charlotte has been very successful so far in these aims and has developed a model for schools to guide them on the best ways to support student's mental health. She went on to win an award in 2017 and has discussed her work with Channel 4 news and has had a number of articles published on the subject.
Charlotte is most proud of her beautiful children, a boy aged 14 and a girl aged seven.
Charlotte's mental health resources are available from her website. Here you can find her model for schools, a directory that outlines various resources and tools available to support young people. You can download all of these for free here.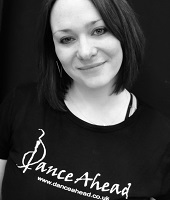 Zoe Gadd, class of 2005 and 2014, Performing Arts and Academic Practice
Zoe has been 'intrinsically linked' to the university throughout her life, "Perhaps it's in my bones… or I am in the bricks and mortar" she explains. Zoe's first experience of UoC was aged 16 when she embarked upon work experience at the Brampton Road campus, the then Cumbria College of Art and Design. She was struck by the place, explaining, "it was an exciting and creative hub filled with mavericks and inspirational artists." Zoe then completed her undergraduate studies in performing arts and graduated in 2005. She has since returned as a member of staff and achieved a postgraduate qualification in academic practice.
In 2008, Zoe set up Dance Ahead along with her sister Sarah, who is also an alumnus and has her own millinery business in Carlisle. Zoe and her sister Sarah have both invested large portions of their life to working as artists and creative practitioners in Cumbria. One of Zoe's main aims with Dance Ahead is to raise the aspirations of dance and theatre performance in the region. "The ability to demonstrate to youngsters that it is possible to sustain a career in the arts and that there is no limit to what you can achieve if you put your mind to it," Zoe states, is the most satisfying aspect of her job.
Looking to the future Zoe would love to forge stronger links with international artists in order to push the boundaries of her choreographic practice and closer to home. She explains further, "I would love to see a supportive infrastructure in the region that could sustain a company of professional dancers that could hold its own against other national companies."
Keep up to date with Zoe's work on her website here.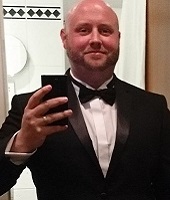 Simon Rediss-Whitfield, class of 2008, Sport Studies
Originally from Warrington, Simon explains why he chose our Lancaster campus, "because it's a city built on students, it is a city you can let your hair down in and not have to worry about your own safety," adding "plus it was far enough away that my parents wouldn't visit every week."
Simon made lifelong friends, life long memories, learnt who he was as a person, oh and achieved a degree whilst studying at the then St. Martin's College. Today he admits that he wishes he could turn back time and re-live it all over again. "Not a day goes by where I don't reminisce about the days at university and how it has shaped my life." He adds, "I remember in my last week heading down Bishop's walk with friends and saying this is the last time in our lives we will ever be able to go into town care free and with little responsibilities."
Now Simon works as an IT project manager for Transporean GMBH, a company offering software solutions for transport logistics. He went into teaching straight after graduating, before moving into the private sector training and then into projects. "I don't think I would have the position I have today without my degree, the transferable skills it taught me were invaluable." He freely admits that money is the most satisfying aspect of his job, "the salary justifies the stress," he adds. In the 10 years since Simon graduated has also bought his own house, got married and had a son.
Looking to the future, he has plans to immigrate to Latvia in 2020. He aims to remain with his current employer for the next few years with potential advancement and then hopefully set up his own consultancy.