What are you up to now?
Have you got an exciting new job, working on a new project, want everyone to know about your own business, had something published or exhibited? Perhaps you are getting married or had a baby? Whatever your news, we would love to hear about it and share it with your fellow alumni. Drop us an email alumni@cumbria.ac.uk to share your story.
Kimberley Stacey, class of 2004, Foundation Arts
Kimberley studied the art foundation, at our Brampton Road campus, what was then in 2004 the Cumbria Institute of the Arts. The varied course, designed to give a flavour of many different artistic disciplines, attracted Kimberley initially as she was not sure the direction she wanted to go.
During the course she discovered a love for fashion design and produced a great portfolio which enabled her to go on to study at the Manchester Metropolitan University.
Now a full time fashion designer Kimberley started her label Tiska London in 2017, and since then the brand has featured in British Vogue magazine, and stocks in stores in London and New York. A recent successful Kickstarter campaign will see her label flourish further.
"I have now achieved what I set out to do – to find something I love" explained Kimberley.
Paul Simpson, class of 2007, Diagnostic Radiography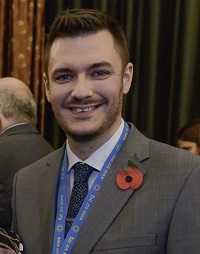 As a self confessed 'secret geek' Paul opted to pursue a career in radiography because 'it is a great balance between healthcare, caring for people in general and technology' he explained. The born and bred Cumbrian was keen to study in his home county and on the door-step to the lakes. So he picked the 'quiet and secluded' Fusehill street campus for his studies, which back in 2007 was transitioning from St. Martin's College to the University of Cumbria. Plus Paul's mum was studying at our Lancaster campus at the same time, for her degree in mental health nursing, and he didn't want to be constantly bumping into his mum!
Paul is now Advanced Practitioner (Plain Film MSK Reporting Radiographer) for City Hospitals Sunderland NHS Foundation Trust, a role that he finds very satisfying. 'Knowing that I make an impact on people's lives everyday, even if it's just a kind word and a smile' he states.
Paul won the Society and College of Radiographers Team of the Year (Northern region) award in 2017. Plus the Alan Nichols Memorial Award for best proffered paper by a Radiographer this year. He also contributed sessions to an NHS Health Education England's e-learning for healthcare programme. All accolades he is justifiably proud of.
Since qualifying Paul has even found time to pop back to campus to offer clinical teaching to students, which he explains that he loves doing. 'Being taught directly by practicing radiographers is fantastic for the students' says Paul. His top tips for anyone wanting to follow in his footsteps… 'spend some time doing work experience in a radiology department and do some research into radiography, there's a lot more to it than just broken bones!'.
Mairi Singleton, class of 2014, Fine Art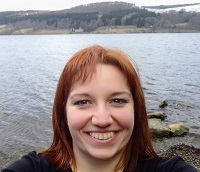 Mairi chose her fine art course, based at our, now closed Caldewgate campus, because it was interdisciplinary, meaning she did not have to specialise in any one field. In fact her last year's work was a combination of welding, casting, photography and printmaking. Caldewgate was especially important to her, she wanted to learn in a building that inspired her. 'I based my whole practice around the architecture of that building and surrounding area', she explains.
Reflecting on the best bits of her course, Mairi found the individual spaces to work in, access to all the equipment, workshop spaces, technicians and tutorials all really helpful. She came out of her course with more than just her degree; the course was a community, so she now has many great friends whom she has stayed in touch with.
Now back home in Bathgate, West Lothian, Scotland, Mairi is the Assistant Manager at Petula@Perks a local café. She explains that her career ambitions are on hold currently whilst she helps at the family business. She is really proud that she is working her way through her bucket list; to get her degree, to run a business and a learn how to drive.
Roger Chester, class of 2017, Practice Development: Digital Health
Roger works as the market transformation, commissioning and contract lead/senior project manager for Wirral CCG & Mersey Care NHS Foundation Trust. He picked his post graduate certificate in digital health as he wanted a course 'which would help benefit the health and social care sector and its stakeholders' he explains. 'The course offered a supportive structure, which enabled me to develop a highly successful innovative patient focused and economic solution to a significant issue faced nationally', Roger states.
Roger studied on our Lancaster campus and found it to be 'very welcoming, friendly and relaxed'. He particularly rates the 'highly dedicated academic staff' he further explained that 'their passion, determination and support enabled me to continue with his course development journey'. In particular his personal tutor Elaine Bidmead he rates as 'highly commendable, genuinely passionate about her subject and supportive to students'.
Roger credits his course with helping his career progression. He describes himself as a highly ambitious person who is motivated by challenges. 'I am passionate about NHS patient care and support.' His ambition now is to progress further within the health and social care arena and to continue to make a positive difference through innovation and market transformation.
Fiona Keegan, class of 2017, Fine Art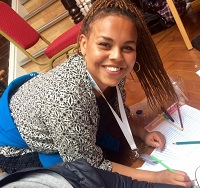 Originally from Wigan, but born in Tanzania, Fiona knew that she wanted to teach before she went to university. 'Fine art has always been my strongest subject' she explains. After completing her three year degree at the Brampton Road campus in Carlisle Fiona moved home to Wigan and studied for her PGCE, and she is now working as a teacher of design. She will soon move to Sweden to teach art at an English speaking school there.
Fiona picked her course because it was small and the tutors all knew the students. She also enjoyed that fact that the subject was multidisciplinary, allowing her to use all the facilities, work with different mediums and techniques with the support of the specialist technicians. 'There was a real sense of community and culture within such a small institute which was unique to the university' Fiona explains was another significant plus point.
Fiona achieved a first class degree and she is rightfully proud. 'I didn't enter the course thinking I would ever have achieved that and I enjoyed going to university so everything fell into place.' Looking to the future Fiona is keen to continue to teach in creative subjects and possibly one day teach at degree level too.