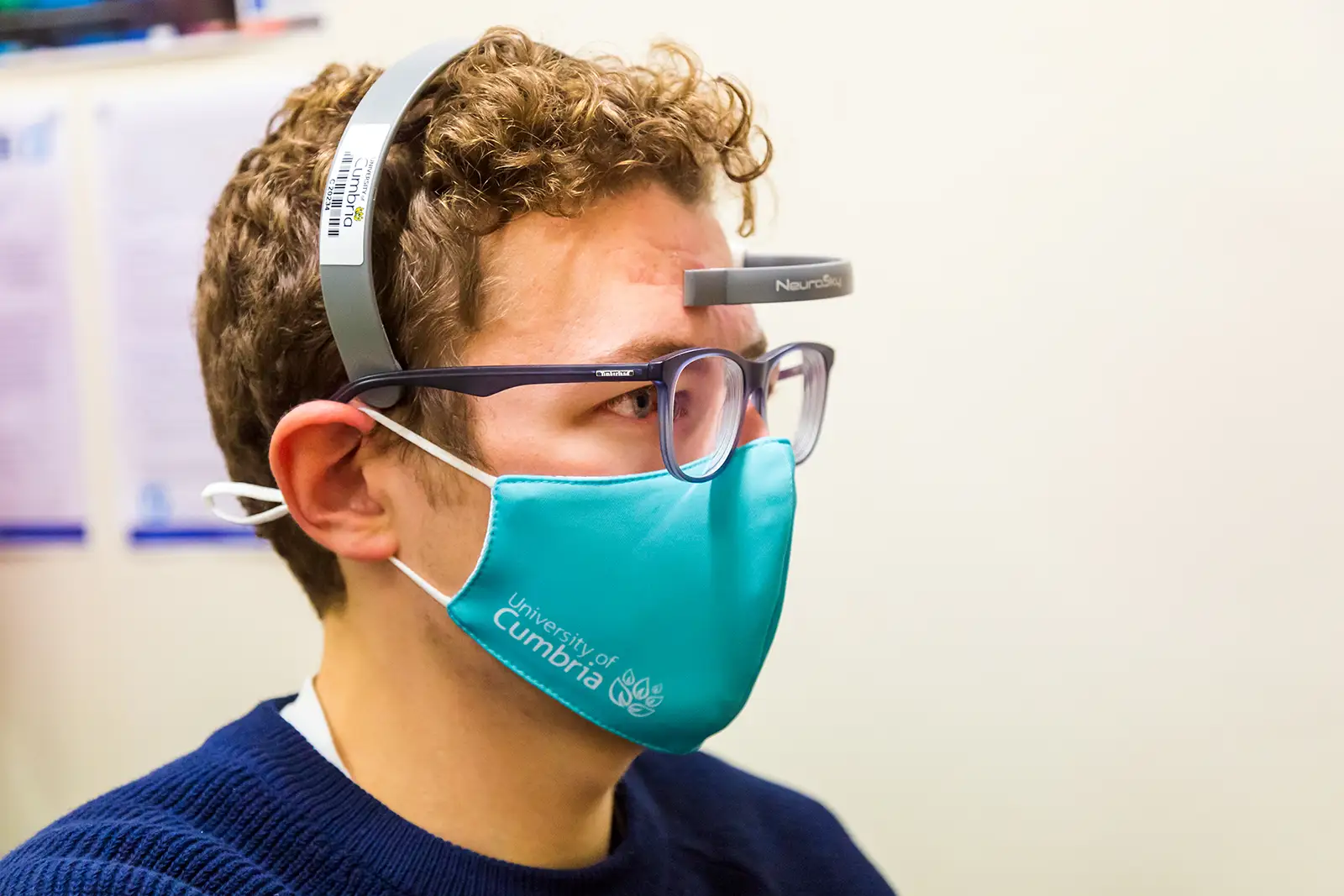 So just what can you do with a Psychology degree? You'd be surprised where it could take you. From education to sport and from counselling to criminology, your Psychology degree will equip you with a wide range of skills and open the door to endless opportunities.
But more of that later. Let's break down the topic first.
What is Psychology?
As stated previously, Psychology is the scientific study of the human mind and human behaviour. It takes an in-depth look at how societal, environmental and biological factors influence our thoughts and actions. With greater insight and sound methodology we can begin to understand and address societal issues.
Psychology is a huge discipline with multiple specialisms. Here are a few of the most well-known, all areas you could explore as an undergraduate Psychology student.
Clinical Psychology
As a Clinical Psychologist, you will support a wide range of people with physical and mental health problems, some of which may include anxiety, depression, addictions, eating disorders, relationship issues and personality disorders.
Using a blend of observation, interviews and testing, you will make an initial assessment of your patient's health and work in partnership with them to decide upon and implement a treatment plan.
Through a series of one-to-one or group sessions, you will support your patient to manage their symptoms, engage in meaningful activities and improve their overall quality of life.
Health Psychology
In simple terms, Health Psychologists support people to live happier, healthier lives. You could be working in a clinical setting delivering group smoking cessation workshops or helping people better manage their stress.
You will also be expected to help people manage the emotional and psychological impact of ill-health, for example, in a pain management clinic or within a women's health service setting.
Rather than focus on treatment, you may decide to venture into public health psychology where you can use your skills to carry out research, design public health programmes and shape policy.
Educational Psychology
Educational Psychologists work within Local Authorities to support children and young people with emotional or social distress and learning difficulties to achieve their full potential.
Utilising psychological theory and research, you will implement a programme of therapeutic interventions designed to develop emotional, behavioural and social skills. These may include behavioural management strategies and relaxation techniques for the patient and group work for the whole family.
The desired result is a child or young person who can confidently engage in learning and learn more effectively.
Counselling Psychology
Counselling Psychologists integrate psychological theory with therapeutic practice. You would deliver a course of talking therapy to people experiencing a wide range of mental health issues and life events, including depression, anxiety, trauma, bereavement and abuse.
In an attempt to alleviate psychological distress and promote well-being, you would focus on helping patients understand their thoughts and behaviours in the context of the world around them. Treatment is client-centred with an emphasis on playing to the client's strengths and abilities.
Forensic Psychology
Forensic Psychology is a discipline that links psychological theory and evidence-based research to criminal investigation.
A large portion of a Forensic Psychologist's work will be committed to the assessment and treatment of people implicated in the criminal justice system. These could be offenders, prisoners and victims of crime.
Working in partnership with the police, prisons, young offenders institutions and probation services, you will implement programmes that address and treat sexual violence, aggression, drug and alcohol addiction and poor interpersonal skills.
You can also be expected to advise on parole boards, provide expert witness testimony, contribute to policy formation and undertake research projects.
Developmental Psychology
Developmental Psychologists study how humans grow and develop over the course of their lives. You will look specifically at the emotional, social, cognitive, intellectual and biological changes experienced from birth, through childhood and into adulthood.
You will treat people with developmental issues in a variety of settings, including, but not limited to, health centres, hospitals and residential care facilities. Your aim is to understand why individual thoughts, feelings and behaviours change over a lifespan, with a specific focus on the influence of nature and nurture on human development.
Neuropsychology
A Neuropsychologist works to understand the relationship between the brain and human behaviour.
Possessing knowledge of mental health issues and specialist neuroscience expertise, you would assess individuals to measure and treat cognitive and behavioural changes resulting from traumatic brain injury or diseases of the nervous system, like Parkinson's or stroke. A treatment programme will be instigated depending on the cognitive and psychological needs of the patient.
Other sectors you can enter with a Psychology Degree
Now that we've covered the main types of Psychology and areas of work you can enter, you'll have a better idea of the opportunities that await you as a Psychology graduate. Your entry into this exciting field begins with our BSc (Hons) Psychology or BSc (Hons) Psychology with Counselling and Psychotherapy degree courses.
From here you can continue your studies into any of the aforementioned specialisms and become a chartered psychologist, or you can consider your degree as a springboard to areas of work that demand open-mindedness and an ability to understand and interpret complex information. As well as a strong theoretical and therapeutic grounding, your Psychology degree experience will provide you with the following competencies:
Research skills
Critical reasoning skills
Understanding of human behaviour
Communication and interpersonal skills
Open-mindedness and an ability to build relationships quickly
Flexibility
Report writing
Time management
These transferable skills can be applied to any number of job roles. Here is a selection of related fields that may provide food for thought. Further study may be required for some, others will be made accessible by the transferable skills gained on your degree course.
Teacher
The insights gained from your three-year Psychology degree course will be an advantage if you decide to enter the education arena. How? Through your first-rate communication skills, and your ability to build rapport and understand and manage challenging behaviours. To qualify as a secondary school teacher, you can complete a one-year PGCE course or look into graduate schemes.
Health Care Assistant in a Psychiatric Setting
This is a great pathway if you have a Psychology degree and are interested in pursuing psychiatric nursing. If available in your health trust, practical experience in a mental health ward could lead to a registered nurse degree apprenticeship.
Marketing Professional
This option won't come as a great surprise, considering your exceptional communications skills and talent for getting inside someone's head, abilities that are highly sought after in the marketing sector.
Similarly, your written and communication skills and understanding of the human mind could be put to good use as a marketing copywriter. A copywriter composes creative written content in different formats with the intention of promoting a product or service.
Research
Understanding human behaviour and possessing the ability to conduct research will stand you in good stead if you decide to pursue this path. As a social researcher, your work designing and conducting social research projects may influence social policy.
Human Resources
As well as recruiting and training staff, HR professionals manage personnel welfare and development, with the option to branch out into employee relations. This career route is an excellent way to utilise your psychology skills.
Police and Probation
If you have a Psychology degree and an interest in forensic psychology you'll be perfectly placed to enter the police force. As a trained problem solver, your outstanding communication skills and insight into human behaviour will allow you to understand the criminal mindset and make real positive changes.
As a Probation Officer, you will have the opportunity to work closely with people who have been sentenced, supporting them to meet their parole conditions, rehabilitate, and reduce their risk of reoffending. You'll be expected to have a knowledge of psychology, possess counselling skills and have the ability to remain calm under stressful circumstances.
______________________________
There are lots of other career pathways open to you as a Psychology graduate, too many to mention here. In addition to the above, why not look into counselling, sports coaching, advice and support work, banking, law and consultancy?
If successful in gaining a place in our BSc (Hons) Psychology or BSc (Hons) Psychology with Counselling and Psychotherapy degree course, the skills, knowledge and understanding you will gain will help you access a range of rewarding professions within psychology. For more information, visit this page.
With some further study, you can explore and excel in any of the psychology specialisms we have already mentioned. To help you on your way, our degree courses offer the opportunity to choose topics and areas that you want to learn more about to tailor your learning experience. You'll be able to shape your degree experience to your interests and career goals, allowing us to help you to reach your ideal future career.
Don't take it from us, read what one of our students has to say about our Psychology degree course:
"Studying Psychology is helping me to achieve my goal of becoming a Health Psychologist. Even though I still have a way to go, my passion for the profession is a great motivator, and I am enjoying being back in education with a clear aim."
Adam Muncaster
Discover our Psychology Courses
You are ready to take that next step. Ready to make that life-changing decision and work towards your career goals. By downloading our prospectus you will have the world at your fingertips.

You can browse our 100+ unique course options and have access to finance and support information to get you started. Discover all of the courses available to you from Arts to Zoology – we're excited to see what you choose.