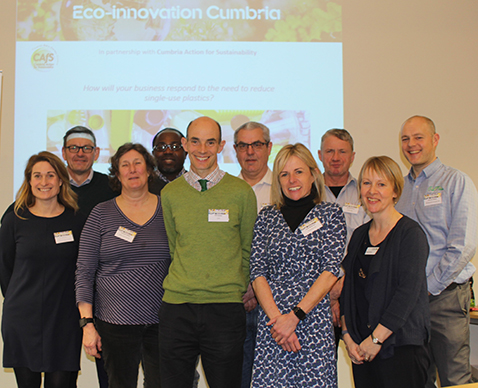 Businesses share innovative solutions to single-use plastic threat to environment
Watch a video of the event here
More than 30 Cumbrian businesses representing a range of sizes and sectors took part in an open innovation forum looking at challenges and solutions around single-use plastics for their businesses. This was the latest in the series of workshops and was delivered in collaboration with Cumbria Action for Sustainability (CAfS).
"What the forum has shown is there is an incredible amount of expertise right here in Cumbria, with businesses who can help others reduce the plastic they use", commented Phil Davies from Cumbria Action for Sustainability. "It's given us food for thought on how we could potentially help raise awareness about the solutions on our doorstep.
"We're fortunate to have the Eco-innovation Cumbria programme to help make the links between the businesses trying to overcome the plastic challenge and those that have or could develop the solutions."
Speaker Justine Carruthers from Tray Bakes based in Penrith said "I was really inspired by the wealth of talent and knowledge and commitment in our County to making a difference to the use of plastics and do hope we can keep the momentum going".
Project Manager Melanie Burton said, "It was great to work with businesses on the day to help them address this challenge and to show case some of the work we're already doing to support innovation with local SMEs "
Those with solutions not ready for market can receive further support from the Eco-innovation Cumbria research projects supported by student researchers and academic expertise. If you'd like to discuss this opportunity get in touch with the team.
Videos of speaker sessions from the event will be posted to the website and there are plans to hold a follow up event taking a look at innovations for recycling or disposal of plastics for businesses in Cumbria.
To contact the Eco-Innovation team, email enterprise.services@cumbria.ac.uk or call 01228 888740