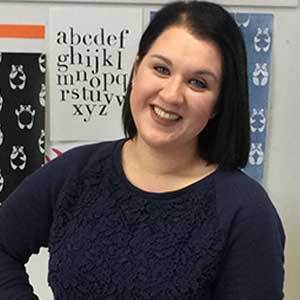 Chloe Farsi
BA (Hons) Graphic Design
Chloe Farsi has been studying Graphic Design at our university since beginning her foundation year in 2013. She is one of the volunteers involved in this year's Art Degree show, and managed to find some time out from her busy schedule of putting everything together to give us a few words about the show.
What first got you interested in art?
I've always enjoyed being creative, both at school and as a hobby/interest. When I first started Graphic Design, my mum mentioned that when I was seven, I'd just wanted to make shoes and colour in, so that was a thing! So I always knew I was going to be creative, I just wasn't sure which avenue I was going to take.
So what was it that made you decide to go Graphic Design?
I discovered graphic design through blogs, and Instagram, and looking at how they created their work. That's what helped me discover graphic design as an art form.
Why did you choose the University of Cumbria for your degree?
I'm from Newcastle, so I looked around locally first. My brother was already here, doing a Primary Education course, so I looked here as well. I was really taken by the fact that our course has a blog, which keeps updating with Studio Live and student work, and shows the inner workings of the course. It really looked so interesting compared to the other universities, it really showed that creative engagement with real life.
Could you describe what the art show is for those that don't know?
Our final show is a culmination of the last two years of work, predominantly this year's work. So it's kind of the 'Best in Show' almost – it's the best of our work that really represents us as designers and our personalities, and what we want to show industry as we go out there. The overall show this year, the concept is the Graphic Design Illustration Funhouse, so we're going to really celebrate our three or four years here as a big culmination and celebration.
It's really great to see what we've all been doing. This is what we've been working towards, this is the culmination of our three years here.
What inspirations do you draw from?
I actually really enjoy really bright colours and patterns, so I'm quite inspired less by graphic design routes and more by textiles design. Events as well – I'm quite interested in a lot of blogs at the minute that do events. Things like balloons, physical installations really inspire my work. I quite like to work in the real as well, with papers and textures, and I photograph my work just to really make a final road in engaging that.
What will you do after graduation?
I love the idea of doing an MA, but I'd quite like to get into the industry. I feel like it's time to get into that next level, that next chapter, and just see what it's all about. So I've been looking a bit so far, seeing what job descriptions interest me and what the companies are up to themselves, looking at their websites, and just sending things off and seeing what happens.
What advice would you give to next year's students who will be taking part in the degree show?
To work hard, really. It really is down to working hard, because when you do it does pay off. You find that your best work is the one you really tried with. The more you've got in your portfolio, the volume of work you have, and really just exploring all the creative things that you want to do. It just makes you a really strong candidate and a really strong showing for industry.
Is there anything else you want to add?
It's really great to see what we've all been doing. This is what we've been working towards, this is the culmination of our three years here. We've put so much effort into it, our heart and soul, sweat, blood and tears – it really showcases what we've achieved. It's so important to show that, I think, especially when we've been so dedicated, in its final form to say "We are here. This is what we've been doing." It's a fabulous atmosphere as well, it's so celebratory and so positive.

<![endif]-->