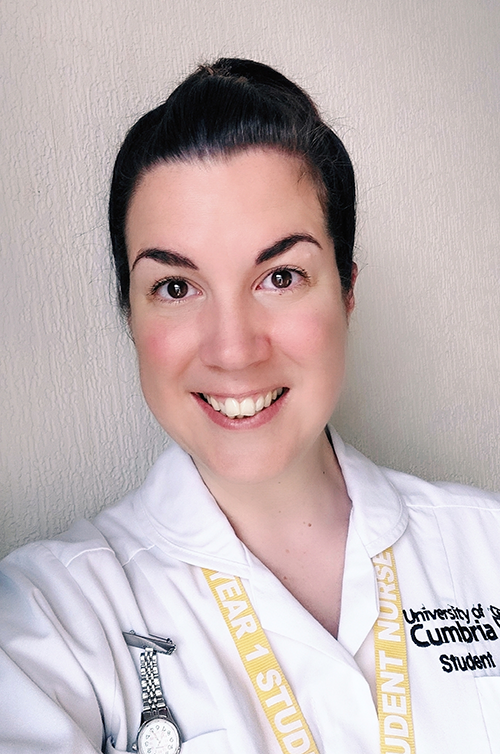 Adele Taylor
BSc (Hons) Nursing/Registered Nurse: Adult Nursing
After learning first hand how pivotal nurses were in the health service, Adele chose to make a huge career change. Read more to hear about her journey.
What brought you to the University of Cumbria?
The University of Cumbria is local to me and having worked at the local NHS Trust prior to starting my degree, I was able to work alongside fellow student nurses and ask them more about the university, the degree content and more importantly what they thought of the university. I did not hear any bad words, and it strengthened my resolve to not only become a nurse, but a University of Cumbria student.
Why did you choose to pursue Nursing at the University of Cumbria?
Prior to starting my degree, I worked for fifteen years in retail. The transition came about through having some ill health of my own, and as an inpatient for four weeks I got an inside look at how pivotal nurses are in a patients health journey. It was a natural, easy choice to choose University of Cumbria for my Adult Nursing degree. The course content, the locality, the compact size of the campus all surmounted to me placing UoC as my first choice.
What has been the most difficult obstacle you have overcome in your education journey so far?
There is no shirking around the fact that the nursing degree is intense at times. It has to be, in the sense that the role of a nurse should not be taken lightly, there is an awful lot to learn. What I have perhaps found difficult is not necessarily the workload or the amount of learning and reading or even writing at academic level. It has been managing personal life alongside the degree, as the degree demands a lot of your time throughout the year, it can sometimes feel overwhelming if something is not quite right in home life.
Fear not though, as the university have a vast array of resources and support to help you if you need. They have counselling sessions, online resources and you also get assigned your own personal tutor who you can chat to when things feel tough. My advice would be to seek help when you need it, as there are ample options to choose from should you need them.
What was the breakthrough moment for you when things began to fall into place?
When I was an inpatient myself. It felt like an epiphany, like someone just suddenly turned the light on, or sharpened my focus. At a time when I nearly died, the NHS was there and saved mine and my child's life. It was in those moments as a patient, I realised I wanted to change my career and moved my focus to becoming a nurse. I went to Lancaster and Morecambe college to do the Access to Higher Education course, to brush off the cobwebs I had acquired in my 15-year absence from full-time education. I then enrolled at University of Cumbria, and I have not looked back since!
How have you found studying at the University of Cumbria?
I have thoroughly enjoyed every moment so far. The studying spaces are great (the library is a personal favourite), and the lecturers are very friendly and approachable. I love that it is a small university, and you get a real personal feel from it. The lecturers know most of the students by name, and you get to gain a great support network and friendship groups in the cohort too.
I have also had many opportunities to develop my skills on top of my degree, and I have taken on some additional roles with the backing of my lecturers, such as student representative, Student Quality Ambassador and finally, I am on the Health Education England Student Council for the North West. I could not have embarked on this journey without the support and encouragement from my lecturers and of course my family. It has been a wonderful, life-affirming, and enjoyable process so far and I envisage I will be a bit sad when it comes to the end of my degree as I will miss it.
What skills are you learning that are helping you on your educational journey?
The degree has a mixture of theory and practice hours. This is fantastic as you get to put into practice all that you have learned in the lecture theatres, moreover, you get feedback from your lecturers and practice supervisors/assessors on how you are progressing. You also have an online document to fill out when on placement with certain proficiencies to achieve.
The topics of the degree cover a magnitude of topics related to nursing. Practical skills such as cannulation, catheterisation, and CPR are all covered through the practical sessions at university. Lectures vary in their content and delivery, almost always get your brain fired up and thinking. I particularly enjoyed 'Learning from the Lived Experience' and 'Pharmacology & Medicine Therapeutics' modules, although all of them are enjoyable and essential to become a qualified nurse.
How is university life beyond your studies – friends, socials, accommodation/travel, etc?
Admittedly, I have committed myself fully to the degree, so my social life has taken a hit (not that I had a dazzling social life prior to it)! It has been a conscious decision for me to focus on my degree as that is just how I work; I would say that you can still have some social life outside of university if you wanted to. I do still meet my friends and family, although not as often as I would if I were not a student. I have two young children which I love spending time with when I am not busy with assignments. I have made some great friends at university, which we are a huge moral support for each other. It is nice to talk to fellow students who just 'get it'.
Top tips for people looking to do the same course as you?
Absorb yourself in the University experience, try not to shy away from the activities that the university provide. It is such a unique time of your life being a student and a chance to learn things in addition to your main degree subject. It's a great way to socialise and meet students from other courses too.
Never be too afraid to ask questions! Your lecturers are there to give you the foundations of your learning and you are required to add the 'meat to the bones' by completing additional reading and research. During lectures, or at the end, take 5 minutes to ask a question and the lecturers are more than happy to help. In my experience, asking the lecturer a question about a topic I did not quite understand has gone a long way in helping me understand it clearly.
Enjoy yourself! Naturally, it is easy to get wrapped up in the nursing degree as it can be quite intense, and this may lead to you feeling a bit stressed out at times as the degree is demanding a lot of your time and brain power. When you are planning your assignments/exam preparation, make sure you plan in some YOU time too. Whether it is having a long bath, spending time with friends and family, or going for a bike ride, make sure you plan it in. Although it will be time away from your studies, you need this to ensure your productive and your head is clear when the crunch time hits, and the assignment deadline looms.
Learn more about our Nursing courses from the Institute of Health

<![endif]-->