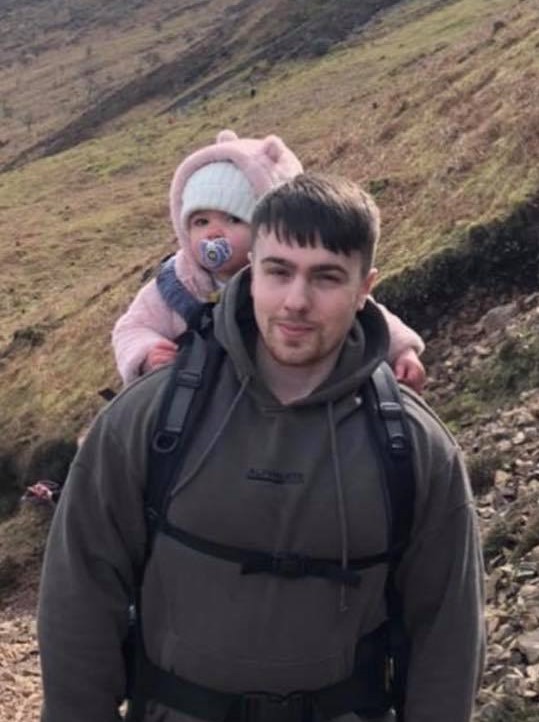 Adam Muncaster
BSc (Hons) Psychology (with integrated foundation year)
Adam left the military in 2016, and after giving a number of things a go, decided to pursue a career in Health Psychology. After struggling with his mental health upon leaving the military in 2016, Adam's University of Cumbria journey has seen him find his passion, grow in confidence and become a mental health advocate for others. Keep reading to find out more about his story.
What brought you to the University of Cumbria?
I left the military in 2016 and since leaving I have worked more than my fair share of jobs - tax assistant; hydraulic operator; and armed police officer. none of these jobs felt right for me. Once I found personal training, I clicked with it straight away, especially the mental health benefits that came with training people. During the lockdown, I had time to reflect and found i was motivated by improving my client's mental health more than their physical health. So, i made the decision to study psychology, inspired by my partner who finished her degree in 2020.
Before joining university, I struggled with civilian working life and felt like I didn't really have a clear direction or goal. After beginning therapy I began to reflect on my military career - how I had built it up so much in my own mind, only to be very disappointed once I joined my first ship. The environment I had occupied had left me really damaged as a young man, it has taken 5 years to start to come out of that and I have the University of Cumbria to thank.
Since joining the University of Cumbria, I have improved my own health and found greater flexibility throughout the week. Meaning i get to spend more time with my 2-year-old daughter, who, later this year, will become a big sister!
Why did you choose to pursue higher education at the University of Cumbria?
I choose Cumbria as I am from the area, being a parent it gives the best of both worlds in terms of flexibility whilst learning. Studying applied psychology is helping me to achieve my goal of becoming a health psychologist. even though i still have a way to go, my passion for the profession is a great motivator, and i am enjoying been back in education with a clear aim.
What's been the most difficult obstacle you've overcome in your education journey so far?
A barrier I have faced is backlash from family members who felt that, as a father, i should be working all hours of the week to provide for my young family. But this attitude soon changed. They have remarked that they haven't seen me so happy since leaving the armed forces, which was a very negative period of my life. I believe that this positive change has been due to having a clear goal to work towards, whilst balancing a healthy, family life.
What was the breakthrough moment for you when things began to fall into place?
At university, I felt a moment of relief after receiving my first assessment result. I was awarded a 1st, which was a shock as I left education 7 years ago. After going through a tough period of my life, I really didn't know what to expect in terms of grades. I must thank all my lecturers and my personal tutor, Sue, for the support over this first year of university, and I'm looking forward to cracking on with my second year!
What are your top tips for anyone thinking of going to university?
If you are thinking of joining be prepared to put the effort in, it isn't easy, but it is extremely rewarding.
Once at uni, plan everything out in a diary. Don't leave things to the last minute... and actually read some books!
Lastly, if you are a parent thinking about attending university, I would highly recommend going for it.
How have you found studying at the University of Cumbria?
My first year at university has given me the opportunity to improve academically and mentally. After studying some very interesting topics, including mental health, the foundation year has given me the flexibility to research my own interests for essays, which I have highly enjoyed.

Even though I still have 3 years left, I have undertaken a role with the Co-op, where I am involved in improving my local community's mental wellbeing.

<![endif]-->