Class of 2021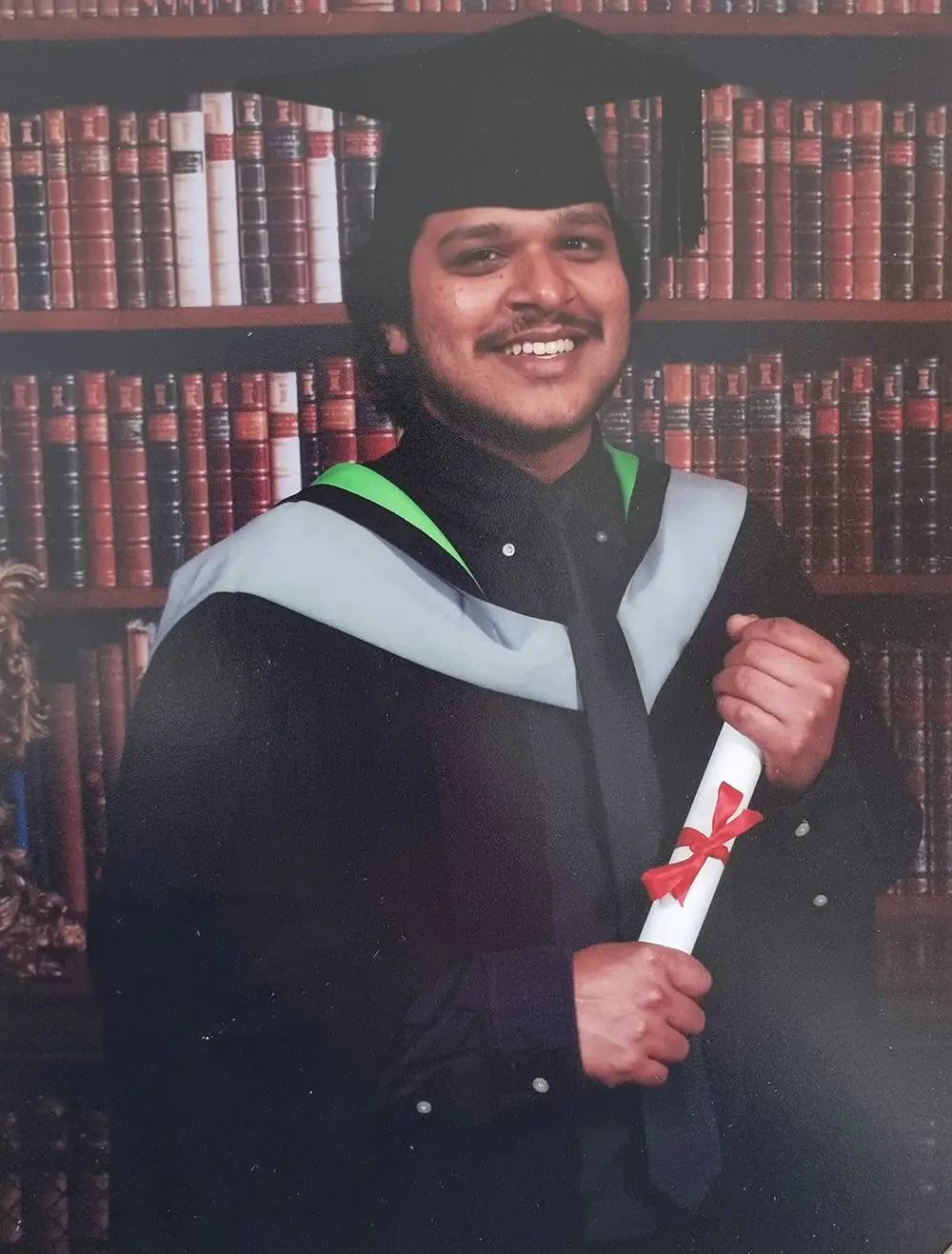 Archit Hegde
BA (Hons) Film & TV
Archit Hegde talks about his journey from Goa to study in Carlisle, his work at Marvel, MGM, and Netflix - and shares his top tips for graduates seeking work in the Film and TV industry.
I didn't want to write about film, I wanted to MAKE films.
I graduated from the University of Cumbria last year and it was a truly wonderful day. I didn't expect graduation day to feel so special, but with the piano playing, it was just the loveliest feeling to walk through Carlisle Cathedral to collect my award with my fellow classmates.
It's a bit silly really but looking back now I wasn't supposed to study in the UK at all. Back in India, I studied a BA but didn't really enjoy it. I wanted to transfer and study overseas. I had a place confirmed to study a very theoretical Film degree in Germany, but luckily for me, a member of my family knew someone who worked at the University of Cumbria and told me about their BA (Hons) TV and Film. This was a much more practical and technical course that (in the end) suited me perfectly. After all, I didn't want to write about film, I wanted to make films.
Why Carlisle? It's the largest city in England (yes bigger than London!)
So, why Carlisle out of all the places in the world?
Well, I sat at my dinner table one evening and looked at pictures of the largest city in England (yes bigger than London!) with its historic buildings including a Cathedral and a Castle right in the City Centre, and thought it looked great and more affordable than living in London.
It was a complete impulse switch, but the degree course was more appealing, and I could really picture myself living and studying in the North of England, it seemed perfect for me, I started to get excited - so I booked my flight.
Moving to the UK was a major culture shock until I figured out how everything worked. I will always remember arriving at Manchester airport and catching the train to Carlisle. I couldn't understand the Scottish train driver at all and was worried that I would miss my stop. I also slept in jeans for three months because I was so cold, but everyone was so lovely and welcoming.
My landlady was great – she picked me up, sorted bedding, bought me food, and helped me feel at home in my new home away from home. I found grocery stores that had Indian isles that sold all the foods I was used to back home (even Indian snacks!) and quickly settled into life as a student studying in the UK. I'm lucky to have had many people in my life to help me, including my parents who have always encouraged me and never forced me to study subjects I didn't enjoy, just wanting me to be happy.
Although my family is from Karnataka in India I was born and raised in Goa. Growing up I never imagined myself studying in the UK, or anywhere overseas I thought it was completely out of reach. I knew that by taking that step to come to the UK for study there would be expectations. It was going to be expensive and a real commitment, but a solid investment in my future. I was fully committed to it.
It was clear from the start that I was never going to just do the bare minimum at the University of Cumbria. I'm unnecessarily ambitious but that's a good thing in my eyes and has pushed me both in my studies and my career today. I still panic a lot, feeling like I'm not doing enough to establish myself in the industry. I must remind myself that I'm only 23 and there is still plenty of time.
I loved being in a room full of dynamic people that wanted to do the same things as me.
More than the degree modules themselves, it was what the lecturers brought from their past, real-world experiences to the programme that captivated and inspired me most. All had previously worked in the TV or film industry and brought a unique, hands-on insight into that world.
The lecturers had a real passion for their work. Some have run film and television production companies, others have produced dramas, documentaries, or commercials. It was great to operate equipment used by industry professionals including video-editing suites, cameras, and sound recording equipment to gain expert insight into the latest techniques and knowledge used by the industry.
By introducing me to a whole new range of skills including TV studio production, scriptwriting, lighting, camera operation, shot choice, composition, location sound recording, producing, and directing - I found there were so many opportunities for me to be creative and develop my own style.
Lecturers always had time for me and offered quick feedback to questions and queries. I loved the small class sizes, and personal attention - always feeling supported and motivated.
The whole experience pushed me and encouraged me to work hard, to achieve – to be the best I could be.
Wow – I got a job at Marvel Studios!
I've grown up watching films.
I love everything about film and always wanted to work in the TV and Film industry as a child, so after graduating I frantically started to apply for jobs.
My advice to other recent graduates is never think you are not good enough – just start applying. Research the top 50 production companies and write to every one of them, work for free to gain some experience at first and just keep applying. Get your name and CV in front of as many people as possible. One day, after seeing my name many times someone thought, let's put Archit forward. That led to a job for a day at Sid Gentle Films to cover someone who was off and while I was there, I found out about an opportunity at Marvel Studios and thought what the hell, let's apply for it – and WOW I got the job!
In my current role as a DIT Assist (Digital Imaging Technician Assistant) I'm in a different place each day travelling from studio to studio.
I'm responsible for the rushes which means everything that is shot in the day goes through me before it goes through post-production. I handle the footage, make enough copies, and send it off to the lab to allow the footage to be graded.
I was a trainee for eight months until I became an assistant. My advice would be to take whatever job you can get. Everything will contribute and add to your range of skills and knowledge. Take it and work your way through to other departments. It's all great experience and a chance to meet and learn from new people in different areas.
The satisfaction of seeing your name on screen
I can't wait to watch a film knowing that I've worked on it. I'll watch the credits right to the end and look forward to seeing my name up there, even if it is just for half a second!
I think the credits are taken for granted in a film. Most people leave when the lights go on, but what they don't realise is that each person has probably spent a year of their lives working tirelessly to bring that to life.
My 5 top tips for graduates starting a career in the Film and TV industry
The industry is so busy right now, with not enough crew for the number of productions. The US industry is here in London and it's very exciting!
Do everything you can to get your foot in. It's a closed-off industry and hiring happens internally – if you show them what you are capable of and people like how you work, they will take you with them to the next project.
Get your name and CV in front of as many people as possible and
All you need is a good attitude and determination to learn, and you will be taught and guided. Even what seems like a small job (like charging batteries) is a big responsibility.
Take whatever job you can get. Everything will develop your skillset and knowledge. Consider working for free to gain some experience at first
Slowly build relationships. You'll need to do lots of tea and coffee runs but taking care of your crew and your team during long 10-hour days and 'continuous running lunches' is important.
I'm going to continue to watch and make films and work tirelessly in the industry that I love
To date, I've had the privilege to work with the teams at MGM on 'Boys in the Boat' – an upcoming American drama film directed by and starring George Clooney, Marvel's Ant-Man and The Wasp, and the 'Three-Body Problem' Netflix series.

What's next?...

It will take time, but in the future, I'd like to get into adventure-style film making out on location in difficult situations like climbing and diving – but for now, I've got a really cool job lined up for November, hope that works out!

<![endif]-->