Abby Clarke
BSc (Hons) Geography
Abby tells the story of how her love for Geography brought her to our Ambleside campus.
What brought you to the University of Cumbria?
I studied A-Level Geography, Biology and BTEC business in sixth form. I was unsure what I wanted to do in life but knew I wanted to study geography at university. I searched around many universities, but the university of Cumbria was the most suited to what I enjoy both in and outside the classroom. It was clear from the start that the staff here were welcoming and friendly and I felt at home instantly. I also love the outdoors and therefore studying here at Ambleside was a perfect place for me to spend my next 3 years.
Why did you choose to pursue geography at the University of Cumbria?
I have always enjoyed geography at school, from high school to sixth form it was always one of my favorite subjects. I was fascinated to see how our world works and what I can do to help combat issues such as climate change. The University of Cumbria offered a diverse course which allowed me to gain knowledge and experience in both physical and human geography. I can pick my own modules within my second and third year, which allows me to tailor my degree to what I want to pursue further. Here at Ambleside the course is very practical and therefore I can get out in the field and collect my own data and learn outdoors. The smaller class sizes also allow me to have a closer relationship with my lecturers and classmates to feel confidence to speak in class and answer questions.
What has been the most difficult obstacle you have overcome in your education journey so far
The pandemic was difficult for everyone with online learning, it was hard to learn from home. I missed a lot of my time in the sixth form which was not easy. However, it made me more resilient and motivated. It allowed me to learn new skills from home and find new ways to live. During the pandemic, I started to enjoy cooking, which I was glad about when I came to university. Learning a few skills really benefited me when it came to moving away.
What was the breakthrough moment for you when things began to fall into place?
I remember taking A-level geography at six form an absolutely loving it. I knew instantly that this is something I wanted to go into. I remember the first day of coming to the University of Cumbria. I was really nervous about who is going to be in my class and if I was going to enjoy it, but as soon as I sat down, I was instantly greeted by friendly, caring and passionate teachers as well as an extremely supportive class. I knew that I was going to be okay for the next three years. It is a huge step going to university, but I knew I would be fine once the lectures started talking about the outdoor activities. I was about to indulge in it.
How did you find studying at the University of Cumbria?
I have loved studying at the University of Cumbria. I have made friends for life and learnt valuable life skills which I will take with me for the rest of my life. I have developed academic and social skills and learned to balance university, social time, and work at the same time. I have enjoyed learning outdoors and gaining experience out in the field. It has been amazing being able to work with local organizations and share their experiences within different sectors. The lecturers here, at Ambleside, are supportive, and I feel confident I am going to them with any issues they may have, and they are resolved instantly. Our campus manager Rob Wilson is also friendly, and we can go to him if we want to organize events or speak to him about anything. He is supportive of all the students experiences and wants to ensure that we get the most of our time at university.
What skills are you learning that are helping you on your educational journey?
Time management: Time management is one of the big skills I have learned at university and been able to juggle multiple assignments, work, and social time. I really struggled with this sixth form, however, when I came into university, I have able to ensure I have assignments in on time and time to relax with friends and do stuff that I enjoy outside of education. Having an enjoyable time, management skills are beneficial for jobs in the future, but also making sure that you make the most out of your time at university.
Public speaking: within certain modules, there is a PowerPoint presentation to present to your class. Learning public speaking ensures I can engage my other classmates in what I am presenting, but also make sure I am doing this confidently and professionally. This skill is extremely important to have when it comes to jobs in the future, but also making sure that you are clear in what you are wanting to say when it comes to sharing your thoughts and opinions. I am also lucky enough to work for the university part time as a student network coordinator, so I regularly present at open days, which has been a massive benefit to learning public speaking.
GIS: an academic skill I have learnt at university is Geographical Information Systems (GIS). This is using software online to help with mapping and data collection. Especially in geography, it is important that GIS is a skill which everyone has even if it is at a basic level. I did the JS module in my second year. I am going to progress to advance GIS in my third year to widen my horizons on this skill. There are also many jobs that you can go into with this skill, so it is always important to have it as a backup. Peter and Claire who taught me this module were extremely helpful when it came to using this software for the first time and guided me step-by-step on what I needed today.
How is University life beyond your studies - friends, socials, accommodation/travel, etc.?
I absolutely loved living in accommodation at university. It was one of the funniest experiences of my life, and I am so grateful that I had the opportunity to experience it. I lived with some amazing people who we all shared different experiences with, we all came from very different backgrounds, so it is nice to listen to different stories, as well as share common interests. As a flat, we had a big Christmas dinner which was lovely, and everyone participated in making a secret santa. There are loads of student union societies which you can get involved with and be even more friends as well as meeting people out on a student night which is a Wednesday here in Ambleside. There is a lovely sense of community, and everyone is so caring and kind.
Last year we also had a Christmas and Easter fair where we got food and there was a raffle in a store where we could win prizes.
Top tips for people looking to do the same course as you?
Buy a good set of waterproofs and walking boots! Due to the course being very practical it is important you have decent quality gear. You will be out in all-weather (it is fun!) so be prepared for it. If you buy 1 good pair, it will take you the whole time at university. I have a RAB waterproof coat and it is amazing, although it is on the pricier side! However, there are a lot of brands to choose from. Also make sure you are doing what you enjoy, geography is so broad there is something for everyone. However, my biggest top tip is to make sure to look at all the resources the university can offer you! I get a lot of help from the skills team due to my dyslexia; they are amazing in helping me stay organised and manage my time accordingly. Another top tip is making sure that you speak to everyone, making sure that you say hi to everyone during welcome week just create a nice sense of community.
If Abby's story has inspired you, check out our Geography course and apply now.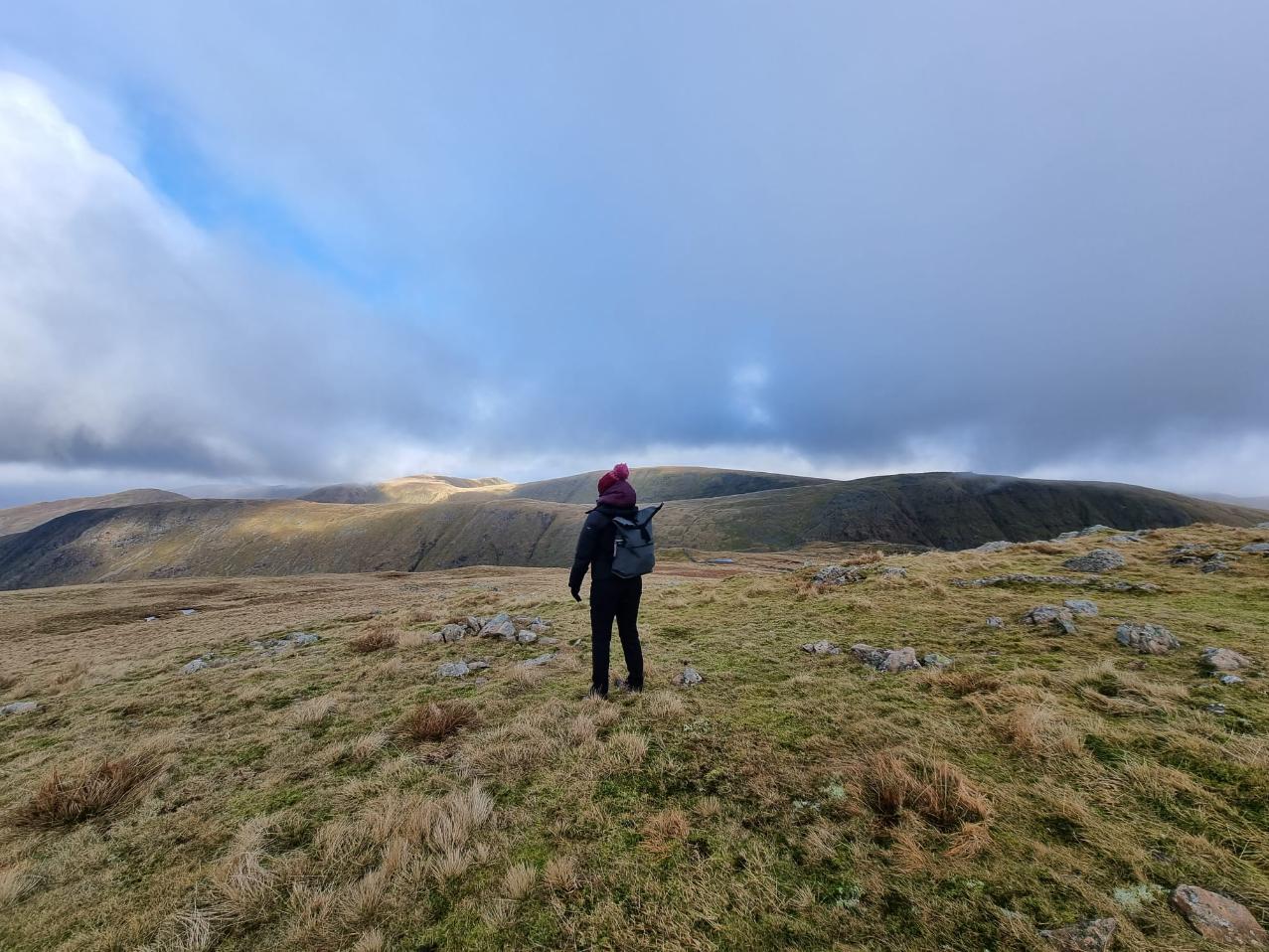 Abby exploring the fells.

<![endif]-->