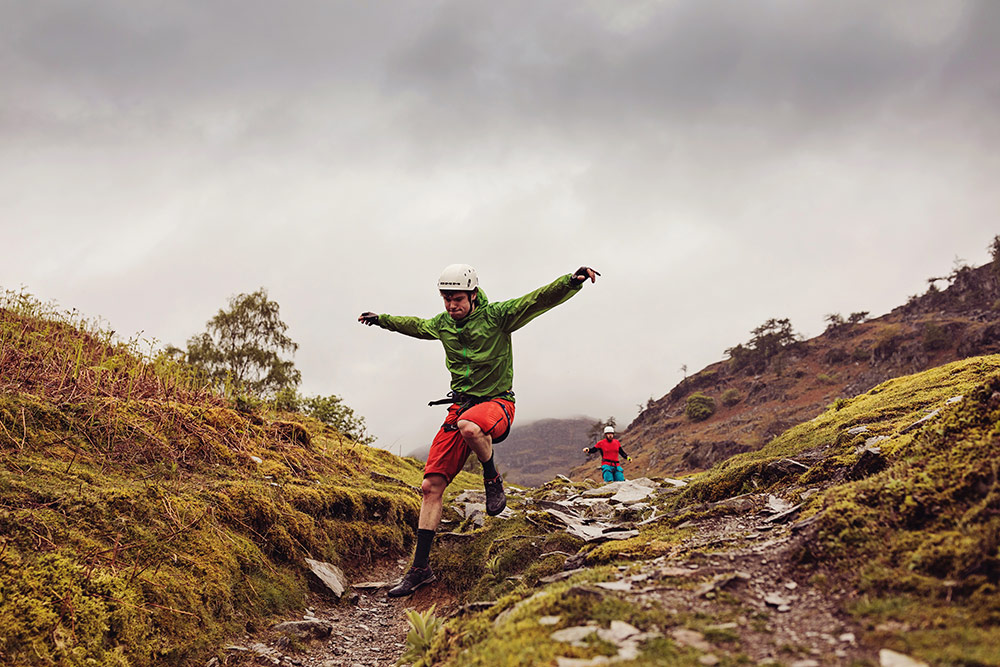 In 2019, the United Nations announced that we are only a decade from irreversible damage due to climate change. However, making sustainable changes and working in unity can turn the tide of climate disaster. We are committed to tackling the biggest challenge of our time, the climate emergency, by continuing to work on projects and with partners who are as passionate as us about future-proofing the earth.
"We are the last generation that can prevent irreparable damage to our planet"- General Assembly President Maria Fernanda Espinosa Garces, UN (2019)
Creating a sustainable future is at the core of the University of Cumbria's mission. Our unique Science, Natural Resources and Outdoor Studies courses create climate superheroes and our academics are sustainability trailblazers. Our processes and professional services are continually innovating to reduce environmental impact and find sustainable solutions to modern problems. The University of Cumbria is paving the way for the future of climate-conscious Higher Education, with the help of our students, academics, and partners. We're doing our bit to protect the planet, so all you have to do is explore it!
Portfolio
Passionate about sustainability? Fancy yourself the next Sir David Attenborough? There's no better place to study than the University of Cumbria. Our unique Outdoor Studies courses, taught at the only UK campus within a UNESCO World Heritage Site, are shaping the next generation of planet protectors. More Outdoor Studies students study with us than any other Higher Education institution in Europe, and since 2014, we have been home to the National School of Forestry and Centre for Wildlife Conservation. Our Outdoor Adventure and Environmental Studies degree create sustainability experts, meanwhile, Animal Conservation Science considers the protection of animals and their habitats. Why not learn about our magnificent planet with a Geography degree, or start your career in conservation by embarking on a Woodland Ecology and Conservation or Marine and Freshwater Conservation course? Our Natural Resources and Outdoor Studies courses train and inspire climate superheroes, providing the instruction and support to help you change the world.
"The whole experience is life-changing. I gained a new perspective on conservation in the industry, made contacts and life-long friends, and learnt more about myself and my abilities along the way. If you'd told me at the start of my degree that I'd be living by myself in bear country (Alaska) for 7 months for a placement at a National Park I wouldn't have believed you." (Georgia Arnold, Conservation Biology)
Professors
Our academics are formulating ground-breaking solutions to the most significant issues of the climate crisis. Some of the most prominent experts in the UK, their contributions are making strides in environmentalism. From nature-based climate solutions to carbon capture, University of Cumbria tutors are providing real-world solutions to the challenge of climate change, all whilst teaching you. The work pioneered on the University of Cumbria campuses is informing national and global climate policy, making huge contributions to the scientific community. The University of Cumbria is proud to support the environmental work of our academics and to nurture our environmental studies students, who are also making a difference around the globe and in our very own Lake District National Park. We are what we teach, and at the University of Cumbria, we teach cutting-edge climate theory and conservation that is changing the world.
Read more from our academics here:
Deep adaptation: a map for navigating climate tragedy
This Civilisation is finished: so what is to be done?
Practice
The University of Cumbria is made up of hundreds of people and processes, it's not just our academic team who are doing their bit to help the planet. Our student support and professional services staff are committed to giving their all, too – making small process changes that have big impacts. Since 2021 our prospectus has been fully digital, reducing air pollution and waste, saving water, paper and ink, and shrinking our carbon footprint. This action has saved 250 trees and 10 tonnes of solid waste in one year alone! Our prospectus change sets the stage for our ever-growing environmental policy, which includes our goal to be carbon neutral by 2037. That's 13 years ahead of the government target! The University of Cumbria believes no institution is too big to make an environmental change, and we are national leaders in climate-aware big business.
Partners
The University of Cumbria is a proud partner of many environmental protection projects. These schemes range from species conservation to carbon innovation research, all of which support our sustainability mission. Led by the University of Cumbria, the Back on our Map project engages South Cumbrian communities in landscape restoration and species reintroduction. The project encompasses 600km of Cumbrian wilderness, restoring Aspen and Spiked Speedwell, along with Dormice and Pine Martens. Eco-Innovation North West is another change-making University of Cumbria partnership. The innovation project aims to support businesses in reducing their carbon emissions through research and development and is supported in part by our own students. The project has already assisted enterprises such as Kendal Mountain Festival, Dalefoot Composts, and Woolly Rug Company. The Centre for National Parks and Protected Areas is a multi-disciplinary team making a difference in national parks and protected areas across the UK, including our very own Lake District National Park. CNPPA produces world-class academic research which influences policy-making, climate innovation, and knowledge sharing, developing sustainable solutions to complex environmental challenges. We are honoured to support the CNPPA and our academics who are involved, including the Director of our Ambleside Campus, and teacher of Upland Landscapes, Professor Lois Mansfield. Professor Mansfield's work is aligned with our values of improving the places we call home and driving positive change, describing her research as being "about making a difference to society and has real-life relevance." Also active is Professor in Practice, Julia Aglionby, who recently featured on BBC Radio 4's Nick Robinson Show. At the University of Cumbria, we believe working together is the best way to create change, that's why sharing our knowledge and resources with other environmental champions is at the centre of our sustainability policy.
Place
At the University of Cumbria, we are dedicated to enriching places, as well as people. From the stunning Cumbrian landscapes to Lancashire's Forest of Bowland, and the green oases hiding within bustling London, our sites inspire our work. Our Ambleside Campus is the only university campus in the UK located in a UNESCO world heritage site, studying here gives you access to the 912 km of landscape and 150 peaks of the awe-inspiring Lake District National Park. Not to mention, our Lancaster and Carlisle campuses are located in some of the greenest cities in the country. University of Cumbria Outdoor Studies courses immerse you in awe-inspiring Cumbrian settings, our English Literature MA explores the creative influence of the Lake District, and even our Education courses reflect our passion for the great outdoors. Our locations inspire and motivate us and we are committed to giving back. That's why protecting the natural world is at the core of our mission, not just an after-thought. If you are as passionate as us about studying and protecting the natural world, there is no better place to learn.
As Kermit the Frog famously said – "it's not easy being green." Conquering the climate crisis can seem like an impossible task, but at the University of Cumbria, we believe that working together can lead to amazing things. Between our student superstars, academic authorities, and professional protectors we are building a sustainable future, one step at a time. The University of Cumbria has always been driven by ethical integrity and a dream to change the world for the better, and we hope you'll join us on our mission.
Feeling inspired? You can become part of the next generation of sustainability superheroes by enrolling in a University of Cumbria course!
Want to find out more?
You are ready to take that next step. Ready to make that life-changing decision and work towards your career goals. By downloading our prospectus you will have the world at your fingertips.

You can browse our 100+ unique course options and have access to finance and support information to get you started. Discover all of the courses available to you from Arts to Zoology – we're excited to see what you choose.