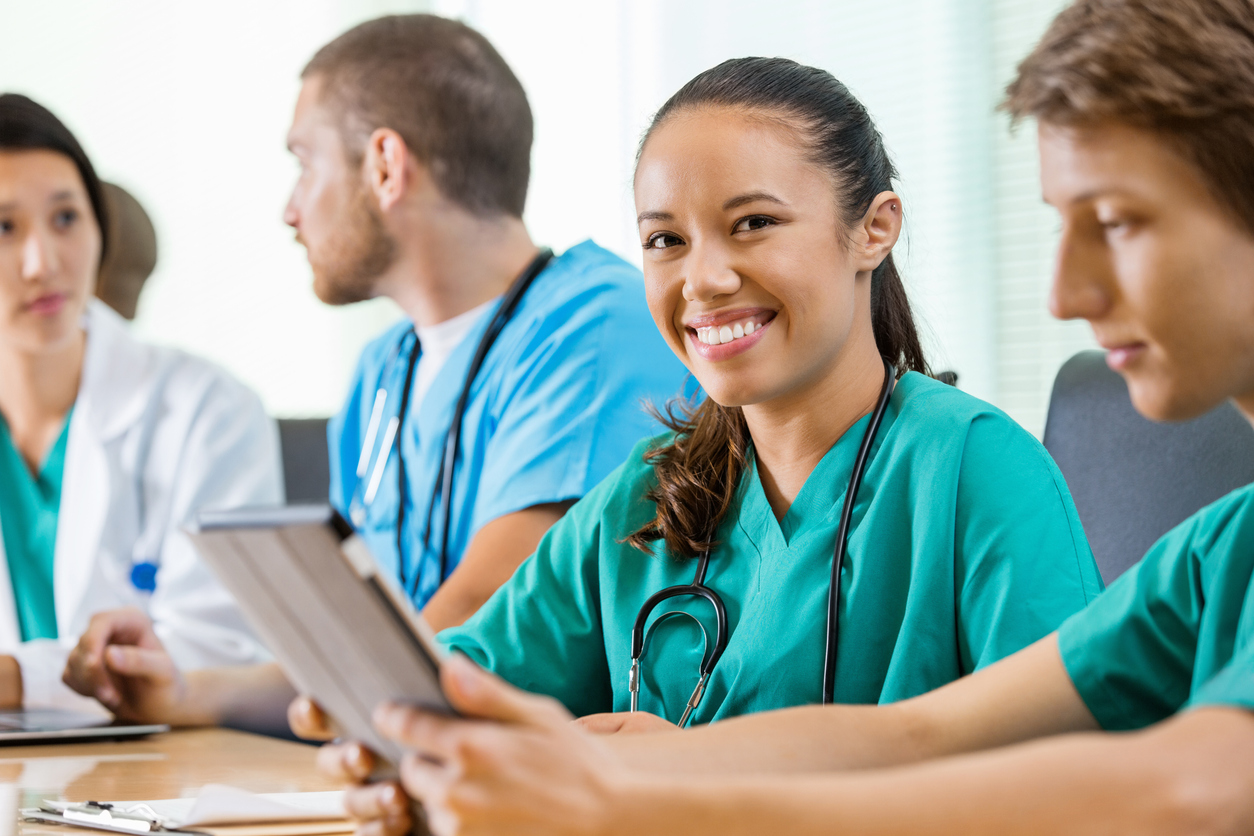 The journey to becoming a nurse: what you need to know
From the entry requirements to get onto your chosen course, through to the fields of nursing and career options for qualified nurses, we have all the information you need to help get you on the right track and start your dream career with your best foot forward.
If you have any questions about nursing, finance and applying to university, please call the enquiry line on 0333 363 4108 or email enquirycentre@cumbria.ac.uk.
Entry requirements for nursing
If you think nursing is the right choice for you, the first step to becoming qualified is meeting the entry requirements. These requirements ensure that you are going to enter your nurse education in the best possible place to succeed.
Nursing is a popular career choice and as such there is competition for places in all 4 fields of nursing (Adult, Child, Mental Health & Learning Disability Nursing). A successful undergraduate nursing degree candidate is usually an individual who holds relevant GCSEs, including Maths, English and one or more Sciences. Additionally, you will have three or more A-C graded A-levels, or an equivalent level 3 course. The higher your existing qualifications, especially in relevant sciences or healthcare subjects, the more qualified you are to move on to an undergraduate nursing degree.
What if I don't have the relevant qualification?
Don't worry, there are several options available and we can help you by creating a tailored route into nursing plan that will point you in the right direction so you can achieve your ambition.
Give the team a call on 0333 363 4108 or email enquirycentre@cumbria.ac.uk.
Deciding on which Field of Nursing
Once you've completed the necessary entry requirements it's important to decide what field of nursing you'd like to focus on. Nurse education contains many common themes are shared among all the 4 fields. Each year of the undergraduate programme contains some shared modules as well as some field specific modules so that you can gain a deeper understanding of your chosen field of nursing.
The four main areas of nursing are:
Each area of nursing listed above holds its own unique aspects and challenges.
Speaking with your chosen careers advisor can provide you with greater insight on the right path for you, especially if you have a specific type of nursing career in mind. If you haven't spoken to a career advisor give us a call on 0333 363 4108 or email enquirycentre@cumbria.ac.uk to get free, no obligation advice and support. This is even more important if it is one of the more niche areas of training and development so will require specific study.
Deciding where to study Nursing
Choosing where to study for your nursing degree is personal to every student. Many things can influence your decision on your chosen University. The first thing to consider is whether your degree is part of the curriculum, especially if you're looking to specialise in a certain area of nursing beyond the norm. From there, you can then take a closer look at which Universities relevant to your degree would be the best fit for you.
Alongside the success level and approval rating of the Universities you shortlist, it's also important to consider that you'll likely be living on-site full time. This means it's important to pick a campus that fits your lifestyle as well as your topic of study. For example, if you prefer living in towns or cities, then opting for a University set in one might be the best fit for you as opposed to a more rural location.
Undertaking a nursing degree means that you will spend 50% of your time in practice. You should be aware of where you will complete practical training, known as placements, for your degree. Most Universities are paired with a teaching hospital for healthcare/nursing qualifications, so knowing the workplace/location you will be in should also factor into your overall decision.
Applying for and accepting an undergraduate nursing degree place
As with all other University applications, applying for a degree in nursing is done through the UCAS service. This service enables you to submit your formal application, in addition to details about yourself, including your educational history and qualifications. You are also able to complete a written statement to let the University know why you'd be a good fit for their course and for nursing.
This written statement should give your shortlisted Universities an insight into why you want to study nursing and your motivation and goals behind completing a degree in your chosen field. At many sixth forms and colleges, tutors are on hand to help you create the best personal statement you can to begin your educational career.
Before completing your UCAS forms for your chosen Universities, you can also visit campuses on open days in the year before your application. This will give you further insight into the University you're applying to, and it allow you to write more relevant and compelling statements about why the campus is the right fit for you.
For many Universities, your application is followed up with an interview. This is then followed with a conditional or unconditional offer if you're awarded a place. The type of offer will depend on whether you have already received your qualifications, as certain grades are often a requirement. This process is similar to a job interview, and it's the best chance an applicant has to impress the University and gain a place on an undergraduate nursing degree. As a highly competitive field, showing your best self is very important to those applying to train in nursing.
Financial support for nurses
Once you've received an offer, you can then apply for your student finance, to cover both the costs of your course and your costs of living during the time you are studying. As nursing is a high-intensity course, some additional financial support may be offered. Speaking to an advisor about bursaries and scholarships will give you insight into the funds available to new nursing students. Our staff here at the University of Cumbria would be happy to speak to you about your future so give the team a call on 0333 363 4108 or email enquirycentre@cumbria.ac.uk.
Learn more about NHS bursaries, university scholarships and bursaries.
What to expect at University
When you've accepted your place at your University of choice, you can then look forward to beginning your undergraduate nursing degree in the September term. When you've moved and settled into your new accommodation, and covered all the introductory meetings and tutorials, you'll then begin learning!
As a degree that has a combination of practical skill development and learning alongside research and lecture-based study, first-year students will spend more time in an academic environment. This includes learning the basics of nursing through lectures/seminars/discussions as well as learning clinical procedures and nursing care in a safe environment.
As nursing students progress through the years, their work will become less classroom-based and instead involve more independent study, reading and research. Alongside this there will be practice placements within healthcare environments such as hospitals, medical centres, care homes etc. for hands-on training.
For undergraduate nursing degree students, your assessments are based on the modules you have studied within the programme. Types of assessment include poster presentations, group presentations, case studies, essays and exams. Your grades in these assessments will form your overall degree classification.
Alternative pathways to nursing
For those who don't think a nursing degree is the best fit for them or their lifestyles, there are alternatives available.
For those who prefer not to be in full-time education, nursing apprenticeships are currently being trialled by the NHS across the UK. These apprenticeships provide the training and insight needed to become a qualified nurse over a more extended space of time (4 years). Apprenticeships do still require part-time University study to complete. The major difference with an Apprenticeship is that you are employed by a health/social care provider who pays you to work while working towards your degree.
For those interested in nursing but unsure if they have the skill set or education level required to advance, nursing associate qualifications are also being tested in the UK. This role offers a position in the healthcare industry to work alongside qualified nurses.
Career Advancement in Nursing
When you graduate from your undergraduate nursing degree you will be registered with the Nursing and Midwifery Council, the professional body that oversees nursing. There are many routes and options for qualified nurses to not only advance but to build on their initial degree through a range of postgraduate qualifications and postgraduate degrees. Qualified nurses in all fields can advance their careers – if this is something that interests you then speak to one of our advisors about where your initial nursing degree can take you.
Want to become a nurse? - Start today
With so much information at your disposal, you can start learning about what it takes to become a qualified nurse today.
We are a university offering a number of nursing courses so if you want to pursue a degree in nursing or just want more information about the degree requirements and content of our nursing degree at the University of Cumbria, speak with the team on 0333 363 4108 or email enquirycentre@cumbria.ac.uk.
Want to find out more?
You are ready to take that next step. Ready to make that life-changing decision and work towards your career goals. By downloading our prospectus you will have the world at your fingertips.

You can browse our 100+ unique course options and have access to finance and support information to get you started. Discover all of the courses available to you from Arts to Zoology – we're excited to see what you choose.