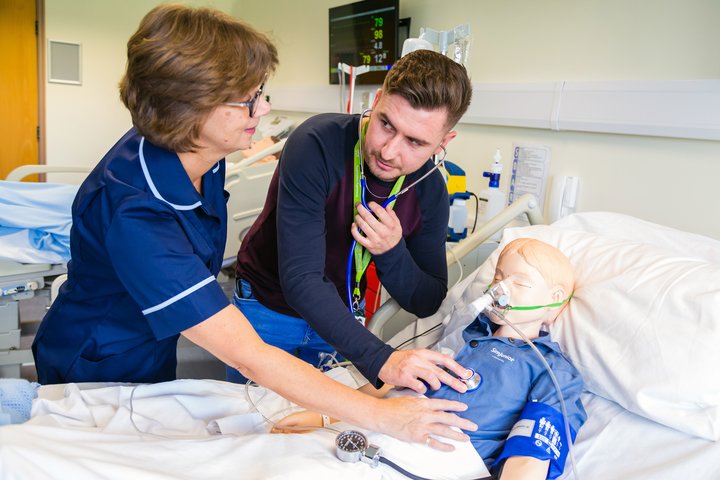 Nurses can specialise in different fields such as Adult Nursing, Children's Nursing, Mental Health Nursing and Learning Disability Nursing that requires specific character traits, skills and qualifications to ensure that they are fully equipped to do the best job.
Character traits: Being an adult nurse requires you to be empathetic, compassionate, knowledgeable and possess a willingness to learn, train, and retrain. A calm attitude and the ability to remain calm in what can become a high-pressure work environment is also extremely helpful. Building these skills is a practical part of any solid course, but attention to detail from a clinical and person-to-person basis is also invaluable.
Skills and learning: These are generally three-year, full-time courses that begin with grounding students in the principles of care and gaining an in-depth understanding of anatomy and physiology. This graduates to specialised care in the second year, offering formal placements to help shape your learning in key areas like medical and surgical nursing. The final year builds on all prior learning, folding in elements of community nursing, end-of-life care and the practicalities of operating in a ward as a nurse.
Qualifications: In general, this will require between 96– 120 UCAS points. This will also include GCSE passes (normally grade C or above) in English language and maths and sometimes science or social science. Qualifications such as A-levels, BTECs, HE Diplomas or NVQs can be considered – though it is always worth consulting the specific guidance from each institution when considering an undergraduate nursing degree.
Character traits: Working with children requires a different skill set from other sectors – requiring you to relay information about treatment in a way suited to a child's developmental stage and adapt your manner accordingly. Excellent observation skills are required as much of the information about the child, young person and family is conveyed through non-verbal communication. This means being a clear communicator, active listener, and understanding how to tailor your approach to those you are caring for.
Skills: As with most courses, paediatric training takes place over three years, full time. The first year will commonly involve working on developing an understanding of children's health, ill health and development alongside undertaking placements to build knowledge and communication skills. The second year focuses on more practical elements such as managing mental health or palliative care, alongside more substantive placements to help direct your career as a children's nurse. Your final year then consolidates your skills offering placements in units such as neonatal and emergency care. These also allow you to develop your management skills to transition directly into a role in a working hospital and helping you to become a nurse.
Qualifications: Conventionally, institutions will be looking for UCAS tariffs of between 96 and 120 points. These should also be backed by GCSE qualifications of passing grades (C or above) in English language, maths, and sometimes the sciences or social sciences. Qualifications such as A-levels, BTECs, HE Diplomas or NVQs can be considered alongside relevant professional or work-related experience – though it is always worth consulting the specific guidance from each institution when considering an undergraduate nursing degree.
Character traits: When working in the field of mental health, empathy and a high degree of diligence are key prerequisites. This means being able to objectively observe behaviour and relaying this in an unbiased but contextualised way. In addition, the universal nature of mental health care means that being able to relate to individuals of all ages and walks of life is a key strength no matter the field you end up placed within after completing your undergraduate nursing degree.
Skills: A Mental Health qualification is broken down across three years, full time. Commonly, your first year will see you develop a grounding in your ethical responsibilities and the fundamentals of providing healthcare through studying professional practice, and skills development. Your second year will move to more evidential based work and applying learning to practical approaches within a clinical placement revolving around medication and psychological care. The final year will involve developing a grounding in professional practice for your post-graduation role, focusing contemporary practice, clinical evaluation, and contextualised healthcare.
Qualifications: These follow the standard guidelines of needing 96 to 120 UCAS points This should also be supplemented by passing grades (C Level or above) in English language, maths and sometimes in relevant sciences or social sciences. Qualifications such as A-levels, BTECs, HE Diplomas or NVQs can be considered. Relevant work experience, skills or qualifications earned outside of academia can also be useful.
Character traits: Those working with patients in this sector benefit from having excellent communication skills and a high degree of confidence in judgement. Being able to earn, then respect the trust of a patient is key. A high degree of self-assurance is also needed to speak out and help your patients avoid discrimination or prejudice.
Skills: A degree within the field of learning disabilities will take place full-time across a three-year period. Most nursing qualifications will see your first year involve a broad introduction to the sector, focusing on healthcare fundamentals and therapeutic practice. Due to the high degree of practical elements and 'real life' learning required with the role, the remaining two years often aim to first-hand experience working with patients in a clinical and public setting to reinforce class-based learning.
Qualifications: As with other qualifications on this list, the standard bar of entry is a pass (C Grade minimum) in GCSE English language, maths, and sometimes sciences or social sciences and between 96 and 120 UCAS points. Relevant work experience is also taken into consideration including – but not limited to – A-levels, BTEC, HE Diplomas, and OCR Diplomas, amongst others.
Studying To Be A Nurse
When it comes to deciding on studying to be a nurse, you want to make sure that you pick the right field of nursing at the university that is right for you.
That's why it's important to ask the following questions of an academic or training institution.
Do They Have Open Days?
As with any course, it's important to be able to test the waters and understand what is on offer. Learn about open days and prepare in advance, as getting in touch directly helps to spend your time correctly. Check out our open days here.
Do They Offer Tutorial Support and Support in Practice?
Understanding how a program works as practical supervision and guidance is invaluable in a career that has a large proportion of on-the-job learning and extensive training. When it comes to this, do not hesitate to enquire or get in touch directly.
Do They Have Solid Infrastructure?
Ask if staff are contactable and what are their backgrounds? In addition, most institutions will advertise their uptake rate on the site and contacting specific departments directly can let you see the key stats for uptake year after year – helping you get a sense of your opportunities after you graduate.
Want to find out more?
You are ready to take that next step. Ready to make that life-changing decision and work towards your career goals. By downloading our prospectus you will have the world at your fingertips.

You can browse our 100+ unique course options and have access to finance and support information to get you started. Discover all of the courses available to you from Arts to Zoology – we're excited to see what you choose.