University of Cumbria Disability Network
Supporting Disabled Staff at Cumbria
We are the staff Disability and Neurodivergent Network (DANN).
Founded in July 2021, DANN is run by a group of colleagues who have come together to create a safe community for disabled staff, where we can celebrate and share our experiences and ideas. We're here to support each other, challenge harmful practices and make a difference in our university community.
Find out more about our network with Assistive Technology Officer and Network Chair, Caroline Briggs.
UPCOMING STAFF NETWORK MEETINGS
DANN meets bi-monthly to review actions and outline upcoming plans. Dates for the 2021/22 academic year:
11th November 11am
19th January 1:30pm
29th March 3pm
17th May 3:30pm
Any questions? Contact us via DANN@cumbria.ac.uk
Why is DANN Important?
I want to destigmatize disability in the workplace. As an autistic person, I want to be able to express myself completely - that includes talking about my disability in professional environments, sharing my struggles with my manager, and requesting accommodations. I want discussions about disability and mental health struggles to be normal, not stressful and risky. Having a network of staff come together gives me hope that we can make a real change by using our collective voice.

Devon Harris, Marketing and Recruitment

I find that having a disability can often feel very lonely and isolating - there are so many misconceptions about disability that I often question my own sanity and/or ability to keep on fighting for the basics. It is important that people with disabilities can share their experiences and insights without judgment. There is a real knowledge and kindness 'gap' which DANN could help to bridge.

)">

Anonymous, University of Cumbria Staff Member
There is still a lot of stigma and misinformation about non-visible disabilities...with regards to neurodivergence and mental health, as it's quite common for people to assume all neurodivergent people have the same experience/issues and likewise for things like anxiety, depression etc. It can be difficult feeling like you have to 'out' yourself as having a disability, and I would hope that the network could help people come together to create guidance, policy and instigate change so that no one has to feel like they are going through this alone.
)">
Kore Garner, University of Cumbria Staff Member
Disability Confident Employer
Disability Confident is a government scheme, working with employers to:
Challenge attitudes towards disability
Increase understanding of disability
Remove barriers
Ensure that disabled people have the opportunities to fulfill their potential and realise their aspirations
The University of Cumbria has been a member since January 2018, taking all core actions to be ranked at "employer level", focussing on attracting, retaining, and developing people. Our current membership is extended to December 2023.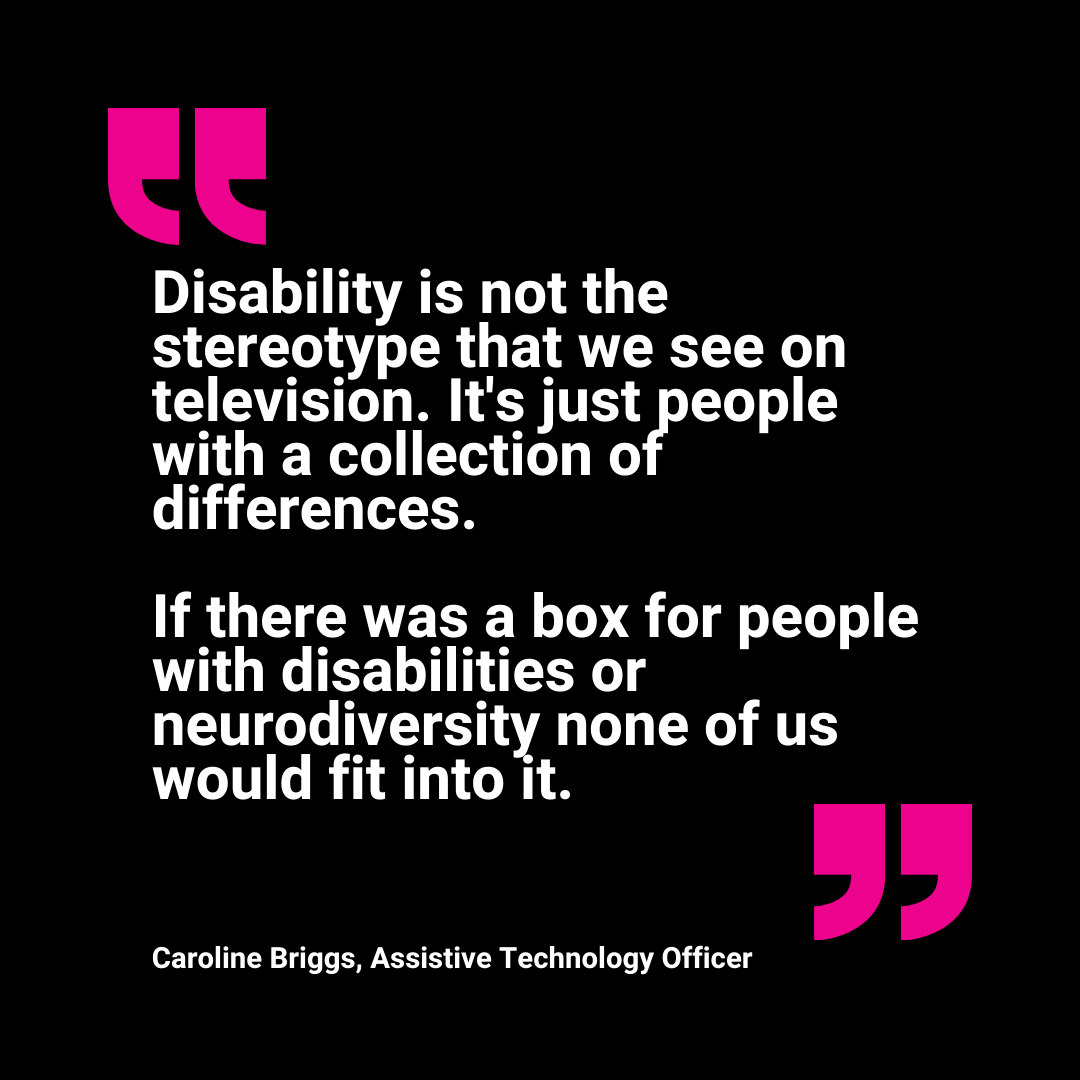 Disability History Month 2021
For Disability History Month 2021 (18th November - 18th December), DANN members have taken action to spread awareness of our network.
They have done this by:
Creating a series of videos sharing their personal experiences with disability and/or neurodivergence for the University of Cumbria Youtube channel. You can watch them here.
Making improvements to the accessibility of the Cumbria website and updating the Accessibility Statement. The website is currently being redeveloped and thus more changes are to come.
Hosting a webinar on accessibility and offering helpful guides and blogs that can be found on the Accessibility Page in SharePoint.
Colleagues are welcomed (including allies) to join the group by completing the DANN Members Form. Thank you to everyone who has engaged with our network throughout the month, especially those who have shared their personal experiences with the world.
You are not alone.
DANN Terms of Reference
Learn more about the Disability and Neurodivergent Network Terms of Reference.
Initially, the Terms of Reference will be reviewed after one year. Following this, the review will take place every two years.
Next Review: November 2022