Click here to edit using the old editor
PgC - Healthcare and Medical Leadership: Practice Development
With career opportunities expanding in the health and medical sector, our PgC Practice Development: Healthcare and Medical Leadership aims to ensure that you're a skilled, confident and problem-solving individual best placed to work as a qualified professional. You will study alongside colleagues from all areas of health and medical care. This will allow you to appreciate the complexities of working within a dynamic and challenging environment.

Apply Now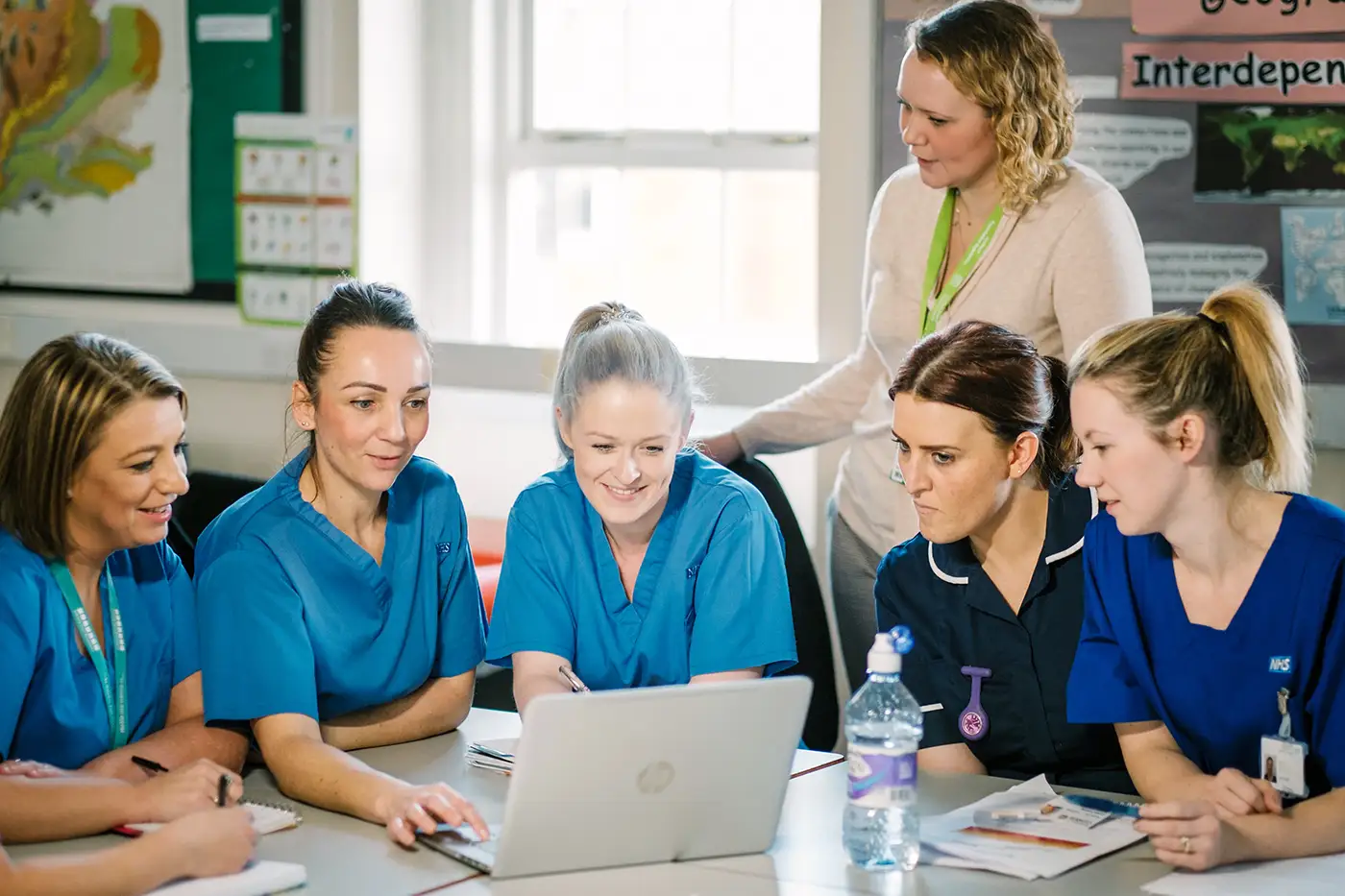 Course Overview
You will be required to undertake the following modules: Coaching and Mentoring (20 credits), Leadership through Transformative Learning (20 credits), Work-based Learning (20 credits). This programme of study is created to align with workforce development and supports professional progression. The 3 modules of this programme are contemporary, and have been tailored to ensure that they meet the needs of the Healthcare and Medical Service stakeholders, and will continue to do so in the future.

Reflection and reflexive practice are core skills that students will develop over the duration of this PGCert using a reflective workbook to record their personal and professional progress and provide iterative evidence for each module and beyond the taught elements of the programme. The PGCert Practice Development: Healthcare and Medical Leadership is one of a suite of programmes within the Practice Development framework. This programme has been specifically developed to meet the continuing professional development needs of individuals who are leading, managing and supervising at a strategic level (or aspiring to do so) within a variety of settings. The programme is designed to enable you to apply your learning to your own professional context.

The development of the PGCert Practice Development: Healthcare and Medical Leadership has been informed by engagement with key stakeholders who require a suite of modules to support management and leadership development for staff at all levels within their organisations. This engagement has ensured that content and delivery methods are appropriate for the needs of a diverse workforce. The importance of the development and enhancement of management knowledge, skills and behaviours for current and aspiring leaders and managers is crucial and the programme has been developed with this in mind.
On this course you will...
Study a course with a new and exciting approach to leadership. The focus is on self and how you impact the world.
Be part of a wide network of fellow students.
Receive supportive help and advice – we cater for all educational needs.
Advance your academic and professional development through self-reflection and reflexivity.
Location

Carlisle - Fusehill Street Campus

The Fusehill Street campus has been the setting of life-saving treatments since World War I. Now, it's home to world changers, life-savers, crime fighters, and entrepreneurs with access to high-quality facilities and innovative thinking.

Find out more

Location

Lancaster Campus

Lancaster is the Red Rose heartland, a student haven full of history and culture. With iconic stone architecture, parkland, and a caring community, this is the place to get involved. The campus houses top-quality facilities tailored to the needs of life-savers, world changers, and future leaders.

Find out more

Location

London Campus

Just steps away from the iconic Canary Wharf sits the London campus. A hub of opportunity tailored to nurturing future leaders, world changers, and live-savers in the capital city. Make an impact when you study at the London campus.

Find out more
Carousel skipped
Find out more about studying with us
Attend an Open Day
at Cumbria
An Open Day is your opportunity to explore one of 5 campuses, meet your lecturers, and find out how the University of Cumbria could become your new home.
Take the next step towards achieving your dreams.