Make a Difference
If you are passionate, caring and want to support your community, the University of Cumbria's health courses may be for you. Join us at the London campus to develop the skills you need to become a healthcare professional.
Whether you're leaving college or looking to gain further qualifications, our East London campus offers a multitude of public health courses, with a three-year undergraduate health and social care degree and one-year top-up degree. For anyone already working in healthcare, our CPD and online courses in London help you seize the opportunity to become the best you can be.
While studying at the University of Cumbria, you will be taught by expert tutors who have years of practical, real-world experience. Your health course will include content that is relevant to the world of work, emphasising problem-solving and the interaction of theory and practice. What you do here will turn you into a community maker, capable of changing people's lives for the better.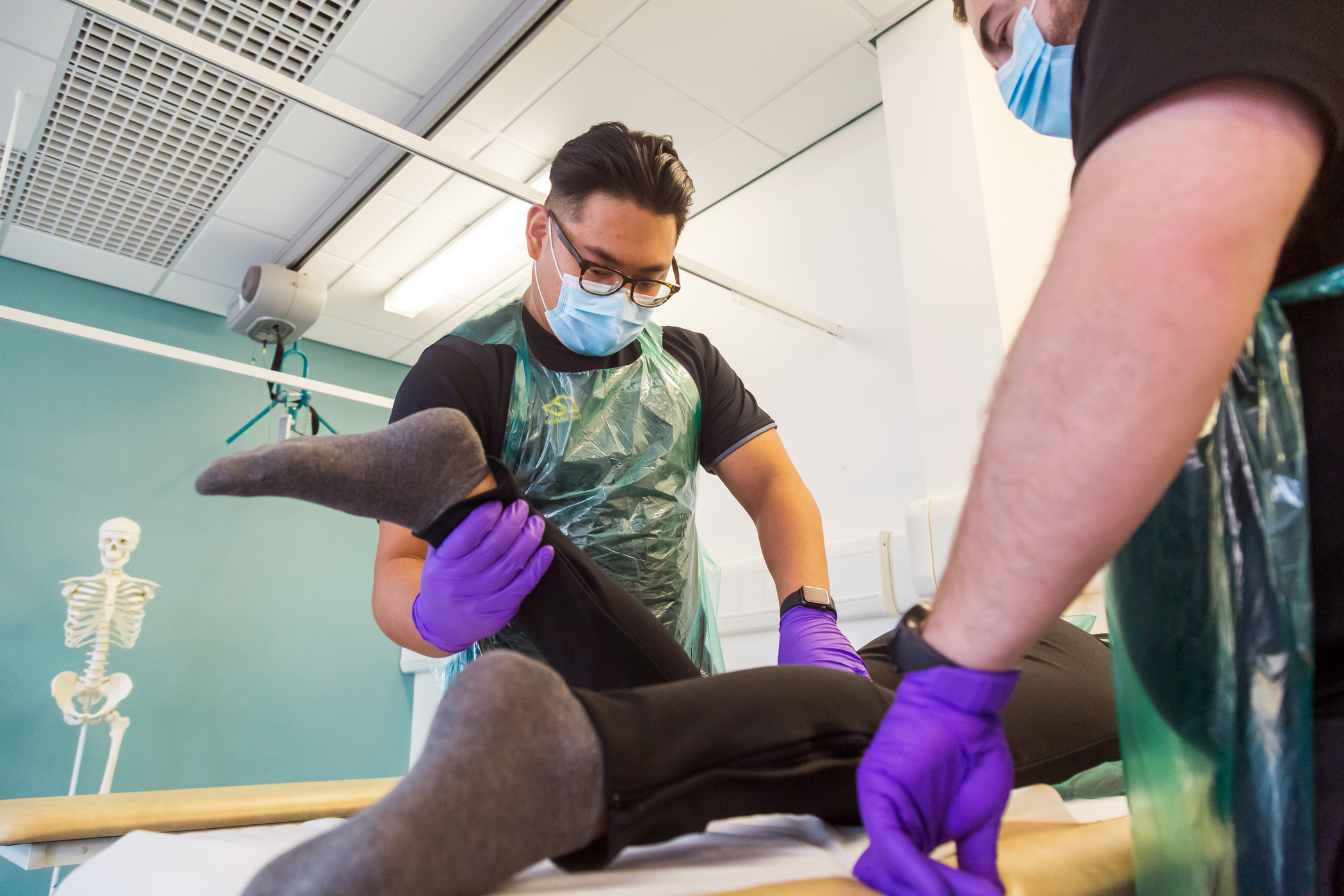 Why Choose the University of Cumbria in London
We provide an intimate study space for learners while providing a diverse, interactive and personalised learning experience.
Situated in the historic London Docklands area, our campus is just six-minute walk away from Westferry DLR Station – making it easily accessible wherever you are in London.
At our London campus, you'll find a tight-knit community of like-minded students in the borough of Tower Hamlets.
Your Studies
Welcome to the Institute of Health. With local placement opportunities available you can make a difference in the world by changing lives, connecting with people, and building communities with real-life work experience. Start your journey to becoming a 'Community Maker' with us at the University of Cumbria in London.
BSc (Hons) Health and Social Care (Practice Development) Top-Up
Have experience in Health and Social Care? Our Health and Social Care (Practice Development) programme is a level six, one-year course that complements the experience you already have.
If you already have a diploma, HND, or foundation degree, this CPD course in London will give you the boost you need. You'll study modules taught by experts in health, such as Collaborative Working, Safeguarding Across the Lifespan, and Managing Self.
On completion of this course, you'll be a successful university graduate and in a prime position to continue onto postgraduate study or work in health care settings across London and the UK.
Find out more
Independent Prescribing for Pharmacists and Non-medical Prescribing
At the London campus, we offer multi-professional part-time courses which prepare pharmacists for a role as an Independent Pharmacist Prescriber.
Prescribing by pharmacists has evolved to offer better access to medicines and to optimise the skills and expertise of pharmacists in the provision of care. This is an exciting programme of study which, on successful completion, allows students to have their qualification recorded by the General Pharmaceutical Council (GPhC) and to practice as an Independent Pharmacist Prescriber.
Seize the opportunity to develop and become the best you can be.
Find out more
What Our Lecturers Say
15 years' experience in the health and social care sector has provided me with extensive knowledge and understanding of a diverse range of people and their individual needs. Teaching modules like Evidence-Based Practice and Safeguarding...has meant that I have been able to bring my experiences on the field into the classroom.

Jumie Orebamjo, Practice Development Health and Social Care Lecturer

Jumie is currently undertaking a professional doctorate in education with a research focus on the academic achievement of mature female students in higher education.
Online Courses
Whether you are based in London or afar, you can access our range of online health programmes anywhere in the world. Become a member of the Insitute of Health when you apply to the University of Cumbria's online degrees, CPD courses, and modules from the comfort of your own home. Browse our full range of online health courses today.

Online

BSc (Hons) Nursing: Practice Development Top-Up

Work in health or social care and want to upgrade your diploma to a degree? Want a truly flexible course to fit in with your career plan and lifestyle? This top-up degree for nurses provides the opportunity to select from a wide range of modules, tailoring the degree to your own personal and professional development needs.

Full-time or part-time options available, enabling you to fit in your study around your work and personal commitments.


Find out more

Online

MSc Practice Development

If you're an experienced practitioner looking for a professional edge, our masters course will provide a stimulating and engaging learning experience, equipping you with the knowledge and skills to be an innovator in your field.

This multi-professional CPD programme offers tailored module choices to suit your own professional development. Full-time or part-time options available, enabling you to fit in your study around your work and personal commitments.


Find out more
Carousel skipped