What are you up to now?
Have you got an exciting new job, working on a new project, want everyone to know about your own business, had something published or exhibited? Perhaps you are getting married or had a baby? Whatever your news, we would love to hear about it and share it with your fellow alumni. Drop us an email alumni@cumbria.ac.uk to share your story.
Ben Walker, class of 2002, Graphic Design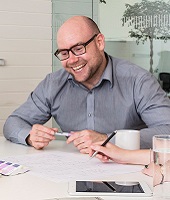 Ben's ambition when he started studying was to open his own graphic design agency, and 12 years later, after gaining substantial experience working for various agencies full-time and on a freelance basis, he did just that! Ben opened Firefly, a branding and digital design agency, in Edinburgh in 2014.
Ben is the creative director and his focus is on adding value to his clients' brands while developing his talented team. He explains that the most enjoyable part of his job is helping other designers grow and expand upon their skillset.
Looking to the future, Ben explains: "I aim to continue to build the team and our varied client base at Firefly to help position us as one of the leading design agencies in Scotland. If we can add a second or third studio in other countries in the coming years that would be fantastic."
Ben credits his time studying at Brampton Road for shaping his career, he explains: "I learned a great deal at Carlisle and it provided a vital stepping-stone to help me break into the graphic design industry. The experience and education I received has strongly moulded my design ethos and continues to influence my creative decisions to this day."
Find out more about Firefly Design Agency and follow Ben's work here: https://firefly-uk.com/
Olivia Haines (Nee Ashton), class of 2014, Primary Education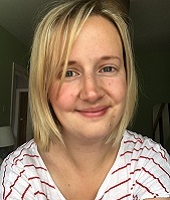 After four years of teaching, Olivia has changed career direction and is now studying theology at Durham University and is training as an ordinand in the Church of England, so she can become a minister or vicar.
Recently Olivia took part in Sermon of the Year, a national competition held in London, in which she was proud to come in second place.
Olivia explains: "I received good feedback and I am excited to put their advice into practice, and see how God uses me in this area of my ministry."
Olivia very much enjoyed her time at UoC, stating: "It's a brilliant place to be, with fantastic lecturers and pastoral support. It's the kind of place where you are known by name, and not just a student number.
"Walking up Bishop's Walk I knew the Lancaster campus was the place for me. The campus is so green and yet right in the middle of the city, that for me was just what I wanted. When I got off the train at Lancaster I had this sense of coming home. Also, as a committed Christian, I found church to be a big factor in my decision making process."
Lancaster proved to be the right city for Olivia as while she was studying she met her now husband, who was a student at Lancaster University.
Olivia taught in schools after graduating and had dreams of being a head teacher within ten years of qualifying. However, as her career progressed she realised her goals had changed.
Olivia explains: "Lots of things changed within the education sector and I found I was less passionate about the day-to-day teaching and more passionate about social issues that education can change. At the same time my personal faith was growing."
Explaining why she loves her new role, Olivia says: "My passion for social justice was fanned into flame at UoC, and that's where my heart now lies. I now get the privilege of being invited into people's lives at the highs and lows, through baptisms, weddings and funerals, that's really special."
Looking to future, Olivia explains her next goal: "Other than to qualify and graduate (again!), my only ambition is to love the people I serve and to never lose sight of that passion for social justice."