What are you up to now?
Have you got an exciting new job, working on a new project, want everyone to know about your own business, had something published or exhibited? Perhaps you are getting married or had a baby? Whatever your news, we would love to hear about it and share it with your fellow alumni.
Martin Jones, Christian Ministry, class of 1999
"When I became a state pensioner a few years ago, I decided it was time to write down and publish some memories of my life before I got too old. Now I've just published my fourth book - A Changi Childhood - looking back at my primary school days on a RAF base in Singapore in the late 1950s. This book has resulted from many spare hours spent at home during the lockdowns and, although the memories are mainly mine, I have been helped in no small measure by the large number of photos taken by my parents whilst we lived in Singapore. The book includes return visits to Singapore in 1994 and 2002, along with trips to Malayasia, Vietnam, Thailand, Hong Kong and Japan. Running to over 130 pages and fully illustrated, the book is a 'must-read' for all who know or knew Singapore and the South East Asia region.
Is a book about my time at St Martin's, Lancaster about to follow? Hmmm, I'm not sure at the moment! However, I have reason to be grateful to Sheila Hunter, Chris Williams, Peter Gedge and others for helping me with my writing in the late 1990s and enabling me to be confident enough to publish what I have written. Thank you, all of you".
Purchase A Changi Childhood here, all proceeds will be donated to charity.
Barry Lees, English and Creative Writing, class of 2013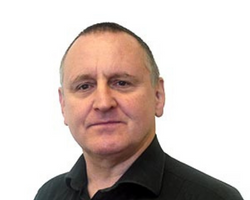 "A publishing deal in America? Yes! That is my hot news.
With a cracking new cover and an audio version coming soon, the first in the series of my three Kerrigan books, This City of Lies, will go on general release on Kindle and paperback from 1 December. In the capable hands of SEG Publishing in the USA, the book is available worldwide and can be pre-ordered now. The next two Kerrigan books are due for release in the new year."
As well as a published author, Barry is also a lecturer in Policing at the University of Cumbria.
Purchase This City of Lies here.
Andrew Bramwell, Education, class of 1981
"I graduated in 1981 from St. Martin's College, Lancaster and worked as a teacher for 35 years, 18 as headteacher. I have also worked in mental health services as a counsellor and advocate and at various universities. I am now undertaking research at Oxford University into 18th century poetry alongside tutoring and student support. I am still in regular contact with friends I met at college and try to visit Lancaster whenever I can.
Flying Boy is my third novel for young adults, some of the novel is set in Lancaster.
Sam's life changes instantly one day in Coventry when a terrible crime is committed. Soon, Sam has to accept a family member is a potential murderer - and he has to go into 'care'. Sam's journey takes him to a surprising new home and new friends, where dangerous enemies and forces emerge, to threaten his existence on many levels. As Sam encounters a final challenge that could kill or redeem him, the world appears to bleed into supernatural or mythic elements at the edges. Will the boy fly or fall? For anyone who has loved the works of Alan Garner, this is a deeply resonant, suspenseful, and magical book about childhood's darkness, strengths, and how lives may - or may not - escape unexpected nightmares."
Purchase Flying Boy here.
Ya-Chu Lee, TESOL, class of 2014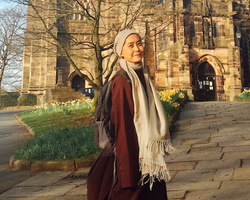 "After living in a large monastery in Taiwan for 10 years as a Buddhist nun, I made up my mind to pursue a higher degree overseas. I did not have very clear career ambitions when I started studying but hoped to broaden my knowledge, which could bridge my future career and past life experience. Upon arriving in the UK in 2013, I enrolled in an MA program in Teaching English to Speakers of Other Languages (TESOL). While working toward my MA, I became aware of the popularity of the mindfulness movement in the west and conducted an empirical study of the intersection between mindfulness and teachers' reflective practices in the UK as the central focus of my dissertation. This study was later published in the Teacher Trainer Journal (Vol 30 No3).
The staff at the university were very friendly and I was very grateful for the team of security who took care of students' safety and patrolled around the campus in Lancaster. I sometimes walked by their office in front of the library gate and had a lovely chat with them. Three months before the completion of my MA program, my father suddenly died in Taiwan due to a heart attack. I was heartbroken, and on the eve before I flew back home, one of them gave me a warm hug, which comforted me. Despite my father's sudden death, I managed to finish my MA dissertation with the great support of my both tutors and received the grade of distinction. For me, the staff at the university had been wonderful friends in my life and these beautiful experiences and warmth they gave me have become part of my memories about the University of Cumbria.
With the encouragement of my MA tutors Krista Court and Anne Margaret, I continued to pursue a PhD in the subject of mindfulness at Lancaster University in 2015. Although I have graduated from Cumbria University, they continued to support me along my PhD journey. I was encouraged to give presentations at various academic conferences or talks at institutions. My PhD research is an ethnographic study on how mindfulness is practiced in the present-day lived reality of contemporary Chinese Chan monasteries. I received my PhD in religious studies at Lancaster University in July 2021. I am planning to turn my doctoral dissertation into a publication.
I am most proud of the fact that I completed my MA and PhD degrees based on the fact that I did not have a bachelor's degree. I hope that my humble background could inspire more people to dream big. Once you see a chance to improve yourself, grab it and learn from it wholeheartedly."