Gary Rothery's Ambleside memories 1976-1980
Gary Rothery studied at Charlotte Mason College from 1976 to 1980 on the B'Ed Applied Education course. Here he shares his happy memories of student days in Ambleside.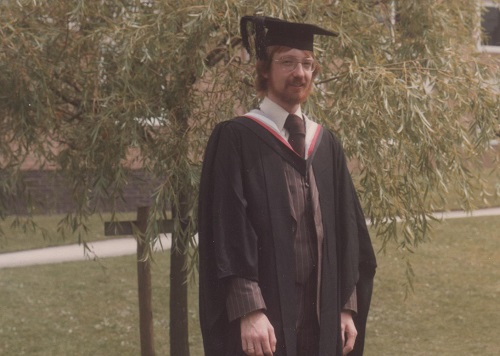 What made you choose to study at Charlotte Mason?
Location was important. I enjoyed hiking, camping, sailing and pot-holing, most weekends, through my school in Bradford, and I wanted somewhere that I could imagine continuing those interests whilst training to be a teacher.
What was student life like? (In particular what would you do in free time, where would you go for nights out etc?)
The Golden Rule pub was a fairly regular haunt, but I didn't have much money to spend! I had a 'full' grant and had to find paid work in the summer holidays. We sometimes used the Royal Oak too for a change. In my final years I worked some evenings each week behind the bar of The Unicorn.
Behind Fairfield (now Helvellyn) and Annexe (now Wansfell) Halls in Rydal Road, there was a large wooden 'shed' that was a bit of a social centre. It contained a few things like table tennis, a dart board and table football. We used to sit around on landings inside the various halls, I developed my ability to play guitar on the landings of Fairfield!
I started up CMC badminton club and, after some friendly matches (against Ambleside Club), I enrolled us in the Westmoreland League. We played home matches in The Barn, the protruding balconies had to be agreed as faults if hit by the shuttle.
After working in a factory over my first summer I bought a motorbike (1974 Honda CB250G5) and seemed to be regularly rebuilding it in the cellars of Fairfield.
At weekends, and during Summer evenings, we made good use of the location by hiking the fells.
Did the college or campus have any particular traditions that you took part in?
The students specialising in Outdoor Pursuits at CMC, a separate course, used us as guinea pigs to hone their teaching skills, and so we had many opportunities to become adventurous.
The college tried to be a part of the local community and I can remember that a film society sprang up in an effort to keep Ambleside Cinema going. I also remember how we put on theatrical productions (also in The Barn), directed by a tutor called Lance Edynbry. I got involved with the technical side, sound effects and lighting. I remember: Wait Until Dark and Granite as two of our major productions. The building had balconies and a room upstairs from which to control the lighting. The two to three dozen 'dimmers' were real physical sliders 0.5m tall each working on resistance coils, and they put out a great deal of heat! By the end of a production we would be soaked in sweat and the room would be like a sauna. Just before I left the whole thing went electronic and became an A4 sized panel that produced no heat!
One year group always wrote, produced and performed a pantomime. I remember that our effort included a chorus line of one legged pirates doing a Can Can with their crutches. I can't remember why.
We all participated in an annual RAG week full of silliness and fancy dress. Getting on and off huge lorries, as they trundled along, dates my memories to long before health and safety was invented!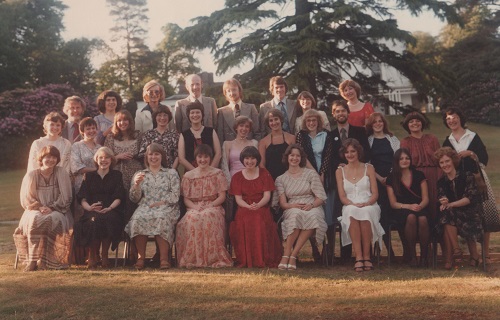 What were classes and tutors like? (E.g. Do you have particular memories of favourite tutors?)
We all seemed to attend 'drama' classes in George and Dragon, two large 'sheds' attached to a corridor along the side of Scale How near to the dining room. I remember having to 'hide' in an empty room. Someone was commended for becoming a tree, but I never understood why you wouldn't notice a tree in a room! That explains why I became a Science Teacher! I did like Lance Edynbry though, he was very passionate about his drama. 'Dotty' Harrison, Dave Trembath, Cedric Cullingford….I remember names, but few details.
Everyone remembers the hikes up to Kelsick! We must have been the fittest students in the country. I met and chatted with Peter Purves (Blue Peter) up there once! His sister worked in the office.
Do you have any particular amusing stories you are willing to share?
I completed two terms of Thursdays at St Aiden's Secondary School in Carlisle. Returning one evening, probably in January, the Mountain Goat minibus resolutely stuck to the Kirkstone Pass route even though it was snowing heavily. We passed Brotherswater, at which point the driver fitted snow chains. Half way up towards the summit we encountered a jack-knifed lorry stuck sideways across the road! We had to return to Penrith, head to Keswick, and finally arrive back in Ambleside in the middle of the night. Lectures next day as usual, of course!
I did my first main TP at South Walney Jnrs. Hours each day on a minibus to arrive at a school seemed normal back then. I saw The Invincible (aircraft carrier) launched between Barrow Island and Walney Island whilst there. It has just been decommissioned.
Did you make any lifelong friendships?
I returned to the Lake District for the May half term after I left CMC, bringing a minibus full of my students from Kent. I was accompanied by another ex CMC student who had left to teach in Sussex. We still exchange Christmas cards and annual newsletters.
I exchange Christmas cards and newsletters with two other friends from CMC but we don't meet up.
There were three others until the last 10 years, but I have now lost touch. We're all getting old (It will soon be 40 years ago!).
What is your fondest memory of your time on campus?
The small number of students, and the fantastic location, compared with most university courses, really made me happy to be there. I always realised that it was a very special place to be and that it would be a wrench to move on.
I enjoyed moving out of Hilmar, my first residence in Compston Road where I was placed for term one, and in to the newly refurbished accommodation in Scale How. I got a single room for the next two terms, unheard of for a first year student. Getting down to breakfast was suddenly much easier and it was possible to pop to my room if I had forgotten something.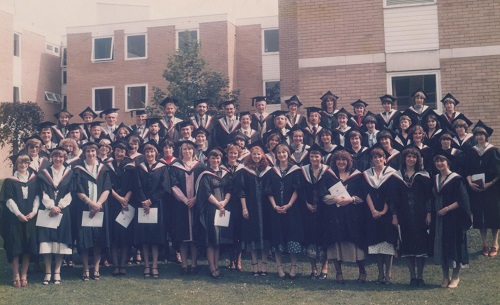 How did going to college change your life?
I taught for 35 years. I developed a life long love of the outdoors and outdoor pursuits.
What were your ambitions when you started studying and do you think that you have achieved them?
I wanted to remain in education, and I succeeded for most of my life! My father had died when I was six and so, coming from a very poor background, I recognised that school made an enormous difference to my life. I tried to help my students to see education, learning, and school as a pathway to achieving success in life. It worked for me!
What are you most proud of in your career?
I live in a village within the catchment of the area in which I taught for 35 years. I meet ex students all the time, especially in my local pub, and I find that I also taught their parents. I like that. I get phone calls from an ex student who is a nuclear physicist working in the oil industry. He calls me when he gets back from The North Sea drilling rig where he works off-shore. He asks me down to our local pub where we are served by another ex student of mine.
I worked with a team of (11-16yrs) students from a Kent High School in the inaugural First Lego League event in Kent. All of the other schools competing were Grammar, Indepependent, or Private Schools. However, when we arrived for the competition at the university in Canterbury, and particularly once we revealed our robot and it's programming, it was clear that ours was the best. Our robot beat all the others by a mile. We made it on to the local TV news. My students gained hugely in their confidence, and a number went on to study associated subjects at university when they left school.
I introduced many students in Kent to the idea of outdoor activities and many remain hikers, sailors, climbers… I remember the first time that I took a minibus full to Ambleside Youth Hostel. Our school minibus was an automatic, and at the top end of The Struggle, nearing The Kirkstone Pass Inn, the speed had dropped to walking pace. The students complained that they could walk faster so… after unloading them we zoomed to the top, and they discovered that they couldn't run like they can on the flat back in Kent! (Should I be proud of teaching that important lesson?)
Photo captions:
1. Gary on his graduation day at Lancaster University July 1980.
2. Valedictory meal photo on the lawn in front of Scale How. Gary is pictured on the back row, fifth from the left.
3. Class graduation photo at Lancaster University July 1980, Gary is third row, sixth from the right.
If you have memories of the 1970s and 1980s in Ambleside we would love to hear them and add them to Memory Lane. Drop us an email alumni@cumbria.ac.uk