Jim Park's Ambleside Memories 1979-1980
Originally from New Zealand, Jim Park came to Ambleside to study for one year at Charlotte Mason College from 1979-1980. He was enrolled onto the Advanced Certificate in Outdoor Education with Colin Mortlock and Jack Parker.
Now aged 67, Jim has had a 35 year career in education, having been a classroom teacher, school principal and college of education lecturer.
"It is interesting that it is only now that I have retired from teaching and looking back at my career in education, that I know I had a unique experience at Charlotte Mason which changed my life."
Why did you decide to study at Charlotte Mason College?
I relished the opportunity to attend an overseas university and study for a year in an area of interest and what a year it turned out to be. The course itself had credibility and a good reputation which lived up to my own expectations. It also came at an appropriate time in my teaching career as I had been teaching for 5 years here in New Zealand.
We were a small group of 10 students who had a common interest and a passion for the outdoors. I appreciated the opportunity to improve my outdoor skills in canoeing, sailing, sea kayaking, rock climbing, mountaineering, skiing as well as developing a sound philosophy of outdoor education and the outdoor teaching skills to introduce the outdoors to children.
What was student life like?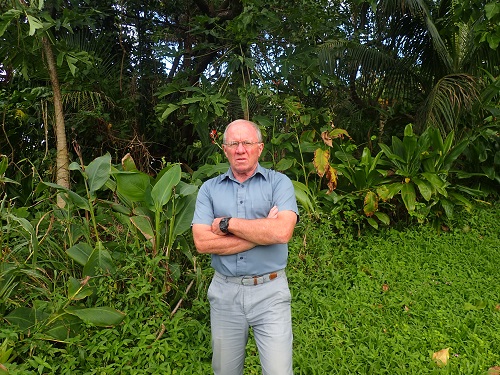 On the one year outdoor education course we didn't have much free time as it was a fairly intensive course. This included travelling around the UK to kayak in the Outer Hebrides, climbing on Skye and Glencoe, sailing around Ailsa Craig and venturing south to Pembrokeshire to climb and canoe on the river Wye.
I do recall visits to the Golden Rule for a pint of ale which was enjoyable and I managed to play a few matches for the Ambleside Rugby Club.
I was really lucky to live in Ambleside for the year and experience a white Christmas.
What were classes and tutors like?
The two course tutors, Colin Mortlock and Jack Parker had a passion for the outdoors and Colin a particular interest in the promotion of adventure education. They complimented each other having different personalities, outdoor strengths and academic interests. I had a great deal of admiration and respect for them as tutors and people.
Did you make any lifelong friends?
It is one of my regrets that at the completion of the course we as a group did not keep in contact. It is only now that I wonder what happened to them as well as some of the CMC students who I got to know socially over a meal and a beer. Alan Elsworth from Bradford and I have kept in contact, exchanging Christmas cards.
In the late 70s the college numbers were quite small, so I got to know some of the college students. I have always wondered what happened to some of them. Jayne Bradshaw and Martin from Stockport being two I was very fond of.
What was your fondest memory of Charlotte Mason College?
Living in Ambleside and studying at CMC for a year with the Lake District on your doorstep was an experience of a life time.
How did going to college influence your life?
Looking back my year at CMC was one of the best years of my life. The outdoor course made me a better teacher of outdoor activities as well as improving my own outdoor skills. It also developed my own philosophy of outdoor education and its potential as an avenue for learning about self and others. I shared the outdoors with my students for the rest of my teaching life.
What were your ambitions when you started and do you think you have achieved them?
My ambition was to enjoy the outdoor education course, make the most of the opportunities and improve my own outdoor skills as well as become a better teacher of outdoor activities. I think I achieved them and I am proud of the achievement of the Advanced Certificate in Outdoor Education.
What are you most proud of in your career?
I am very proud of my academic qualifications as I ended up with a M Ed (hons) and a number of diplomas in education. They were done the hard way whilst I was still teaching. I also value and appreciate the students I taught, the friendships I made, and the variety of positions of responsibility in education that I experienced. I was fortunate to live and work in seven different countries. I was proud to call myself a teacher.
"At this stage of my life I am still visiting the outdoors whenever I can, it is an important part of my life. I have been fortunate to have visited the Himalayas on five occasions and am still walking and climbing the peaks which are on my doorstep here in Christchurch where I now live."
"One day I would like to visit Charlotte Mason and Ambleside again and recall some of those memories as well as visit our digs and the Golden Rule, for a trip down memory lane."
If you were at Ambleside in 1979-1980 and you remember Jim Park, please contact us alumni@cumbria.ac.uk so we can put you back in touch.