1974 Starters Return to Lancaster
On Saturday 27 September I met with a lovely group of alumni on campus in Lancaster as they celebrated 40 years since they started at S Martin's College together back in 1974.
Andy Jagger contacted us to ask about the possibility of a look round. Of course we were only too happy to help, all our campuses are open access and members of the public (and especially alumni!) are welcome anytime. You certainly won't be expected to show student ID if you pop into a café for a coffee or the bar for a pint!
It is one of my favourite aspects of the job meeting up with our alumni, I jump at the chance to meet groups and show them round campus and to learn about their experiences as students.
I was joined in Lancaster by one of our fab Student Ambassadors, Lizzy Downey currently in her third year studying BA (Hons) Primary Education. Lizzy's knowledge of the campus is far greater than mine and she did an excellent job in explaining what student life was like today compared with 40 years ago.
This was the first time that many of the group had seen each other in years but you could tell how close they had been as they chatted easily as if no time had passed at all.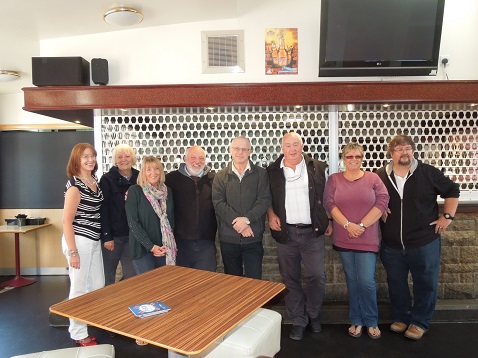 The group were eager to visit the Old Dining Hall and in particular the Student Bar, where we stopped to pose for photos. Andy remembered exactly where the specific tables were, the dart board and, of course, which beers they had on tap!
A visit to the JCR followed with tales of many happy evenings spent together enjoying student life.
It was a pleasure to meet with this group as they began their weekend reunion celebrations and it is clear how important the Lancaster campus is to them.
Andy said, "Can I say a very big thank you for the tour you provided on Saturday. It brought many memories back from that time of 40 years ago and between us reminded us of the names of some of our 140+ fellow students from our year group. It provided a welcome start to what proved to be a fun-filled weekend."
Alumni campus tours for small groups are a service offered free of charge and can be conducted at any of our campuses, subject to staff availability and if booked with plenty of notice. Please get in touch to find out more information.
alumni@cumbria.ac.uk or telephone 01228 616391
If you want to come and have a look yourself, no problem at all, but please be aware that access may be restricted at weekends and out of term time.
By Joanne Lusher, Alumni Association