Jane Bower's teaching words of wisdom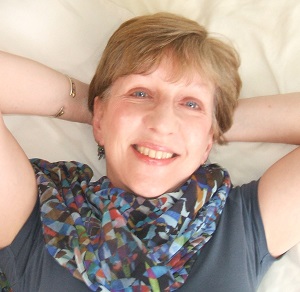 Jane Bower graduated from our Lancaster campus, then S. Martin's College in 1977.
Since graduating she has had an exciting and varied career including lecturing at Cambridge University and starring in a play she wrote herself with the actress Maureen Lipman.
Now busy promoting her new one woman show Daddy's Diaries, which is inspired by the discovery of her father's old war diaries in a box.
Jane kindly agreed to answer a few questions for us. Her passion for teaching and her words of wisdom for all students, or indeed current teachers are truly inspirational.
Name of course:
Teacher Training 3 years, B.Ed 1 year
Year of Graduation:
1977
Where are you from originally?
Headingley, Leeds
What made you choose to study at St. Martin's College?
I didn't really choose it – my parents did, because it was recommended to us by a lady we greatly respected at our church. She said it had the best course and also that Lancaster was a nice place and near enough to come home by train (we didn't own a car).
I had originally wanted to stay in Leeds but my parents felt I needed to be gently persuaded to fly the nest! I said I would only go if my best friend Fiona Plane, who was applying too, got a place - we both did, and shared room OG7 in Barbon Hall.
Why did you choose your particular course?
I was told it was a good one. In fact I was told S. Martin's was the best, and that if I didn't put it as my first choice I wouldn't even get an interview!
There was no question that I wanted to make Art my main subject and English my second, though had Drama been available, I would have chosen it. At that stage I didn't realise my art tutor would be Jan Thorn, who had been wonderfully trained by my father!
What was your favourite experience at university?
The discos on Wednesday and Saturday nights in the JCR, living on the top floor of the Willy Thom, and the absolute crowning highlights, my two blissful teaching practices, in Strone, Argyll, and Yanwath, Cumbria. I still recall, and visit, both with huge nostalgia. I relished my time there, doing what I really wanted to do – teach children in a small village school.
I also adored both my landladies, and was honoured to be asked to write the eulogy for one of their funerals last year.
Do you have any particular memorable/funny stories to share?
Oh – far too many, most too rude to recount – I could fill ten books! Fiona and I were well-known for our humour and were apparently 'college characters' so there was always some incident going on around us.
How did coming to university change your life?
It turned me from a potentially good teacher into a good teacher, and then I believe I became a really inspired, and I hope inspirational, teacher.
It confirmed my calling. It's a privilege, and my desire, to do things as excellently as I can. I've ended up being invited to teach and train other teachers throughout the UK and in Bangalore and Dubai.
I have been an associate lecturer in art and drama at Cambridge University's Faculty of Education for 22 years, and am a freelance creative practitioner in primary schools.
Did you make any lifelong friendships at university?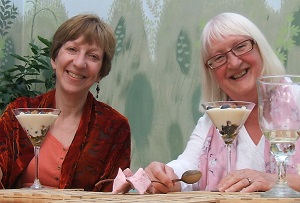 I am still regularly in touch with Fiona, and two other dear friends - Diane Lewis, who was on the art course with me, and Jan Webster, who was in the year below me and was placed in the same digs, which forged a bond.
I wish very much that I could trace some of my other girlfriends from my year. Where are you, Val Elstub, Heather Stewart, Pauline Manson, Helen Fellows, Gill Eyre? I was very fond of you all, and would love to talk to you now that I am hopefully much more mature and less foolish than I was then. I cringe to remember myself, though I suspect I am not alone in that!
Current Employer:
University of Cambridge, plus self-employment. I'm now semi-retired, but still doing some teaching as I still love it.
Job Title:
Associate lecturer (art/drama KS1/2) and creative practitioner in primary arts.
What were your career ambitions when you started studying and do you think that you have achieved them?
I had no thought other than being a good classroom teacher in a nice little village school. I was still very homey then, very immature. I never imagined I would end up a Cambridge lecturer, writer of books for teachers, professional actress and working artist to schools, nor travel as widely as I have.
Would you be where you are today, without your degree?
Probably not. It gave me confidence and helped me to build a strong CV, and it led me to Cambridge where I became the Arts Adviser for South Cambridgeshire primary schools, which in turn led to what I went on to do. I didn't actually apply for my job at the Fac of Ed, I was invited, and I possibly wouldn't have been without my degree.
What are your current career ambitions now and in the long-term?
Being semi-retired now, I'm in the remarkable position of being able to pick and choose what I do in terms of teaching, art and writing assignments. But I'm always hugely busy with educational projects. I'm about to self-publish a children's novel, hopefully in aid of the RNIB, but my main project is my most recent solo show, Daddy' Diaries, the story of my father's war, which is currently on tour. Diane suggested I brought it to the Heron Theatre in Beetham, and I was thrilled to see David and Judith Peacock from S. Martin's in the audience, whom I hadn't seen for forty years!
What is the most satisfying aspect of your job?
Using every single skill I have been given to the full. Creating on a daily basis. Meeting fascinating and heart-warming people of all ages in schools. Being thanked by trainees who say I have really helped them. Performing to an audience who are truly appreciative. It's very humbling stuff.
What are you most proud of?
I wouldn't use the word proud – I'd say grateful. That I have come through real difficulties – divorce, serious illness, redundancy – and still feel fired up to teach, enthuse, and create, to travel, write and act.
I'm also thankful for a moment in my acting. I was commissioned to write a play by the actress Maureen Lipman, and having unexpectedly asked to see me act (which really threw me!) she decided she wanted me to alter it to a two-hander and be in it with her. That was a complete shock. We performed it in 2010 and it got a standing ovation. The confidence I needed for that came from years of teaching. When I'm on stage now it's always to fascinate and educate, rather than merely entertain.
It's an extension of my teaching. Drama is the best possible learning medium.
What I'm most grateful for is that, after finding marriage something I could not deal with, I met my soulmate and have to date been with him for 27 years, living happily apart and child-free by choice (love to teach them, but not to live with them!) Fiona has provided me with my two lovely godchildren.
What advice would you like to pass on to our current students if they wish to pursue a similar career to you?
Look after your health – your voice, your back, your mental welfare. Teaching is exhausting, and an exhausted teacher is of no use.
Stick to what you know is sound teaching philosophy and stand up for it.
Allow yourself time to be an interesting and interested person, with spark and joy. If you are too exhausted to be that, you need to look at what is wrong in the balance of your job. Hours on the computer is not teaching.
Take proper, uplifting holidays.
Read. Learn new skills.
If you are ill, take proper time off.
Look for ways of teaching that excite YOU. If you're excited, your class will be.
Report any hint of bullying from a colleague, parent or head – don't put up with it.
Use your union – it is there to help, support and advise.
Do your best to spell correctly and pronounce words correctly. Don't say f and v instead of th ('fankyou') or how will your kids know how to spell? Don't say 'like' fifty times in each sentence, or speak as if each sentence ends in a question (termed 'the moronic interrogative' by someone I know!)
Have high standards, and be proud to be a teacher. Don't try to be the children's mate – they don't want a mate, they want a wise, dependable adult role model.
When you feel angry, speak lower and slower. Keep your dignity; be a calm authority.
Watch the film Etre et Avoir – that is how teaching should be.
Feed your soul – have good conversations, try new experiences – nothing is ever wasted in teaching; everything can be used.
You can stay up to date with all Jane's work on her website here.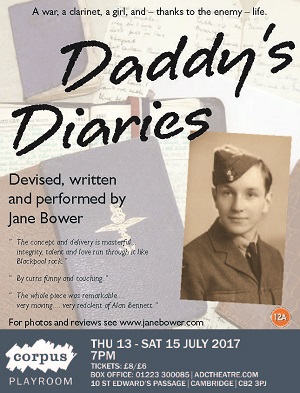 Jane writes: Throughout WWII my father Leonard Bower kept a diary. Still a highly intelligent conversationalist at 95, his talks with me and the memoirs he wrote – the emotions of which contrast strongly with his pragmatic and practical diaries – offer a mix of humour and poignancy; always a wit and a wordsmith, Dad's turns of phrase bring delight and pain by turn. His war was one of contrasts - he was a gifted clarinettist and an instructor of fighter pilots. He was a trained illustrator and used his skills to create pictures and diagrams to help the aircrew learn more easily. And he was falling in love.
Daddy's Diaries is inspired by the discovery of Len's diaries in a box. The show reveals the inescapable legacy of WWI, the family's unexpected link with Germany, Len's memories, illustrations and original recordings to create a picture of one man's journey towards peace.