1940s Charlotte Mason College memories
We have been very fortunate to be able to gather some beautiful archive materials, photographs and memories from alumni who studied at Charlotte Mason College at the end of the 1930s and into the 1940s.
The photograph below shows the staff and students of Charlotte Mason College in 1940 posing on campus on the lawn by the Wordsworth steps. Scale How (or its former name Greenbank) used to be owned by Dorothy Harrison, a relative of William Wordsworth who was a frequent visitor to the house. The steps are named after William Wordsworth due to this connection. The steps are no longer part of the campus today but a plaque shows the site they once stood.
It was a college tradition for each intake of students to pose by the Wordsworth steps each year for their official photograph.
Staff members Miss Lydia Joss and Miss Marsden can be seen in the third row back, the two ladies on the left.
The second row from right to left shows staff members: Miss Whittle, Miss Hanson, Miss Plumtre, Miss Kathleen Minn, Mlle Chaudouet, Miss Kitchen, Miss J. Van Straubenzee (Principal), Miss M. Hardcastle (Vice-Principal), Miss Moffatt, Miss K. Hugman, Miss Stelering, Miss Braham.
Ann Hawkins (Findlay)
Born in 1921 and originally from Wolverhampton, Ann graduated in 1940. We were lucky enough to meet her when she returned back to Ambleisde as part of a reunion in 2014. Ann is the President of the Charlotte Mason College Association, an alumni network that dates back to 1895.
Here Ann shared some of her memories:
"Nights out were unheard of! We never went out in the evenings, but had various activities in college. When we went out into Ambleside we had to wear a hat!
DE (Drawing Room Evenings) took place every Tuesday. We all wore smart long dresses and assembled in the teacher's drawing room. The students each had to take a turn at doing a presentation. My subject was Gilbert and Sullivan illustrated by other students performing songs from the shows.
In spite of the restricted life (In the last four terms the war was on!) we had such fun. There was much laughter and a great feeling of comradeship."
Ann can be seen in the class photo above in the third row, third in from the left.
Beth Bennett (Wiley)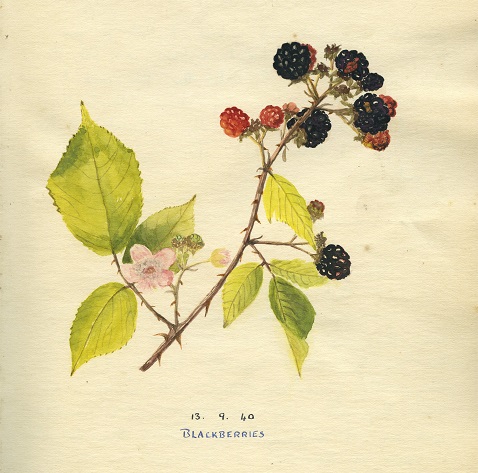 Beth (who can be seen in the third row, second in from thr right in the photo above) studied at Charlotte Mason during the late 1930s and early 1940s. Sadly Beth passed away in January 2018, aged 97. She had a long and happy life and left three married children, nine grandchildren and another nine great grandchildren. Beth's son very kindly sent us scans of some paintings she did whilst at college.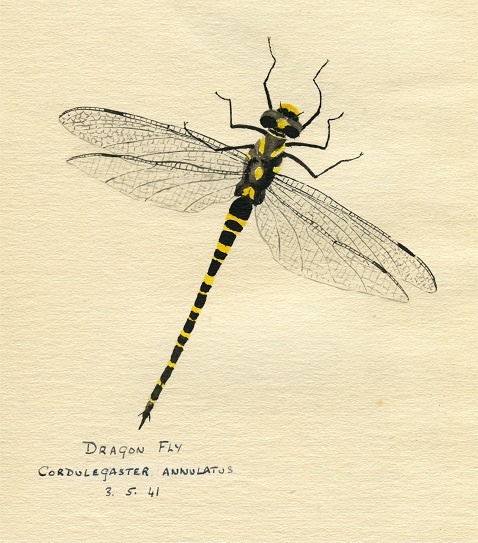 These beautiful pictures were part of Beth's nature notebook. All students at Charlotte Mason were required to keep a nature notebook. Charlotte herself believed that children should learn first-hand from many sources, and great prominence was given to the observation of nature. The students collected many specimens on their nature walks, bringing them back to make a painting of and noting accurately every detail of it. Often the students would record the date and location they found the specimen. These books were personal and not marked, the main purpose was to encourage observation and an interest in nature.