Click here to edit using the old editor
BSc (Hons) - Sport Conditioning and Performance Analysis with Integrated Foundation Year
You're inspired by how sporting success effects positive change in individuals and society, enriches lives and improves wellbeing. You have a true passion for sport and the drive to help others achieve their full performance potential and dreams of success in elite sport. That's why, on this sport conditioning course with an integrated foundation year, we will give you the support and opportunities you need to become your best and set you on your way to achieving our full degree.

Our BSc (Hons) Sport Conditioning and Performance Analysis degree is designed to give you the industry knowledge, skills and employment prospects to work in an elite sport performance environment. What's more, our sport courses are ranked 1st in the North West for continuation and 2nd in the North West for career prospects (Guardian University Guide 2023 Results).
Apply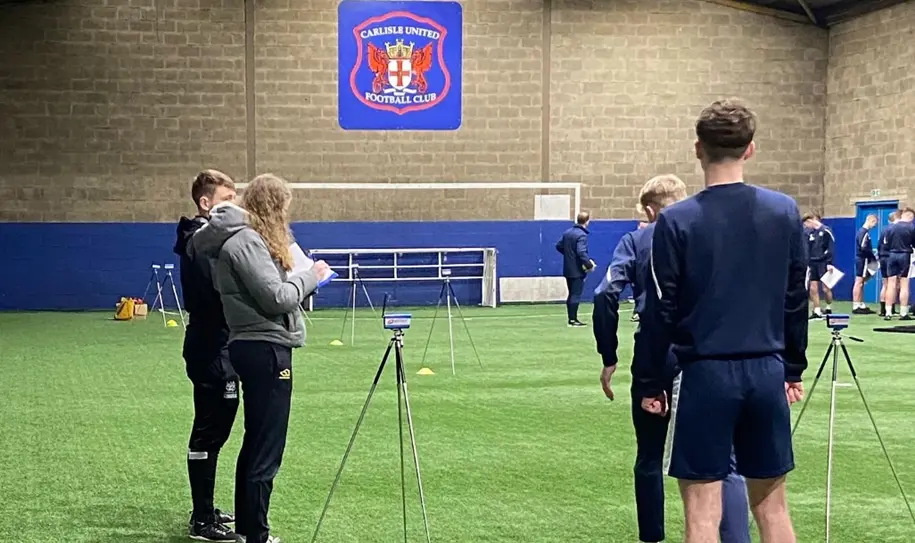 Course Overview
If you are passionate about performance sport but do not have the required qualifications for direct entry, our degree with an integrated foundation year offers a supportive alternative route into higher education.

You will examine the science behind sport performance, conduct diagnostics, analyse an athlete's fitness, technical performance and tactical play, make recommendations for appropriate training for improved performance and provide feedback to athletes, coaches and support staff.

This vocational degree provides valuable experience working with clubs and athletes during modules and on placement, preparing you to work within a performance environment in performance coaching or development, talent identification, sport science support and performance analysis. You'll receive insight from industry professionals, gain additional qualifications and have access to our performance analysis suite, strength and conditioning room, human performance lab and sports facilities.
On this course you will...
Gain a multidisciplinary and interdisciplinary knowledge and understanding of Sport Conditioning and Performance Analysis and its application in enhancing athlete performance at all levels of sport from grassroots to elite performers.
Develop hands-on techniques and skills to conduct diagnostics and analyse an athlete's fitness, technical performance and tactical play, and develop exercise training programmes for improving athlete performance.
Positively contribute to sporting performance by applying academic theory and practitioner skills to practice in a real world environment through vocational experience on modules and undertaking a 100-hour placement.
Learn the complex reality which is performance analysis and sport specific conditioning through working with athletes/players from sports including football, rugby, athletics, hockey, cycling, golf, dance and outdoor sports.
Gain the Hudl Certification in Notational Analysis. On graduation, you can apply for the International Society of Performance Analysis of Sport (ISPAS) Level 1 accreditation.
Be taught in small class sizes which means you get to know your class and tutors well, allowing you to feel supported during your studies.
Location

Lancaster Campus

Lancaster is the Red Rose heartland, a student haven full of history and culture. With iconic stone architecture, parkland, and a caring community, this is the place to get involved. The campus houses top-quality facilities tailored to the needs of life-savers, world changers, and future leaders.

Find out more
Carousel skipped
Find out more about studying with us
Attend an Open Day
at Cumbria
An Open Day is your opportunity to explore one of 5 campuses, meet your lecturers, and find out how the University of Cumbria could become your new home.
Take the next step towards achieving your dreams.