1966 Charlotte Mason starters reunion
On the 1 November 2016 we welcomed a group of alumni from Charlotte Mason College starting year of 1966 back to the Ambleside campus for a reunion get together.
On a cold, crisp evening in November I waited outside at our Ambleside campus, ready, excited to meet a small group of alumni from Charlotte Mason College.
I was contacted back in September by Janet Galloway, who organised the reunion, and it was great to speak to her and correspond via email, as we enthusiastically discussed and planned the event.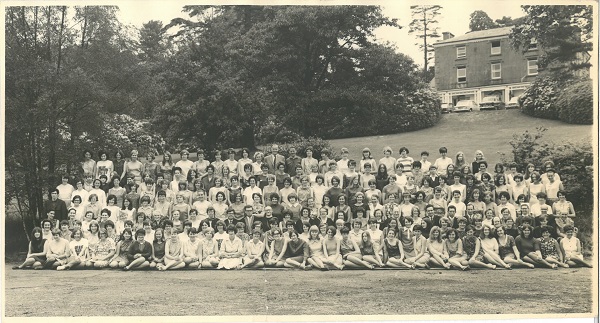 Janet lives locally now in Kendal and has stayed in regular contact with a couple of her classmates, who in turn were in touch with a couple more. So word spread around the small gathering with guests travelling from across the country to meet back in Ambleside. For some it would be their first time back to the area in many years.
I was asked to put together a playlist of 1960s songs, songs they remember and enjoyed as students. I ensured the food was set out, the room was organised and the tunes were playing ready for their arrival in the Charlotte Mason building.
Eight ladies and one gentleman attended the reunion and they were delighted to see that Charlotte Mason was represented all around as soon as they stepped in. With a banner stand reflecting our pride in our campus history, a portrait and plaque on the wall and of course the Charlotte Mason College logo and moto 'for the children's sake' on the wall.
The most enjoyable part of any reunion for me is the first arrivals, with guests enthusiastic and perhaps a little nervous to greet each other, you can see the spark of recognition and joy in faces as they remember and reaquaint with one another.
A contintental platter buffet was served with cold meats and cheeses with fresh bread and salads. Some of the ladies had brought cake to share round and a few glasses of wine were consumed.
After initial introductions and welcomes I left the group to their party, their music and reminiscing.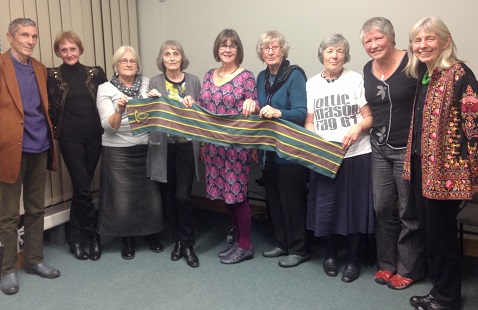 Many of the guests had brought their own photographs and memorabilia along to look at, even a 'lottie mason rag '67' shirt was worn for the occasion.
At the end of the party the group were kind enough to pose together for some of my photos along with their college scarf.
The group all organised to stay locally and meet up the next day for more reminiscing.
I am always delighted to help with reunion plans. Please get in touch alumni@cumbria.ac.uk or 01228 616391 if you are considering your own.
Joanne Lusher, Alumni Relations Officer