Celebrating 60 years of friendship
In late September three friends visited our Ambleside campus for a special anniversary. Known to them of course as Charlotte Mason College, Lilian, Ann and Barbara, were celebrating 60 years of close friendship.
Life at Charlotte Mason College
In September 1962 Charlotte Mason College was a public teacher training college having changed from a private fee-paying institution only two years before. The college was part of the Westmorland Education Authority with qualifications accredited by Manchester University. The college was strict with curfews in place, lessons at the weekends and no males admitted! There was a dress code and uniform had to be purchased from Harrods. The principal was Marjorie Boulton and vice principal was Constance Moreton, known by the students as Boult and Mort.
The best of friends for 60 years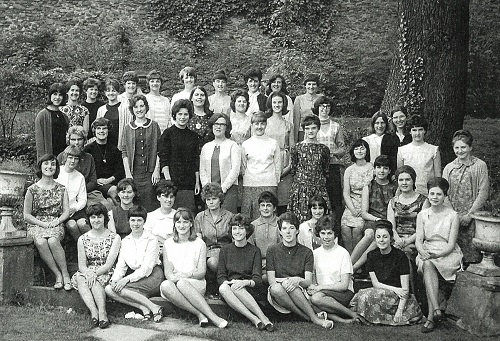 Barbara Nye (née Moore), Lilian Grounds (née Minton), Ann Fowler (née Parker) and Thelma Ferris-Jones (née Brechin) forged their friendship in the heart of the Lake District. The four married the boyfriends they had at college and enjoyed being a close group of eight. Scattered across the country, Barbara in Hampshire, Lilian in Lancashire, Ann in Yorkshire they have met up regularly over the years for those important life occasions, marriages, christenings, family parties and anniversaries. Sadly now a group of six after loosing Ann's husband Jack and friend Thelma, the group still meet up with Peter, Thelma's husband in North Wales.
A return to Ambleside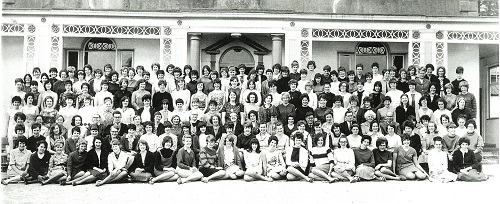 The three friends returned to Ambleside to celebrate their milestone anniversary and were met by Alumni Relations Officer Joanne Lusher for a campus tour. Joanne explains "It was a pleasure to meet Barbara, Ann and Lilian in Ambleside to hear their stories and help them re-live their student days. 60 years is a great achievement, I find their friendship really inspiring. There is certainly something very special about our Ambleside campus and it is very dear to those who studied here."
Barbara's student memories
Barbara shared a few of her fondest memories with us…
"Lilian and I shared a room in Fairfield in the first year which Vice Principal Miss Moreton nicknamed 'the potteries' due to our surnames Moore and Minton, which were well known pottery manufacturers of the time. We then all moved into Gregory at the top of the Greenbank estate until we left in 1965.
We did enjoy our time in Ambleside, then and now, we were quite involved with events in the town and made lasting friendships. We had rag weeks and parades, one year Lillian and I were the 'before and after of sliming pills', she had to wear pillows under her dress! Another year our house Gregory did Alice in wonderland, I was Alice and Ann was a marvelous square teapot, other friends were Tweedledum and Tweedledee and the Mad Hatter!
We put on plays and pantomimes in the Barn, I remember being a red squirrel with a huge tail as well as being Dr Chasuble from the Importance of Being Ernest, I was mistaken for Rev Inman!
We had dances, inviting the cadets from Wray Castle and agricultural students from Brathay Hall when the occasion called for male partners. Lilian, Ann and I had boyfriends we met at home, they came to visit whenever they could, but with strict access. They had to stay at the B&B near Low Nook.
Miss Harrison took a group of us who had stayed over half term for a long walk from Langdale Hotel and the Westmoreland Gazette photographer stopped to take our photo striding round a corner and it got printed in the paper!"
Have you got an anniversary to celebrate? Are you still best friends with your Ambleside classmates? If you would like to come back to campus for an informal visit, or wish to share your story, we would love to hear from you. Contact Joanne Lusher, Alumni Relations Officer alumni@cumbria.ac.uk