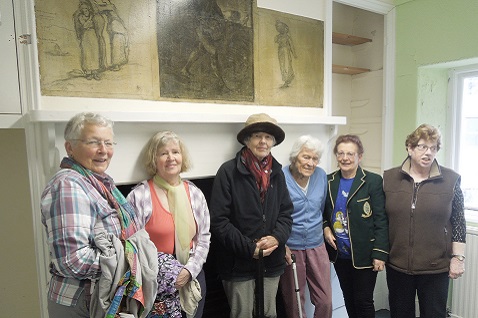 On Saturday 8 October 2016 we were delighted to welcome the ladies from the Charlotte Mason College Association (CMCA).
Ranging in year groups from the 1940s to the 1960s, the group of 15 were met by Joanne Lusher alumni officer and Becca Weir archive assistant.
The Charlotte Mason College Association was founded in 1896 by ex-students of the college in order to keep in touch and help one another in their united cause of education. The first alumni magazine was published in January 1896 entitled L'Umile Pianta which the CMCA still continues to publish annually to this day.
The group were greeted in the Beehive where they enjoyed tea and cake. This was the first time being back in the Beehive for many of our guests. Located at the bottom end of the campus, the building was formerly a smoking and billiards room. When Scale How and adjoining land was sold to Charlotte Mason for her college of education, the building was used as a practice classroom and was divided up into four. The Beehive got its name due to its octagonal shaped lantern window and its busy new inhabitants.
Later on in the life of Charlotte Mason College the Beehive became the library, and this is how our guests remember the building fondly. Today it is the university's Rural Growth Hub, created to help the region's business community thrive.
Following tea and cake Becca Weir gave the group an informal overview of her work. Describing some of the archive collections we hold and reassuring the group that some of their beloved campus treasures are safe and being looked after well. Becca had brought out one familiar item to show the group, a Robert (Mouseman) Thompson chair complete with carved Charlotte Mason College 'For the Children's Sake' rushes logo and of course a mouse climbing up the chair leg.
Next the group were invited to take a tour of Millet, a building that many of the group had stayed in at one time or another. Millet contains precious drawings by Fred Yates, copies of Millet paintings, hence the building's name. We were happy to be able to show these uncovered drawings to the group. An article detailing information about the drawings can be found here.
At the end of the visit, we had just enough time to gather everyone onto the front steps of Scale How. Back to where each year the entire college would pose for photos in their student days.