Click here to edit using the old editor
FdSc - Nursing Associate
Would you like to become a nursing associate? Our course provides specialist training and support for you to become a nursing associate registered with the Nursing and Midwifery Council (NMC) in two years.

As a nursing associate, you'll play a vital role in the nursing team working across all four areas of nursing: adult, children's, learning disabilities, and mental health nursing. Working closely with healthcare assistants and registered nurses, you'll care for people across the lifespan in a range of settings, from the home to community and inpatient settings.

At the end of this course, you'll be eligible to register with the Nursing and Midwifery Council (NMC) and practise as a nursing associate. You'll also be able to complete further training through a top-up course or degree apprenticeship to qualify as a nurse.
Apply
Book an Open Day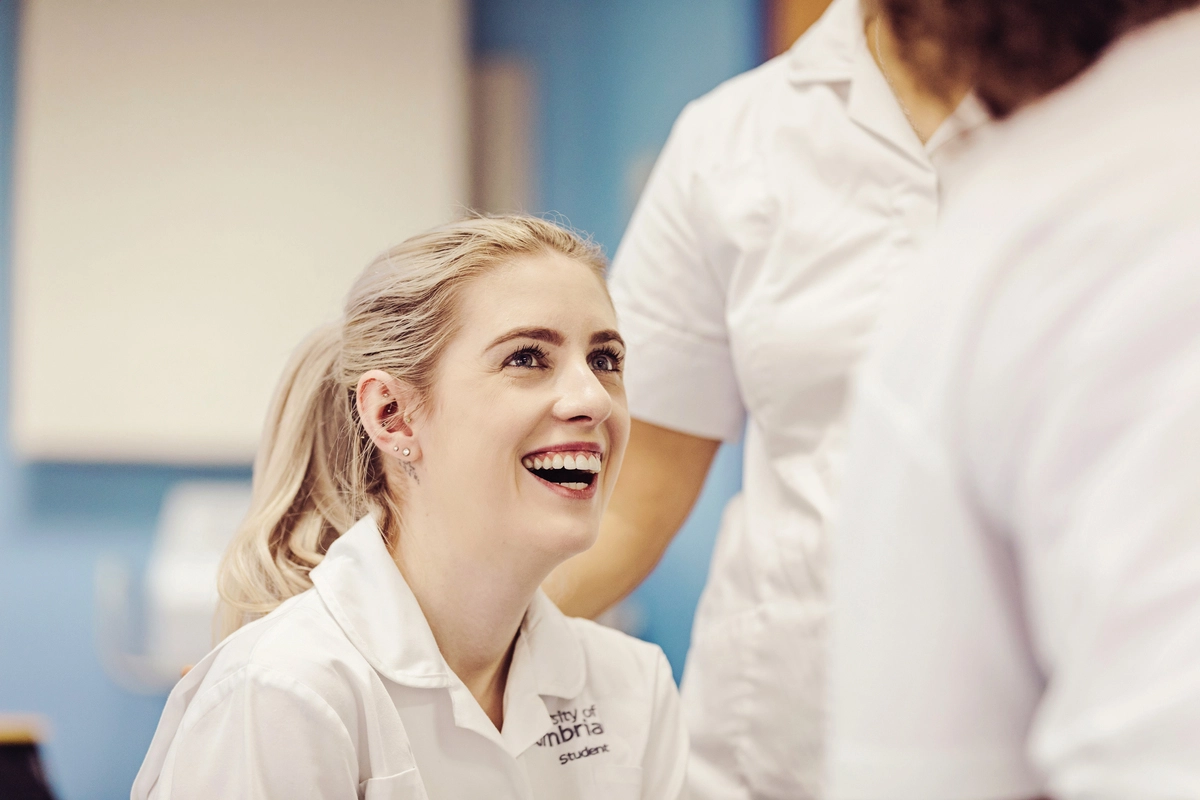 Course Overview
The programme is studied over 2 years, and you will attend study and placements during the weeks specified on the programme planner. This will be made available to you on commencement of the course.

Equal value is placed on theory and practice for the duration of the FdSc Nursing Associate programme, so 50% of your time on this course will be spent on placement covering all areas of nursing practice (adult, children's, mental health and learning disability) in the NHS and private, voluntary and independent sectors. Placement settings will include hospitals, nursing homes, GP surgeries, clinics, and more.

Throughout the length of the course, you will be introduced to essential knowledge that a nursing associate is required to understand to enable the delivery of effective person-centred care, including the ability to research and study independently and work with student colleagues.

The University of Cumbria has excellent clinical skills and simulation facilities including simulated ward areas, high dependency care areas, home spaces and a dedicated 'immersive simulation room' enabling experience of 'real life' scenarios.

On this course you will...
Develop and accomplish the knowledge and skills you need to practise and provide evidenced-based and compassionate care as a registered nursing associate.
Learn and work alongside all fields of nursing and the multi-disciplinary team whilst on placement, and recognise the contribution of different health professionals' roles and expertise.
Develop skills through a range of nursing placements that will be a mixture of hospital and community settings, and through skills teaching and simulated practice.
Prepare you to deliver a wide range of clinical, care and interpersonal skills underpinned by a systematic knowledge base.
What our students and graduates say
My tutors are amazing! They take time to get to know all their students personally, take an interest in us and then support us with our own ambitions. They are so invested in us and so supportive, it would be hard not to form a strong bond with them.

Catherine Hind, Mental Health Nursing

Nominated for the RCNi Andrew Parker award for Student Nurse of the year, as well as the Student Nursing Times Awards 'Most Inspirational Student Nurse of the Year', Catherine proved to everyone what an extraordinary person she is.
Location

Carlisle - Fusehill Street Campus

The Fusehill Street campus has been the setting of life-saving treatments since World War I. Now, it's home to world changers, life-savers, crime fighters, and entrepreneurs with access to high-quality facilities and innovative thinking.

Find out more

Location

Lancaster Campus

Lancaster is the Red Rose heartland, a student haven full of history and culture. With iconic stone architecture, parkland, and a caring community, this is the place to get involved. The campus houses top-quality facilities tailored to the needs of life-savers, world changers, and future leaders.

Find out more
Carousel skipped
Find out more about studying with us
Attend an Open Day
at Cumbria
An Open Day is your opportunity to explore one of 5 campuses, meet your lecturers, and find out how the University of Cumbria could become your new home.
Take the next step towards achieving your dreams.